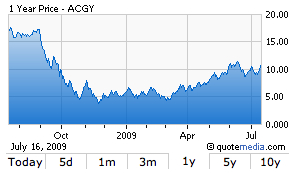 Early Wednesday, London-based oilfield contractor Acergy S.A. (ACGY) (Analyst Report) reported significantly better-than-expected second-quarter (ending May 31, 2009) earnings from continuing operations of $76.0 million or $0.40 per diluted share (our estimate was $0.18 per share) on revenue of $525.5 million.

Earnings from continuing operations in the year-earlier quarter were $90.2 million or $0.49 per diluted share on revenue of $705.6 million. In spite of a tentative operating environment due to the commodity price and credit market overhang, Acergy beat forecasts on the back of solid margins, lower finance costs, and a lower effective tax rate.

Revenue for the quarter fell 25.5% year-over-year to $525.5 million, primarily due to lower exploration and production activity levels in West Africa and the North Sea, partially offset by strong contributions from Brazil and Asia Pacific. Gross profit decreased 30% year-over-year, reflecting lower activity levels and fewer projects in installation phases.

Operating income from continuing operations before taxes was down 41% year-over-year, mainly due to lower activity levels and lower contribution from associates and joint ventures, partly offset by lower administrative expenses. Adjusted EBITDA from continuing operations for the quarter was $113.2 million, down roughly 31% year-over-year, while EBITDA margin was 21.5%, down 160 basis points.

Acergy's order backlog, as of May 31, 2009, stood at $2.4 billion, almost the same as in the previous quarter, but down from $3.4 billion in the prior-year quarter. Of the $2.4 billion total backlog position, $0.9 billion is likely to be executed in fiscal year 2009. Acergy's capital expenditures for the quarter were $46.3 million. At the end of the quarter, the company had cash on hand of $695.9 million, up from $677.6 million in the prior quarter.

With a still healthy backlog that offers long-term earnings and cash flow visibility, significant cash balances, and no near term refinancing requirements, Acergy remains comfortably placed to weather the challenging business environment.

Our continued Buy recommendation on Acergy ADRs also reflects the company's strong leverage to the still very favorable outlook for deepwater oilfield activities and the quality of its client base, which mostly includes well-capitalized oil majors like Exxon Mobil Corp. (NYSE:XOM) (Analyst Report), BP plc (NYSE:BP) (Snapshot Report), or national oil companies such as Petrobras (NYSE:PBR) (Analyst Report).
.