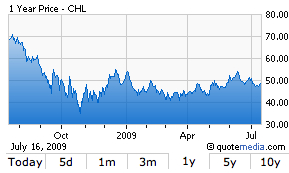 China Mobile (NYSE:CHL) (Analyst Report) recently revealed its plan to invest RMB 70 billion (US$10.25 billion) over the next 3 years to build, upgrade and expand its wireless network in the rural regions of China.
Since 2004, the company has spent RMB19.5 billion (US$3 billion) to extend its network coverage into the remote villages of the country.
The largest mobile carrier in the world by subscribers has signed a pact with the country's Ministry of Agriculture to include more than 10,000 villages annually under its network coverage, enabling people in these regions to access the company's wireless services by 2012. This will translate into 98% coverage of China's rural areas by the end of the 3-year term.
Additionally, China Mobile will also promote its indigenously developed 3G technology-based services in these covered territories.
China Mobile's leadership position in the global wireless market is supported by a consistently healthy Chinese economy, increased consumer purchasing power and relatively low wireless penetration (approximately 46% at the end of 2008) in China. However, saturation of the lucrative urban markets in the eastern part of the country has shifted the company's focus to rural markets, considered less affluent market regions of China with below 20% wireless penetration.
China Mobile commanded an 88% share of the net new customer additions in 2008; half of which were derived from rural market areas.
Expansion into rural markets remains one of the higher priorities for China Mobile as the company faces a more intense competitive landscape due to the recent overhaul of the Chinese telecom industry and distribution of 3G licenses by the government.
The company's peers, China Unicom (NYSE:CHU) (Analyst Report) and China Telecom (NYSE:CHA) (Analyst Report), are currently aggressively pursuing nationwide deployment of their respective 3G services. As such, China Mobile is using the rural expansion strategy as a defense mechanism to protect its subscriber base.
We assess that successful expansion into low-penetration rural regions of China, coupled with 3G service deployments through 2009 and customized mobile value-added services, establish China Mobile as the dominant mobile service provider; far ahead of its nearest competitors.
Consequently, we maintain our Buy recommendation for China Mobile.