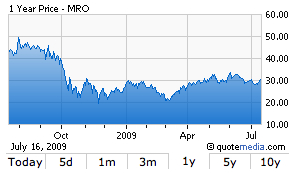 On Wednesday, Houston-based integrated oil major Marathon Oil Corporation (NYSE:MRO) (Analyst Report) provided an interim update for the second quarter of 2009 (covering the first two months of the quarter). Recovery in crude oil prices and an increase in oil and gas output is expected to benefit the company's upstream segment, while the downstream business will see lower refinery output and throughputs. The company plans to release its quarterly results on August 3, 2009.

Marathon expects second-quarter oil and natural gas production available for sale from continuing operations to average 411,000 oil-equivalent barrels per day (BOE/d), which is above the company's guidance for the quarter. Approximately two-thirds of Marathon's production comes from outside the U.S. Second-quarter volumes sold will be above the previous and year-earlier levels, reflecting Marathon's revamped upstream asset portfolio and strong growth profile.

Marathon's realized oil price domestically averaged $48.72 per barrel, up 33% sequentially, but down 56% year-over-year. The company's domestic realized price was 11% below the benchmark oil price, primarily reflecting quality and locational variations. The company's international realized oil price was $48.34 per barrel, up 16% sequentially, but was 57% below the year-ago levels.

Domestic realized natural gas price of $3.80 per thousand cubic feet was down 15.4% from the March 2009 quarter and 56.1% from the year-earlier quarter. International realized natural gas price was also down, both sequentially as well as year-over-year.

Regarding downstream operations, the fifth largest refiner and marketer of petroleum products in the U.S. said that crude oil refined is likely to average approximately 960,000 barrels per day (Bbl/d) compared to 1,023,000 Bbl/d in the corresponding period last year and 851,000 in the first quarter of 2009. Total refinery throughput for the quarter is expected to be about 1,160,000 Bbl/d, down 3.6% year-over-year, but up more than 8% from the previous quarter.

Production in the oil sands business was inline with previous guidance, while Marathon's Integrated Gas segment's sales exceeded guidance. During the preannouncement, the company also mentioned that it will take a second-quarter charge of $100 million associated with foreign currency re-measurement on deferred taxes.

While weak commodity-price realizations are expected to be the primary reason for negative comparisons with year-ago results, we view Marathon's healthy upstream production outlook as a positive for the company as more than 60% of its operating income comes from this segment. Marathon has extensive upstream operations in eleven countries and its international asset base is one of the most robust in the group.

We continue to rate Marathon shares a Buy due to the company's attractive inventory of development projects, strong financial health, and compelling valuation. Our other Buy-rated names in the large-cap integrated space remain Exxon Mobil (NYSE:XOM) (Analyst Report) and Chevron (NYSE:CVX) (Analyst Report).