Shares of diabetes-related stocks have caught fire in 2013 led by MannKind (NASDAQ:MNKD) whose shares have risen more than 220% year-to-date. Investors in MNKD are speculating that positive Phase III results will be released in Q3 2013. The field of diabetes is a very lucrative multi-billion dollar market and biotech companies who are involved can see their stocks explode with such large market opportunities. Biodel Inc. (BIOD) is in the process of creating a pipeline of diabetic drugs that are currently in early trials. With smart hedge funds taking large stakes in BIOD and the company having enough cash to fund operations for more than a year, BIOD looks too cheap. Shares of this under-the-radar biotech stock could rally 200% in a year, to well over $10/share.
BACKGROUND
It has been a tough, long road for shares of BIOD. BIOD created Linjeta, a rapid-acting injectable regular human insulin for meal-time use for Type 1 or 2 diabetes. The company submitted a New Drug Application (NDA) with the FDA in December 2009 and received a complete response letter from the FDA in October 2010. It appears it was doomed from the start of the Phase III trial. BIOD moved Linjeta quickly from a Phase I to a Phase III trial. At the start of the Phase III trial, BIOD decided to dose patients at ½ the dosage because they were concerned about how quickly Linjeta lowered blood sugars, worried, in theory, about possibly causing hypoglycemic events in patients. Unfortunately, there was a subset of centers in India who did not do the titration correctly, causing them to under-dose patients. Therefore, Linjeta failed to meet all endpoints of the Phase III trial. Disregarding the subset of clinics in India, Linjeta would have met all endpoints. However, the FDA doesn't look highly on post-hoc data and rejected Linjeta in October 2010.
BIOD decided to go back to the drawing board and tinker with the Linjeta formulation because tolerability was somewhat of an issue. In trials, 5% of patients dropped out due to stinging of the injection site. After several trial and errors, BIOD created the formulation BIOD-123 to reduce issues regarding tolerability. In Phase I trials BIOD-123 showed it had the same rapid-acting effectiveness as Linjeta and reduced issues with tolerability to near standard-of-care levels. It's also encouraging that the Phase II trial (for Type 1 diabetes) for BIOD-123 is strictly in the United States, which means no more issues of potential problems from India or other foreign country clinics. This gives me confidence that management has learned from its past mistakes.
Additionally, BIOD is creating a pipeline of formulations and other drugs to help compete in the field of diabetes. The company has recently released Phase I results of BIOD-238 and BIOD-250 and will be announcing details of what is in store for these 2 formulations in the coming months. On June 6th, 2013, BIOD announced they would file an Investigation New Drug (IND) application in the next 12 months for a novel glucagon rescue device to treat severe hypoglycemia. Currently, BIOD expects to initiate a pivotal Phase III trial in the second half of 2014. The company believes that all markets they are looking to compete in will grow to $20B by 2020, far surpassing the 2011 markets which were roughly $11B. I would recommend listening to BIOD's most recent presentation to learn more details about the company's full pipeline at BIO CEO & Investor Conference on Feb 11th, 2013.
CATALYSTS
Investors in BIOD should be looking forward to several catalysts over the next 12 months. Phase II results of BIOD-123 are still on schedule to be released in Q3 2013 (likely September). As more investors stumble over this intriguing stock, expect BIOD to continue trading higher during the summer. It's very shocking that BIOD currently has only a $61M market cap, with roughly half of that being in cash. A positive Phase II result could send shares towards $10/share. At $10/share, BIOD would have a $142M market cap, which is still quite small given how large the market opportunity. However, expect BIOD to raise cash as shares continue higher to fund future trials. Currently, BIOD has in place a $14M at-the-market (ATM) offering in place to slowly raise cash as the stock trades higher. Assuming, positive Phase II results in September, expect BIOD management to announce a larger offering in the 2-3 weeks following the trial results.
Elsewhere, investors should be looking at potential partners as a catalyst in 2013. In the latest quarterly conference call, BIOD management brought up the term "partner" three times (transcript). Management re-iterated they remained on track to release Phase II results in the 3rd quarter for BIOD-123 and went on to say:
"Once we have had the opportunity to analyze the data from this trial, we will work closely with regulators and potential partners to design pivotal trials with both regulatory and commercial end points."
Management also mentioned they have experienced interest from partners in BIOD-531 for concentrated insulin and also BIOD-250. Any partnership with a large pharmaceutical company would be highly lucrative for BIOD, which has a small market cap and could result in large gains for shareholders.
Finally, Phase I of BIOD-238 and BIOD-250 were completed earlier this year, and as previously mentioned, management will update us with plans in the coming months. There is a likely chance that they could skip straight from Phase I to Phase III trial in BIOD-250. Currently, Novo Nordisk (NYSE:NVO) is moving Novolog's ultra-fast insulin from Phase I to Phase III later this year. If BIOD moves straight to Phase III with BIOD-250 there is a chance BIOD investors could own a company that has three Phase III trials ongoing in 2014. If this occurs, the market cap of BIOD should be significantly higher than what it is today.
OWNERSHIP
When looking at new biotech ideas, it's good to review the list of holders. There are some very smart holders that I look for in small under-the-radar biotech stocks. One of them is Orbimed Advisors. Orbimed Advisors is the world's largest healthcare investment firm. They are very highly respected in the industry. Currently, Orbimed owns 20% of BIOD shares outstanding. This is very significant and makes me more confident of the research I've done in BIOD. Orbimed is showing confidence in BIOD as they doubled their stake in the company during the 1st quarter of 2013. Also, the top 4 holders of BIOD own more than 48% of shares outstanding, and the top 10 holders own 63%. This should be viewed as a positive, seeing professional investors owning substantial amounts of BIOD and adding to their holdings.
VALUATION
In my opinion there are 2 figures that are eye popping when talking about MNKD and BIOD. MNKD has more than $2.1B market cap (plus over $100M in debt) and BIOD has just $61M market cap. We're saying MNKD is more than 34x larger than BIOD. I don't know how much MNKD should be worth right now, but based on MNKD I can justify BIOD currently being worth $150-200M. And if BIOD does have three Phase III trials ongoing in 2014, they should be worth between $250-500M. These aren't giant numbers, but with BIOD currently having a $61M market cap, potential profits are tremendous.
CONCLUSION
Biotech stocks are inherently risky. BIOD gives you a fantastic risk/reward opportunity over the next 12 months. If MNKD has solid Phase III results it'll likely bring more retail attention into other diabetes names like BIOD. However, if results from MNKD's Phase III trial are a flop, expect some steam to come out of BIOD and other diabetic names. BIOD at this point next year could have three Phase III trials underway, has a great pedigree of hedge fund holders, and has enough cash to fund operations till Q2 2014. These ingredients could lead to BIOD trading above $10/share. I believe BIOD offers a much more compelling offer than MNKD at this point. As you can see from the chart below, over the last 2 months BIOD volumes have started to pick up as the share price has started to reach new 52 week highs. Shares have recently pulled back giving investors a chance to buy BIOD at more attractive levels than 2 weeks ago.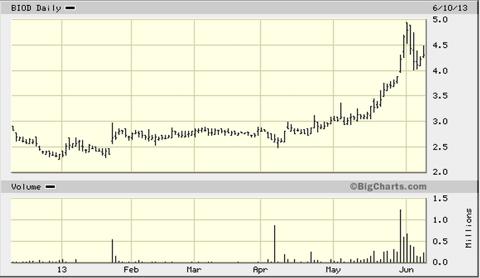 Disclaimer: This article is intended for informational use only, and should not be construed as professional investment advice. They are my opinions only. Trading stocks is risky - always be sure to know and understand your risk tolerance. You can incur substantial financial losses in any trade or investment. Always do your own due diligence before buying and selling any stock, and/or consult with a licensed financial adviser.
Disclosure: I am long BIOD. I wrote this article myself, and it expresses my own opinions. I am not receiving compensation for it (other than from Seeking Alpha). I have no business relationship with any company whose stock is mentioned in this article.