Much of the focus has been on the U.S. Fed lately and whether it will be keeping up with its buying or tapering off later in the year. Perhaps more attention should be paid to Japan and whether it will continue its printing and buying because that is more of the story now. Japan is, in fact, manufacturing inflation and there are now calls for the yen to rise over 50% to 150 vs. the U.S. dollar, with 175 being a level also seen as easily attained. Dennis Gartman has been spot on regarding this trade, and now that he is calling for another move higher we are paying attention.
Chart of the Day
Click to enlarge images.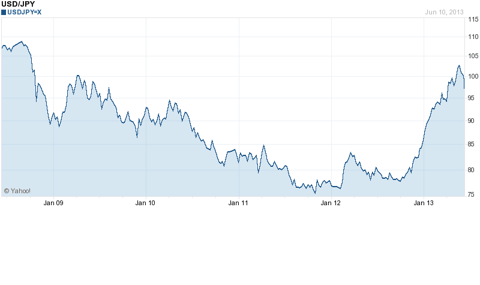 Chart courtesy of Yahoo Finance.
Commodity prices this morning are as follows:
Gold: $1368.30/ounce, down by $17.70/ounce
Silver: $21.555/ounce, down by $0.37/ounce
Oil: $95.24/barrel, down by $0.53/barrel
RBOB Gas: $2.825/gallon, down by $0.0231/gallon
Natural Gas: $3.776/MMbtu, down by $0.024/MMbtu
Oil and Natural Gas
We came across a note yesterday from Wunderlich discussing the Utica shale and, more specifically, Gulfport Energy (NASDAQ:GPOR). The note focused on the company's continued focus on the heart of the Utica play and the prolific results it has had in the past and continues to have today. The main impediment to the company's ability to move forward has been the lack of infrastructure in the area, and Wunderlich pointed out that this is quickly changing.
With the recent downtrend broken, staying above $50/share becomes important. It should be interesting to see whether we get some drilling results or production numbers soon, because we are due for some press releases.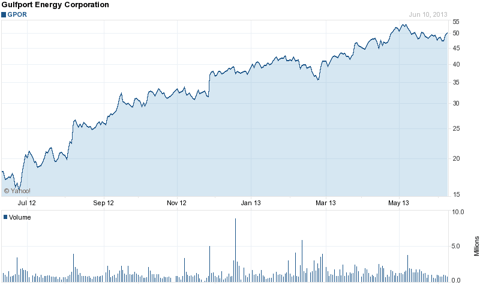 Chart courtesy of Yahoo Finance.
MarkWest (NYSE:MWE) is aggressively laying gathering lines, and the right-of-way issues appear to have been overcome. With this development Wunderlich thinks that Gulfport will be able to triple production in 2013 from 2012 levels. MarkWest has recently been featured on CNBC talking about its growth prospects in the Marcellus and Utica regions, and their growth will most certainly assist Gulfport's. Wunderlich maintained its $70/share price target.
We also came across a story (see here) that said Petronas is going to spend $5 billion on a Canadian LNG project that should be completed by 2018 or 2019. The company is also looking at a second floating LNG project in Malaysia, and should all of these investments actually happen it would make Petronas one of the world's larger LNG players. The Pacific NorthWest LNG Project was part of the Progress Energy acquisition, and although it will be beneficial to Petronas as it is able to export cheap North American gas and sell it as expensive Asian natural gas after transporting, we think others will benefit as well.
One name to look at might be Talisman Energy (NYSE:TLM), which has slowed down its growth plans as it attempts to live within cash flow and its means. But it still has tremendous acreage in Canada and across numerous plays. Any withdrawal of gas from the market to export outside of North America is beneficial to Canadian producers, especially those that have bet big on natural gas across the North American continent.
Agriculture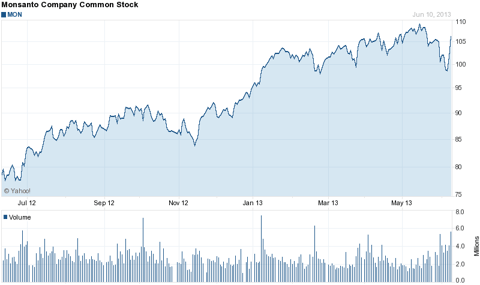 Chart courtesy of Yahoo Finance.
Yesterday was a big day for Monsanto (NYSE:MON) in more ways than one. First, the company saw China approve the importation of more of its genetically modified seeds, which opens up another major market even further. Then, the company had a case against it dismissed after assuring the court that incidental contamination would not result in lawsuits by the company. Good news plus good news equaled even more good news for investors, as shares were bid up by $4.60 (4.53%) to close at $106.25 on above-normal volume of 5.6 million shares. We discussed the potash names earlier this month as a way to play commodities, and for this agriculture trade Monsanto also makes a lot of sense here.
Update From Yesterday
On Monday, we wrote our article and submitted it and found out after the fact that within that time frame Halcon Resources (NYSE:HK) had issued a press release discussing its output and providing a corporate update. Currently, the company has 17 rigs operating across all of its holdings and is producing roughly 30,000 boe/d. There are eight rigs in the Bakken, five rigs in the Eagle Ford, two rigs in the Woodbine, and two rigs in the Utica right now. One positive piece of news we did not expect to see was the company disclosing that it has improved the IP rates in its Bakken wells by 38% in its most recent wells by switching techniques. That is most certainly bullish and that, coupled with the news that the company continues to lower its well costs, should help propel the shares higher in the coming months.
What should have ended with a bang ended with a thud. Investors will take some time to "get" what happened yesterday, but in our opinion it was good news.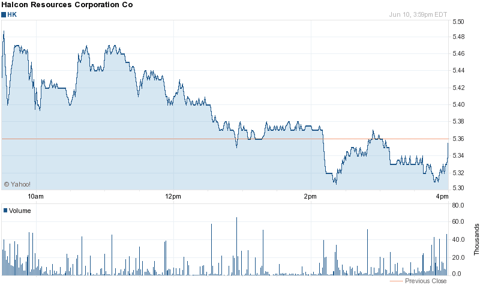 Chart courtesy of Yahoo Finance.
Disclosure: I am long HK, GPOR. I wrote this article myself, and it expresses my own opinions. I am not receiving compensation for it (other than from Seeking Alpha). I have no business relationship with any company whose stock is mentioned in this article.