Like its warm, non-fat soy lattes, Starbucks (NASDAQ:SBUX) has had a relatively lukewarm 2013. To be sure, the stock is up by 17.5% year-to-date, which is better than the 13.8% return for the S&P 500 in the same period. However, a closer look at its performance reveals that Starbucks is having a tepid year by its standards: From 2008 to present day, its stock is up by nearly 257% while the S&P 500 is up by only 19%, implying that most of its returns were had in the preceding four years.
Starbucks Vs. S&P 500
Click to enlarge image.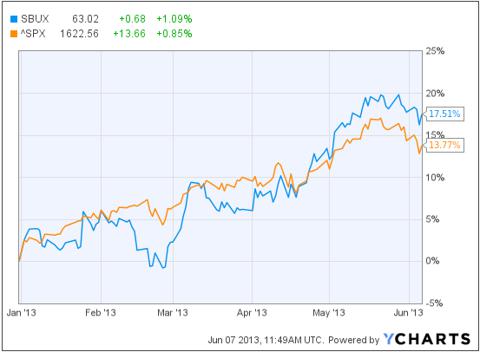 Given how dramatically Starbucks outperformed the broad market from 2008 to 2012, an outperformance of less than 4% in the current year is essentially a "market perform" for the premium coffee maker. Recently, however, Starbucks has been on a bit of a roll. As the chart above shows, Starbucks has outperformed the S&P 500 since the beginning of May. Perhaps not coincidentally, May was the month that saw the broad market run into a bit of a soft patch with interest rates rising as the economy has found itself on surprisingly solid footing. Indeed, the yield on 10-year U.S. treasuries has risen by over 40 basis points since the beginning of May, dampening investors' ardor for dividend-paying stocks and encouraging a rotation into growth stories.
In such an environment, the thesis for Starbucks is relatively simple: Faster, more stable economic growth in its largest market (the U.S.) will encourage consumers to partake of more Starbucks $4 lattes and cappuccinos, perhaps extending its remarkable run of growth a bit further. Whether this is borne out in Starbucks' numbers is another matter. With second-quarter earnings still six weeks away from being reported, perception regarding what could happen has been enough to color Starbucks' ticker green.
Earnings
During its most recent reporting quarter, Starbucks disclosed earnings per share that were 6.3% ahead of expectations, marking the third straight quarter that Starbucks has either met or exceeded expectations. To be sure, some of the lag in its share price was the result of simply meeting expectations in the December quarter. But its rebound in the first quarter -- with record revenues of $3.6 billion -- didn't exactly wow Wall Street at the time, since analysts had been expecting revenues of $3.59 billion.
However, Starbucks continued to see strong same-store sales. Its U.S. comparable-store sales rose by 7% as a result of both higher counter prices and greater unit sales, while total global sales grew by 6% despite a 2% contraction in its Europe, Middle East, and Asia economic group. Naturally, the ongoing retrenchment among the advanced economies of the eurozone weighed heavily on the coffee retailer's sales in the region. However, this was partially offset by 8% sales growth in China and Asia-Pacific, a notable accomplishment considering that China has come in on the wrong side of economic expectations.
Looking ahead over the next five years, Starbucks is expected to see earnings per share growth of 18.6%. That's a good deal better than the 9.4% average growth expected for the S&P 500 during this period and is also 52% better than its peer group. Indeed, among internationally known American specialty eateries, Starbucks' same-store sales trail only that of Krispy Kreme (KKD), whose comparable-store sales rise 11% in its most recent quarter.
Nonetheless, Starbucks' robust five-year forward earnings growth estimates fall short of the spectacular 31.5% growth rate that it registered in the previous five years. Having said that, these forecasts for Starbucks' growth were made during a period of significant uncertainty, with analysts expecting tepid sales arising from a sluggish U.S. economy. With employment now trickling down to a level where the Fed will have to slowly raise interest rates, these forecasts might be on the low side. After all, more employed individuals means more disposable income to spend at Starbucks' ubiquitous cafes.
In short, we believe that Starbucks might see upside to its revenue and earnings growth. While it may not be at the 30% level, it should still be at a level (20 to 22%) that would qualify it as a "growth stock."
Fundamentals and Valuation
Starbucks is not exactly cheap -- at least in comparison to the S&P 500, which currently sports a price/earnings ratio of 17.7x. With a P/E of 32, Starbucks is actually in line with its industry, which trades at 33 times earnings. Meanwhile, other measures such as price-to-sales and price-to-book value also put Starbucks at a level that is consistent with its peer group.
Given its superior earnings per share prospects, this is odd: A 50% earnings growth premium should warrant at least a bit of a premium in terms of earnings multiples, yet Starbucks is actually a bit lower. We believe that the market has had a bout of "strong earnings fatigue" from Starbucks. After all, when a company's earnings are growing by an average of 30% a year, a moderation in that pace of growth might appear to be a major let down. Moreover, Starbucks' margins are superior to that of its competitors at 57% compared with 52% over its trailing 12 months. These margins are actually higher than Starbucks' five-year average and better than its industry's during the same period.
Starbucks is doing all this without any great financial advantage: Its financial strength ratios -- from its levels of cash to its indebtedness -- are merely in line with its industry. Ultimately, the fact remains that Starbucks is earning money at a far faster clip that its peers are and, as a consequence, deserves a valuation premium.
Conclusion
The market is clearly shedding its reluctance to be on high-growth stocks now that it is seeking higher yields to offset higher interest rates. This newfound appreciation for growth stocks could favor Starbucks and lead it to trade as high as $75 over the next 12 months.
Disclosure: I have no positions in any stocks mentioned, and no plans to initiate any positions within the next 72 hours.
Business relationship disclosure: Black Coral Research, Inc. is a team of writers who provide unique perspective to help inspire investors. This article was written by Jonathan Lara, one of our Senior Analysts. We did not receive compensation for this article (other than from Seeking Alpha), and we have no business relationship with any company whose stock is mentioned in this article. Black Coral Research, Inc. is not a registered investment advisor or broker/dealer. Readers are advised that the material contained herein should be used solely for informational purposes. Investing involves risk, including the loss of principal. Readers are solely responsible for their own investment decisions.