On July 15, NetEase (NASDAQ:NTES) announced its finalized plan to cut 18 of the 32 servers in its 2D game Westward Journey Wai Zhuan (WJWZ). Players in these 18 servers will be assigned to the 14 remaining servers. In the past, such a drastic reduction of server capacity has rarely happened to successful online games in China. Is WJWZ/NetEase in trouble? Here are my findings and thoughts:
Official annoucements disclosed negative signs. In its official announcements (1, 2, 3), NetEase admitted that the user numbers in many servers are not enough to maintain a good user experience in WJWZ. In addition, due to the lack of advertisements of WJWZ, the game has experienced difficulties in attracting new users. Finally, NetEase announced that it will not launch provincial servers for a while. Such servers are widely used in popular online games: They improve user interaction and access speed by allowing users in one province/city to aggregate in the same local server. This pause in WJWZ indicates its user numbers are too low in some provinces to support a provincial server.
This server cut may indicate WJWZ's open beta is coming soon. The above negative signs are certainly alarming, but I noticed that NetEase said this in an announcement: "We believe WJWZ will deliver a satisfying answer to players before its open beta." WJWZ has been in closed beta testing for a year. Such a statement by NetEase may imply that an open beta testing is coming soon in the second half of 2009. By concentrating existing users in a reduced number of servers, there will be more players in each server. This will create a better environment for NetEase to test this game and servers before the critical open beta.
Weakness of WJWZ does not have significant impact on NetEase. In the table below, I have listed the Peak Concurrent Users (PCU) of NetEase's six major games in the past seven days, based on my calculations. The table shows WJWZ only accounts for 3.9% of NetEase's total PCU, and NetEase's key games FWWJ and WWJ2 are performing well. So the conclusion is: even if WJWZ continues to struggle, the impact on NetEase will be very limited.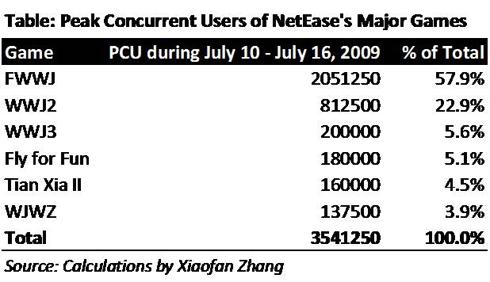 Disclosure: No positions