With its numerous subsidiaries, StanCorp Financial Group (NYSE:SFG) provides financial products and services in the areas of insurance, real estate loans and equity investments. The company possesses several entities, inclusive of Standard Life Insurance Company of New York, StanCorp Mortgage Investors, StanCorp Real Estate, StanCorp Equities, Standard Retirement Services and StanCorp Investment Advisors.
The company was founded more than a century ago with the goal of offering high quality investments, along with the avoidance of risk, in order to help its clients in reaching their financial goals.
Consistency Is the Key
One of the biggest keys to success for StanCorp is the conservative approach it has taken for more than 100 years. The company has kept key focus on keeping its business profitable over the long term by avoiding high risk vehicles such as the offering of long-term care insurance and variable annuities.
Because of its disciplined approach to interest rate management, as well as its low intangible asset balances, StanCorp has never had a material reserve strengthening. In addition, the company places a strong focus on maintaining an expert status in the businesses in which it competes.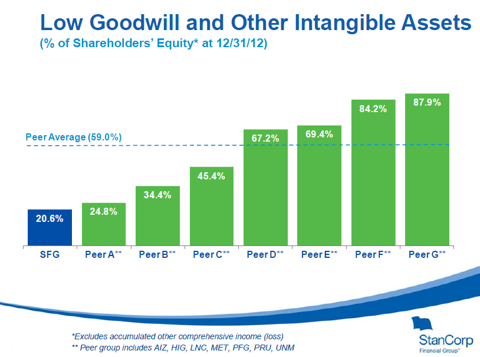 Key Product Focus
On the insurance side, StanCorp primarily operates in the group insurance market, which offers very attractive attributes in a volatile macro market environment. Its two key offerings include group life insurance and group disability coverage.
Its group life insurance coverage, provided through employers that offer benefits to an employee's beneficiary upon their death, helps to drive StanCorp's profitability via its underwriting and investment management. In addition, the company has the ability to re-price these policies over a 1 to 3 year period - which also helps to ensure that StanCorp is keeping its products priced appropriately.
Likewise, StanCorp's group disability insurance offering, which replaces a portion of an employee's income if it cannot work due to a qualifying illness or injury, also drives StanCorp's profitability via its underwriting, claims management and management of the underlying investment.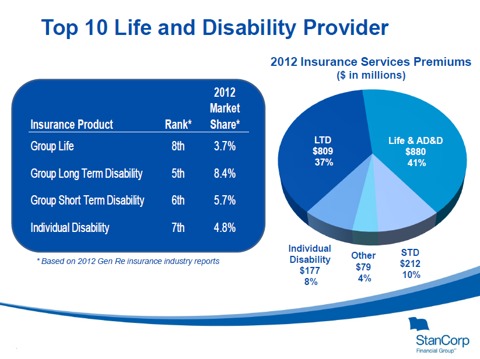 Neither of these two key life and disability insurance products possess any type of embedded equity derivatives or riders, which therefore further reduces the risk of a potentially large financial loss for the insurer.
In the mortgage end of StanCorp's business, although the company holds a similar amount of debt holdings as compared to its industry peers, Standard underwrites, originates, and services its own commercial mortgage loans.
Analyzing StanCorp's Financials
StanCorp recently announced its first-quarter 2013 financials, which were for the most part positive. The company's Insurance Services component reported income before income tax of just under $49 million. This compares favorably to the $46.1 million that StanCorp brought in during the first quarter of the prior year.
The incoming insurance premiums actually decreased in the first quarter of 2013 by just over 3%, from $551.1 million in 2012's first quarter to $533.2 million in the most recent quarter. This is due in large part to a lower amount of group insurance sales overall, as well as higher experience rated refunds, or ERRs.
On the disability insurance side, StanCorp's individual disability premiums were $47 million during the first quarter of 2013. This compared favorably to the $44.2 million during the first quarter of 2012. StanCorp's net investment income also increased in the first quarter of 2013 to $3.9 million. This is up considerably from just $2.0 million in the first quarter of 2012.
As far as share profitably for investors, the company had previously announced book value per share of $41.87 per for year-end 2012. This is up considerably over the past decade from $17.22 per share in 2002.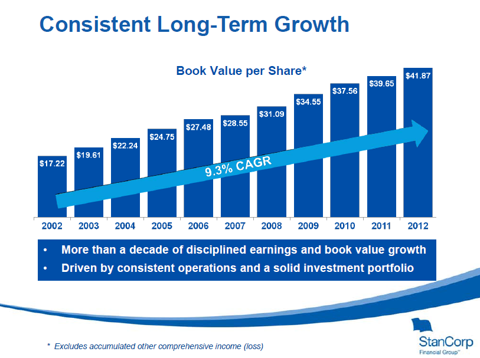 This shows that although the company's incoming insurance premiums may bounce up and down over time, StanCorp's asset and investment approach are well prepared for such movements. Between just the first quarter of 2012 and the first quarter of 2013, StanCorp's book value per share (Including AOCI) grew more than 7.5% from $45.82 to $49.36.
The Outlook for StanCorp Going Forward
Looking ahead, StanCorp expects its overall 2013 net income per diluted share - excluding after-tax net capital gains and losses - to be in the range of between $3.40 and $3.80. The company anticipates its return on average equity - also excluding after-tax net capital gains and losses from net income and AOCI from equity - to be between 8% and 9%.
These expected figures are based on several factors. First, StanCorp expects a low (single digit) decline in its group insurance premiums. This will likely be due to a lack of organic growth and pricing actions that are needed for addressing the incidence of elevated claims, as well as the overall low interest rate environment in the U.S. economy.
These figures were derived by taking the total amount of sales and pricing actions, subtracted by terminations of a certain number of employees at the companies that StanCorp's group life insurance is offered. Organic growth and ERR's are also factored into the equation in order to come up with the company's overall anticipated 2013 group life insurance premium growth.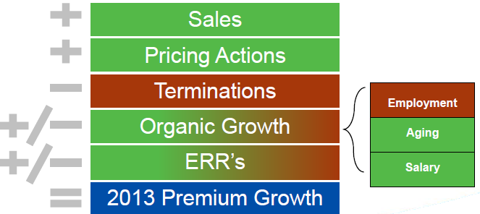 The company also expects that its group insurance annual benefit ratio will be in the range of between 81% and 84%, accounting for a discount rate of 50 to 75 basis points that are anticipated to be lower for the year 2013.
On the annuity side, StanCorp will likely see substantial growth in 2013 over its 2012 figures. This is due in large part to the continued benefit of these types of tax-advantaged investments. StanCorp's underwriting and product pricing methodologies should remain strong going forward, as the company is highly committed to obtaining and retaining long-term profitable business. The company currently anticipates that its effective income tax rate will be in the range of 22% to 23%. The positive impact of these tax-advantaged investments on net income over the next five years will likely continue to remain strong.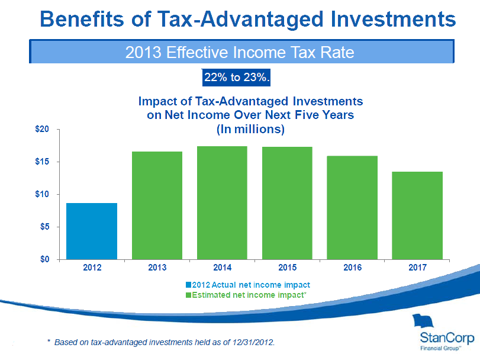 StanCorp plans to repurchase shares of its common stock in the range of between $40 million and $80 million throughout the year of 2013. The company plans to evaluate the actual amount its share repurchases based upon the consistency of capital generation and its view of equity market valuation. The share count has already fallen from 67 million in fiscal 2000 to 44.5 million at the end of 2012, and considering the company's plans on share repurchases, this positive trend should continue.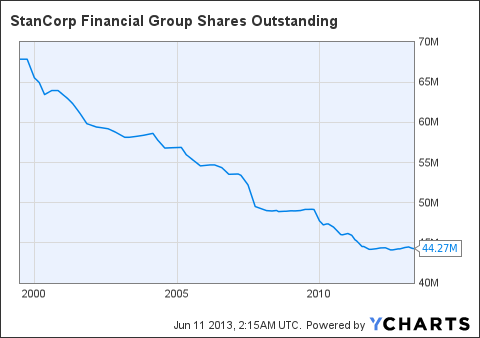 SFG Shares Outstanding data by YCharts
Strong Industry Ratings
StanCorp Financial also possesses very strong ratings by the insurance industry rating agencies. These agencies rate insurers based on their strength in the areas of financial strength and claims paying ability. Currently, Standard Insurance possesses a rating of A+ from S&P, a rating of A2 from Moody's, and a rating of A from A.M. Best.
Some of the key reasons for this include the fact that StanCorp generated capital in excess of the targeted figure. (This figure was 300%). In addition, the company also received high marks for its solid capital structure, with available capital of approximately $360 million at year-end 2012.
The Bottom Line
With more than a decade of disciplined earnings and book value growth that has been driven predominantly by consistent operations and a solid investment portfolio, StanCorp is likely to continue forward on a positive path for its shareholders.
In addition, StanCorp Financial Group has paid out steady dividends to its shareholders for more than 13 consecutive years, with an increase in its dividend per common share of 4.5% in 2012 over 2011. Currently, the company offers an annual cash dividend in the amount of $0.93 per share. This equates to an annual dividend yield of just under 2%.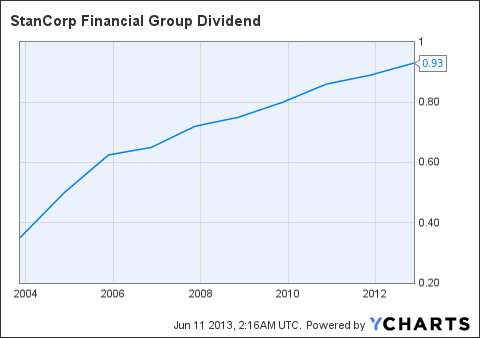 SFG Dividend data by YCharts
The company has closely monitored interest rates, and it is continuing to take pricing actions that will be able to address the continued low interest rate environment that has been present in the U.S. economy for the past several years.
Regarding its shares, StanCorp is presently trading very close to its 52-week high. However, it appears that there very well may be more room to grow. Due to its conservative and transparent approach to capital management, StanCorp will likely continue to return value to its shareholders via both dividends and the repurchase of its shares throughout both the short- and the long-term time horizon.
Disclosure: I have no positions in any stocks mentioned, and no plans to initiate any positions within the next 72 hours. I wrote this article myself, and it expresses my own opinions. I am not receiving compensation for it (other than from Seeking Alpha). I have no business relationship with any company whose stock is mentioned in this article.