This article compares MCG Capital (NASDAQ:MCGC) to the 24 other BDCs covered in my previous articles assessing profitability, risk profile and dividend sustainability to determine the appropriate valuation relative to other BDCs. MCGC has a history of declining revenues, earnings, dividends and net asset values, along with one of the highest risk profiles in the industry due to its riskier investment mix, declining portfolio credit quality and historically high leverage and volatility ratios. Due to its high-risk profile and poor financial performance, I have included MCGC in the lower ranges of valuation multiples relative to other BDCs. However, it currently has the highest P/E ratio in the industry at 16.5 times last 12 months EPS.
Business Development Companies ("BDCs") lend to small and mid-sized businesses, with limited financial leverage, paying out most of their income to investors and paying little to no corporate tax.
These are the five general criteria I use to evaluate BDCs:
Profitability (EPS to cover dividends, NAV and EPS growth)
Risk (diversification, portfolio quality, volatility, leverage)
Payout (sustainable, consistent, growing)
Analyst Opinions
Valuation (NAV, P/E, PEG)
For my most recent overall BDC rankings table see "Latest BDC Rankings For Q1 2013" or for more information about BDCs and how I evaluate them, please see "My BDC Investment Philosophy."
MCG Capital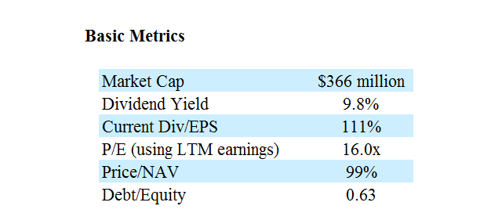 Profit
MCGC has had declining net investment income ("NII"), EPS and net asset value ("NAV") since the recent financial crisis, as well as an inability to cover dividends with NII over the last two years as shown in the table below: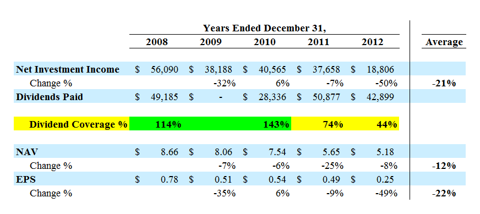 Both EPS and NII have decreased an average of 20% annually since 2008, while NAV has been decreasing an average of 12% a year. However, MCGC has initiated cost realignment efforts as well as reduced incentive compensation in order to improve profitability and analysts are projecting that MCGC will cover its dividend in Q4 2013 or sometime in 2014.
Risk
In a recent series of articles I have been covering the risk profiles of 25 BDCs, giving MCGC a relative risk ranking of 0.0 (10.0 being the least amount of risk):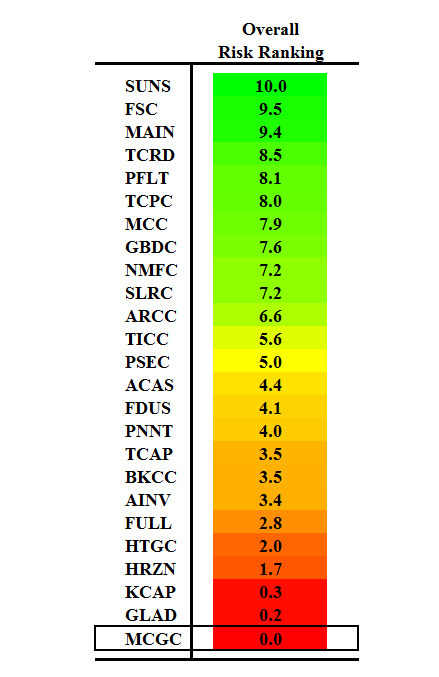 At March 31, 2013, its investment portfolio of $409 million (at fair value) was invested 53% in senior debt, 37% in subordinated debt and 11% in equity securities, with 3.8% of investments (at cost) on non-accrual status. Its debt investments based on funded loans were invested 31% in fixed-rate loans and 69% in floating rate loans. Its portfolio has lower-than-average industry diversification as shown in the chart below with large portions healthcare and consumer discretionary and little to no technology, basic materials or utilities.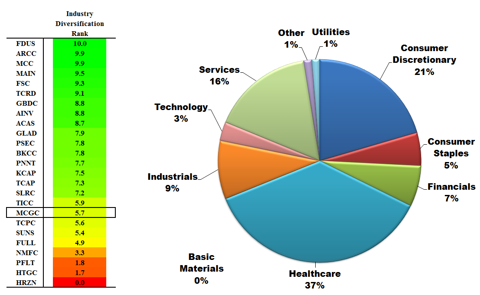 The debt-to-equity ratio of 0.63 is higher than the industry average and MCGC has an average interest coverage ratio as shown below: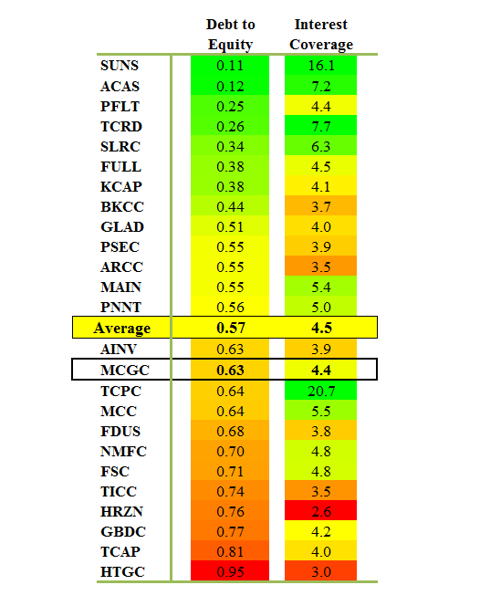 MCGC currently has average yields on its portfolio investments but has been investing in a riskier mix of assets with increasing yields and declining credit quality as discussed in "BDC Risk Profiles: Part 8 - Credit Quality" and shown in the tables below: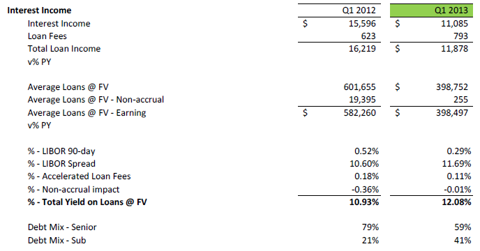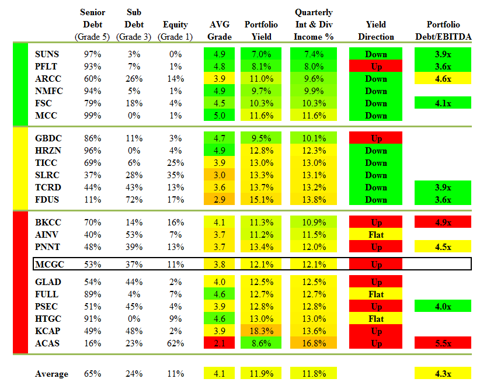 MCGC has the highest volatility ratios (shown in the chart below) and average institutional ownership levels.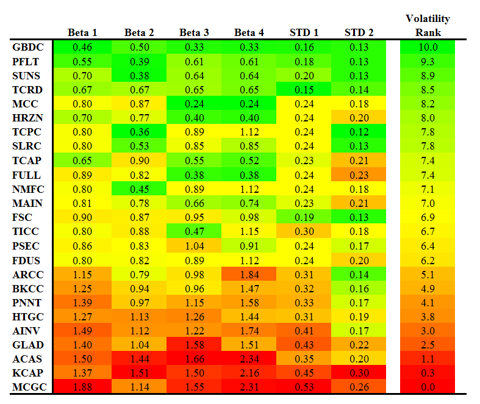 To see where MCGC ranks relative to other BDCs from a risk standpoint for each of these areas, please see the following articles:
Previous Risk Profile Articles:
Payout
The current dividend yield of 9.8% is slightly above the current average of 9.5%. As discussed earlier, MCGC has been unable to cover dividends with NII and has reduced quarterly payments twice in the last 12 months.
Analysts
Most analysts consider MCGC a "Hold" or "Sell" with a target price of $3.50 to $5.00. I will cover my price expectations at the end.
Valuation
Ideally, each BDC would be priced along a valuation curve with investors paying a premium for favorable risk-to-reward ratios. Below is a table using my relative risk ranking to categorize each BDC (excluding MCGC) into valuation levels and appropriate multiples of NAV and EPS: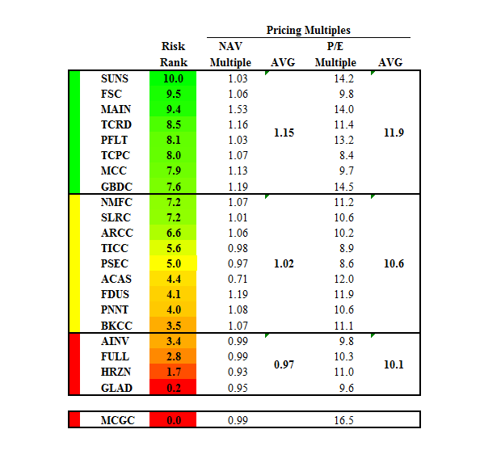 Many of the BDCs that have been exceeding analyst expectations and growing earnings faster than others often end up with lower P/E multiples (because of high earnings) such as TCP Capital (NASDAQ:TCPC) and Medley Capital (NYSE:MCC). The adjusted average P/E multiple for the top risk rated group (the least risky) would be closer to 13 times earnings. The opposite is true for the BDCs in the lower groups that have declining earnings that inflate their P/E multiples.
MCGC is currently trading at NAV, which is lower than the average for BDCs as shown in the chart below, along with the standard deviation of current BDC multiples of NAV, excluding ACAS which is not an RIC, does not pay a dividend, and is potentially priced differently by investors. The "standard deviation" statistically measures the variation of pricing compared to the average with 68% of BDCs priced between 0.88 and 1.33 times NAV.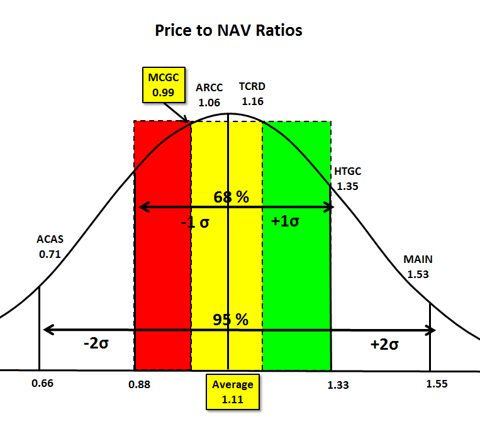 MCGC currently has the highest P/E ratio of 16.5 times earnings using the last 12 months EPS. The chart below shows that most BDCs are priced between 9.5 and 13.5 times earnings with an average of 11.5. For PSEC, I used normalized earnings and backed out the profit from the Gas Solutions sale on January 4, 2012, taken as income rather than capital gains, which was a temporary four-quarter bump to income.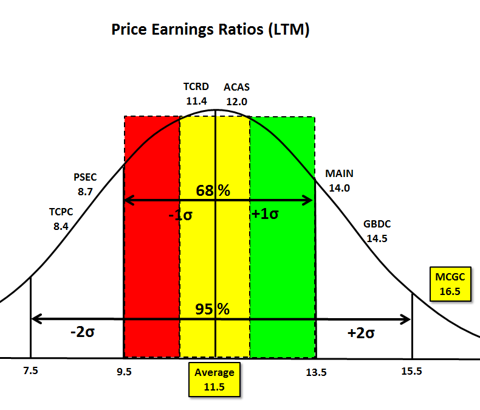 Summary
I consider MCGC one of the riskiest BDCs and until it can cover dividends with earnings and stabilize its NAV, I would price it near the low end of the valuation ranges. Hopefully EPS for 2013 will be near the expected $0.45 and NAV will remain near $5.00 per share. Because of the risk level, I would use an NAV multiple of 0.80 to 0.90 and a P/E of less than 10 times to price MCGC near $4.00. However, if the NAV continues to decline and EPS estimates are high that might be optimistic.
Disclosure: I am long TCPC. I wrote this article myself, and it expresses my own opinions. I am not receiving compensation for it (other than from Seeking Alpha). I have no business relationship with any company whose stock is mentioned in this article.