Three years ago, I met a hedge fund manager who specializes in small undiscovered financials. He invests in companies that fly so far under Wall Street's radar that few investors know of them. They have virtually zero coverage, and therefore are priced at discounts to their intrinsic value, but each has a catalyst. When the catalyst hits, they skyrocket as investors become aware and jump on board. Over the last few years, I've had more doubles than I can count. Here is a short list of just some of the recommendations he has given me:
Company

Buy Price

Sell or Current Price

First Business Financial (NASDAQ:FBIZ)

11.50

29.00

RAIT Financial (NYSE:RAS)

4.25

8.00

The Bancorp (NASDAQ:TBBK)

7.50

14.60

New York Mortgage Trust (NASDAQ:NYMT)

6.30

10.40*

Baylake (NASDAQ:BYLK)

4.25

9.80

Timberland (NASDAQ:TSBK)

4.00

8.50

Preferrred Bank (NASDAQ:PFBC)

7.60

16.50

United Panam Financial (OTC:UPFC)

1.00

7.05

*NYMT is total return including dividends
To see the price action more clearly, here are charts of a couple of the price movements when a catalyst hits: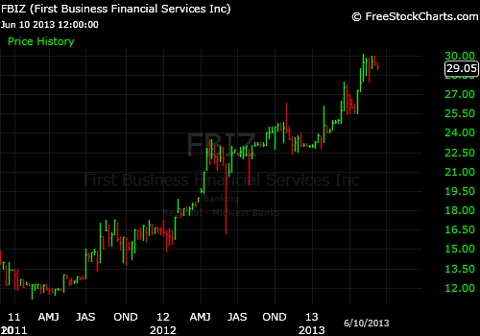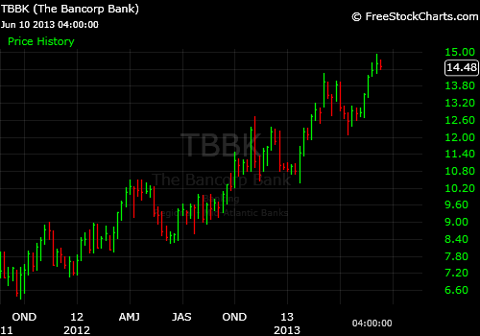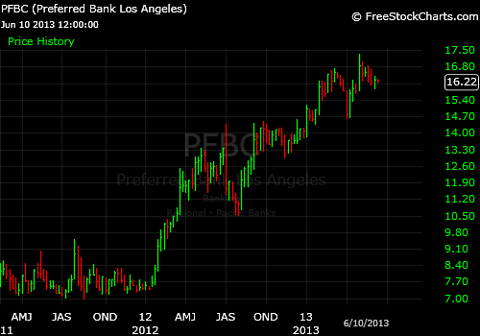 He has also recommended some short positions that have worked very well:
| | | |
| --- | --- | --- |
| Company | Short Price | Current Price |
| Cowlitz Bank (OTC:CWLZ) | 5.50 | 0.06 |
| Frontier Bank (OTCPK:FTBK) | 3.88 | 0.26 |
| Tennessee Commerce (OTC:TNCC) | 6.75 | 0.00 |
In the last three years that I have invested with this manager, he has almost doubled my investment without using leverage. In fact, I believe the fund's beta or his correlation to the broad market is about 40%.
So when he shared that the fund was buying Commonwealth Bank (CWBB.OB), I added aggressively. Commonwealth Bank is vying to be a dominant player in the Korean American banking space. It has recently moved into Center Financial's offices in downtown Los Angeles' Korea Town. It provides a complete range of commercial banking products and services to businesses and individuals in the Los Angeles area.
Joanne Kim is the President and Chief Executive Officer of the Bank. Ms. Kim served as Senior Vice President and Chief Lending Officer of Wilshire State Bank from August 1999 to March 2005. In March of 2005, she was promoted to Executive Vice President of Wilshire State Bank. Ms. Kim became the permanent President and Chief Executive Officer of Wilshire State Bank and was appointed as a Class III Director, effective April 1, 2008. Previously, she served as Senior Vice President and Branch Manager of Hanmi Bank (NASDAQ:HAFC) from 1995 until 1999. Ms. Kim holds a B.A. degree from Korea.
Joanne is a first class bank CEO and her rolodex is impressive. She knows the Hanmi clients well and several of the clients seem to be switching from Hanmi to Commonwealth. Hanmi is still struggling and Joanne is exploiting this and picking up market share. Deposits and Loans at Commonwealth have grown substantially and may reach $1 Billion by the end of 2016.
Gross loans have increased from 14.5%, from $347 million at Q1 2012 to $397 at Q1 2013. Total deposits have increased 12.2% from $359 million at Q1 2012 to $438 million at Q1 2013. Average common equity has increased 19.4% from $41.7 million at Q1 2012 to $49.8 million at Q1 2013. Commonwealth's TCE ratio stands tall at 11.81% (all values from SNL).
In an era where spreads are compressing and earnings are stagnant for banks, Commonwealth is rapidly growing the bottom line. The last three quarters the core earnings were 57 cents, 69 cents and 76 cents per share. I have seen the fund manager's model and for the next four quarters he has the bank making almost $4.00 per share.
Commonwealth currently trades around Book Value and at 4X his forward estimate. No analysts cover the stock. In fact, the bank still trades off the Nasdaq. However, it is the fund manager's opinion that this will soon change. He believes that Joanne is considering listing on the Nasdaq in the 3rd quarter of 2013. Once the bank is listed, Sandler O'Neil, KBW and FIG Partners will most likely pick up coverage.
Now, the question is what price target they will use. So let's compare Commonwealth to some of the other publicly traded Korean and Chinese banks in California. Some competitors are East West Bancorp (NASDAQ:EWBC), Preferred Bank, Cathay General (NASDAQ:CATY) and BBCN Bancorp (BBCN). Here are the key financial comparables for these banks and Commonwealth:
EWBC

PFBC

CATY

BBCN

CWBB

ROAA

1.30%

0.42%

1.11%

1.43%

1.87%

ROAE

12.22%

3.28%

7.36%

10.02%

15.55%

Price

26.35

16.25

20.45

12.85

17.50

Tang Book

13.68

14.52

13.87

8.57

16.52

P/TB

1.9

1.1

1.5

1.5

1.1

For. Earns

2.11

1.26

1.59

1.13

4.00

P/E

12

13

13

11

4

(ROAA, ROAE, TB values from SNL)
On a valuation basis, Commonwealth simply blows the competition away. To see this more clearly, look at Commonwealth vs. the Average metrics for the 4 competitor banks:
| | | |
| --- | --- | --- |
| | 4 Bank | |
| | Average | CWBB |
| ROAA | 1.07% | 1.87% |
| ROAE | 8.22% | 15.55% |
| P/TB | 1.5 | 1.1 |
| P/E | 12 | 4 |
At this valuation, CWBB has tremendous upside potential, with little downside. Given the stock picking record of this Bank Fund Manager, I would not be surprised to see CWBB conservatively at $25 per share by the end of this calendar year. At $25, it would trade in line with the peer group at 1.5x book and still only at 6x next year's earnings. Within a couple of years, I expect it to double.
By the way, this fund manager has the best performance of all financial services hedge funds (Rank #1 out of 32) over the last three years based on data from hedgefund.net (now owned by Evestment). With picks like these, I would not be surprised if his fund stays there!
Disclosure: I am long CWBB.OB, TBBK, FBIZ, NYMT, TSBK, PFBC. I wrote this article myself, and it expresses my own opinions. I am not receiving compensation for it. I have no business relationship with any company whose stock is mentioned in this article.