Many readers have queried how it is that investors could be so stupid to invest capital, either secured, mezzanine or heaven forbid, equity, in commercial real estate properties over the past several months. Zero Hedge would like to present some of the key pages from an investment solicitation book prepared by a major investment bank, which delineates just how it was that some of these very firms that now report massive profits, effectively took a complete piece of excrement and repackaged it as something that investors may actually generate returns on.
The property in question is a mall at 8000 Sunset Boulevard, and the time the deal was originally circulating was November 2008: even back then the property was only 76% occupied. The bank is attempting to sell a $32.3 million pari passu interest in a $61.2 million senior mortgage loan secured by this property and is asking a price in the 80 cent ballpark. Here is what a willing investor would buy for that price.
Here is the initial property overview: one can see indicative rent terms for some recent lease renewers (). What is hillarious is that one of the tenants which recently filed for bankruptcy, not only expanded its square footage, but also paid a more than 50% higher rent. And one wonders how it is possible that comparable firms' equity sponsors allow this kind of stupidity. Does a property like 8000 Sunset believe that maintaining such "market" rents by bankrupt tenants is feasible? One can only hope that potential investors would ask themselves the same question.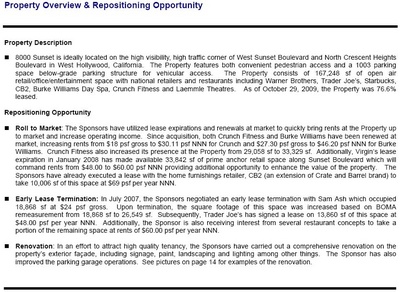 Here is the existing loan and property summary snapshot ():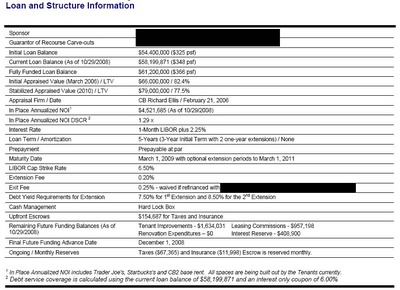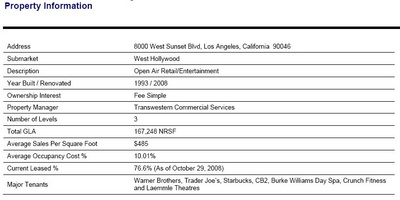 Here is a good snapshot of the property's tenants ():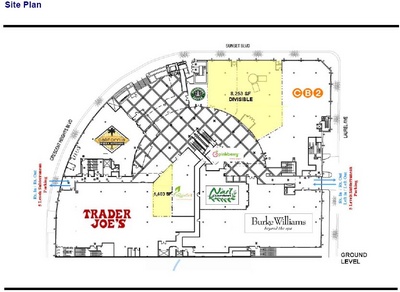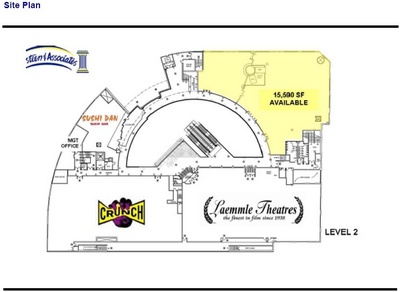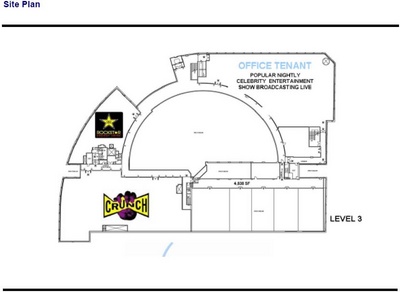 Below is additional detail on the major tenants and their lease expiration schedules. As has been expounded repeatedly both here and elsewhere, the 2012-2014 cliff is very visible.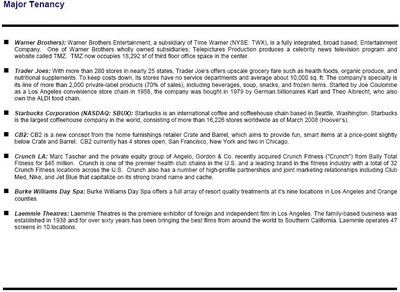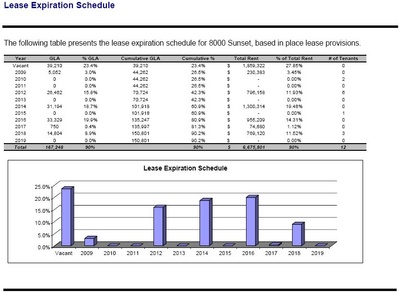 One of the most amusing charts is the one below () which compares total rent between 2006 and 2007: the drop is over 50% from $2.5 million to $924 thousand. Major tenants Buzz, Virgin and CPK have all moved out. One can be certain that the bulk of any remaining tenants will soon follow as well. So what was the presumed LTV and DSCR again? And what illiterate investor is buying this loan at 10 cents, let alone 80? Oh yeah, Nail Garden will undoubtedly generate enough cash to bump up rent revenue by over $2 million.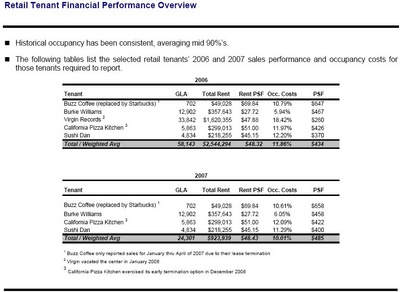 But the funniest thing is the projected NOI, and that is somehow supposed to go from $3.2 million actual to $6.1 million by 2010. Even with all tenants leaving. No commentary here, but this is at the heart of the CRE/REIT/CMBS problem: everyone believing NOIs will increase while tenants go bankrupt, liquidate or otherwise negotiate rents downward. When will the lies stop? Luckily, in this case the presentation is geared at sophisticated investors, who invest only with other people's money ().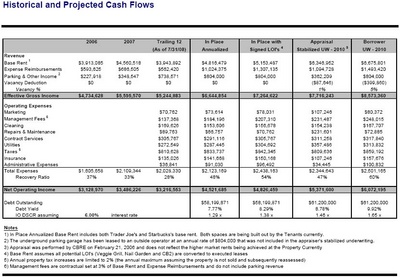 Zero Hedge pities the fools who may have bought into this deal, marketed by a prominent former Bank Holding Company and former TARP recipient. This is merely one of hundreds if not thousands of deals that are currently crossing the wires from Bank X and Hedge Fund Y (again, using Other People's Money, in many cases that of Taxpayers'). The kind of excess capacity generated by what 8000 Sunset is experiencing will be gradually drowning the market. I hope that all those who keep buying Commercial Real Estate stocks, loans and bonds can correct my assumptions that returns on comparable transactions will hit zero on a sufficiently long timeline.