I have previously briefly covered IR as a portion of my dividend portfolio for the strong-stomached. IR is a portion of the portfolio that has appreciated greatly in the last two years, and I am considering whether to keep it in the dividend portfolio, as the yield has dropped to 1.4%. With this article, I am aiming to provide both an overview of the company and its products and the outlook for the next few quarters.
Ingersoll Rand (NYSE:IR) is a diversified, global industrial supply company with a portfolio of brands including Trane, Thermo-King, Schlage, and Club Car. The company is split into 4 segments: Climate Solutions, Residential Solutions, Industrial Technologies, and Security Technologies. The products and services of each the segments are as follows:
Climate Solutions:
Energy efficient refrigeration and HVAC products and service including both transport and commercial markets. Products include, air conditioners, air handlers, exchangers, furnaces, building management systems, diesel powered refrigeration systems, and vehicle powered truck and trailer refrigeration systems along with repair and service associated with these systems. This segment includes the brands Thermo King and Trane.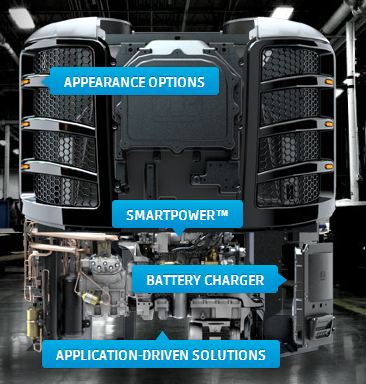 ThermKking Precedent: Diesel Cooling Unit for Trucks (tkprecedent.com)
Residential Solutions:
This segment markets products designed to provide safety, comfort and efficiency to homeowners throughout North America and in parts of South America. These products are a range of mechanical and electric locks, energy efficient HVAC systems, indoor air quality solutions, advanced controls, portable security systems, and remote home management solutions. This segment includes the brands American Standard, Schlage, and Trane. Products produced include: Air Cleaners, conditioners, exchangers, handlers, door locks/locksets and latches, Electronic access control systems, thermostats, furnaces, and unitary systems.
Industrial Technologies:
This segment provides innovative products and solutions designed to improve productivity, energy, efficiency, safety, and operations. It offers a range of products including compressed air systems, power tools, hoists, filters, pumps, material handling equipment, golf, utility, and rough terrain vehicles and associated service and maintenance contracts. Brands included are Ingersoll-Rand, Club Car, and ARO.
Security Technologies:
This segment provides products and services for safety and security. These products include electronic and biometric access control systems, locks/locksets, door closers, exit devices, steel doors and frames, and time, attendance and personnel scheduling systems. Brands included are CISA, LCN, Schlage and VonDuprin.
In 2012 the revenues for these segments were: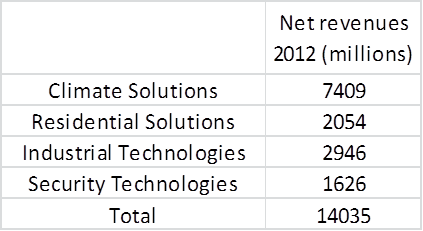 These revenues resulted in an EPS for 2012 of 3.28 and FCF/share of 2.95. TTM for Q1 2013 EPS is 3.26 and FCF/share is 2.84. Since 2010, management's main focus has been on increasing efficiency, reducing plant footprints, and squeezing as much value as possible through identifying redundancies and streamlining processes that are shared between segments. This has resulted in growth of revenues even though the construction market has been soft and has yet to experience a significant recovery. The company's debt to equity is 0.3 as of the most recent quarter and this is substantially lower than the industry average of 1.1.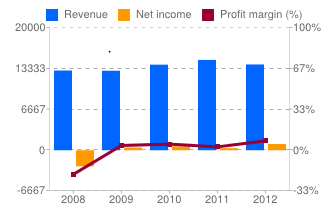 (google.com/finance)
The short term interesting prospect about IR is that the company is planning to spin off the security segment into a separate company by the end of 2013. This plan is designed to produce value for shareholders by spinning off a separate company with margins close to 18% and substantial revenue of around 2 billion a year. This segment accounted for 11.6% of total revenues for 2012. Calculating the loss of revenues for the company without including the security division is quite substantial for 2012 without knowledge of the debt that will also be taken along with the spin off into the new company.
Subtracting the revenues from the security segment, net income for 2012 is -421 and 0.53 TTM. This doesn't shed much light on where the parent company will be after spinning off the segment, but this should be solved when the company releases the form 10 in mid June. The spinoff of a portion of the company with 2 billion in revenues and reasonably strong margins across years in order to release value goes along with previous management strategies to unlock value that have included selling off Hussman in 2011 and the purchase of Trane in 2007.
Buybacks:
From April 2012 to December 31, 2012, the company performed buybacks of 18.4 million shares for the cost of 800 million. Using the 2011 diluted share count of 325 million, this represents 5.6% of the total outstanding shares at a price of $43.47. This buyback program was authorized to perform up to 2 billion dollars in share repurchases, which would have been 46 million shares or 14% of the total outstanding shares in 2011 at a share price of 43.47. In December of 2012, the company authorized an additional buyback of up to 2 billion shares upon completion of the current buyback program. In Q1 of 2013, the company has purchased an additional $20 million in shares at an average price of 52.65, further reducing the share count by 380 thousand shares. This leaves 1.2 billion in authorized share buybacks on the table for the remainder of the first announced program and an additional 2 billion authorized after the first program ends with completion of the second program by Q1 of 2014.
Dividend:
The dividend currently paid is 0.84 a year or a yield of 1.5%. The FCF payout is 30% with a FCF TTM of 2.84 per share, which is not a value that is substantially worrying and should be able to be paid out without requiring additional debt to be taken on to maintain the payout. In the summer of 2012, the quarterly dividend was increased by 31% from 0.16 to 0.21 a quarter. The dividend growth rate is 67% for the last 3 years, and it should be noted that the yearly dividend was cut from 0.72 to 0.28 in 2009 as the business was severely impacted by the recession and took measures to shore up the balance sheet when things were tough. Since that time period, management has been focused on increasing value for shareholders through both dividends and substantial buybacks along with increasing efficiency in order to unlock revenue that was previously unrealized.
Outlook:
Revenue for 2013 has been stated as 14.2 to 14.6 billion which represents 1-4% growth versus 2012. Full year EPS is estimated to be 3.45 to 3.65, which is an increase from 2012 of 5.2 to 11.3%. This translates to an implied value range of 60.48 to 63.98 using the current P/E ratio of 17.53. This valuation represents a premium of 4.9 to 10.9% to the current price of 57.68. Using a more conservative forward P/E ratio of 13.2, the valuation is a bit lower coming in at 45.95 to 48.62. Considering Q1 2013 guidance and the implementation of a large buyback program that will help to increase EPS over the time period, I consider IR a buy ahead of the security company spinoff. I will look to purchase additional shares if the price retreats to below $52 for now. I may be willing to purchase at higher prices after I investigate the Form 10 later in the month for the security segment spinoff. The company's outlook is good, with construction spending beginning to firm up some in the US and management being very oriented towards creating shareholder value. This means that IR will remain in my dividend portfolio until after the spinoff occurs and I review it once again for inclusion.
Disclosure: I am long IR. I wrote this article myself, and it expresses my own opinions. I am not receiving compensation for it (other than from Seeking Alpha). I have no business relationship with any company whose stock is mentioned in this article.
Disclaimer: This is my compiled research and opinion with forward looking guidance taken from the most recent earnings conference call, please do your due diligence and research yourself before investing.