Shares of Harley-Davidson Inc. (NYSE:HOG) were up more than 6 percent on Thursday morning trading after the company reported a 91 percent year-over-year drop in second quarter income due to lower motorcycle shipments, but also announced new cost-saving measures such as a cut of 1,000 employees and cuts in production (conference call transcript here).
The company said it now expects to ship between 212,000 to 228,000 motorcycles to its dealers and distributors in 2009, a drop of between 25 to 30 percent from 2008 shipment levels.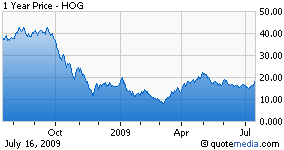 Harley-Davidson President and CEO Keith Wandell said that "continued weak consumer spending in the overall economy for discretionary purchases" made for a currently very tough environment for the company.
We agree with that assessment but would add that Harley-Davidson's declining sales are not just due to the recession and a lack of discretionary spending, and that the company faces far greater challenges to its future sales.
Specifically, Harley-Davidson has started to hit demographic–or "generational"–headwinds caused by its prime consumer base aging out of the market. The average age of a Harley buyer is now about 47, an average that has been creeping higher by about six months per year for the past 20 years. Meanwhile, the number of potential U.S. customers reaching this age has begun to drop, a drop that will accelerate to as much as one million per year by 2019, as the last of the Baby Boomers, and first 10 years of Generation X, reach this age (these figures do not include immigrants as first-generation immigrants do not generally purchase new vehicles).
Harley-Davidson is one of the most recognizable brands in the world, but it's an iconic Baby Boomer brand, and one that children of Boomers are showing great reluctance to adopt. And while the company's executives point to the economy as the reason behind its sales woes, it is obvious that the younger generations are not so enamored with the brand. Noted motorcycle analyst Donald J. Brown said most of the company's problems are independent of the economic downturn, and cited the lack of HD's appeal to younger motorcycle riders as a primary reason behind declining sales. He added that Generation Y has been a big fan of smaller, 125 cc-size bikes, which has been one of the fastest growing segments of the U.S. motorcycle market since 1999.
Admittedly, HOG management seems to be aware of the demographic challenges they face, as the company has taken steps in recent years to address potential sales shortfalls. In 1998, it bought out Buell Motorcycle Co., which had been a joint venture between Harley Davidson and former Harley engineer Eric Buell. The venture produced what is called "an atypical alternative" to the Japanese sports bike, with a high-output engine, radical frame design and state of the art suspension. Reviews of Buell models have been generally good, but sales numbers have only added up to about 2 percent of the number of Harley motorcycles sold per year.
In 2002, the company introduced the V-Rod, the first completely new model produced by the company in 50 years, and a stylistic departure from its traditional "Hog" style. The motorcycle has received good reviews during its six years, but is reportedly disdained by traditional Harley owners. Sales numbers, though, have been good enough that the company has expanded the line to include three different V-Rod models.
The company in 2008 bought the privately held Italian motorcycle maker MV Agusta, which produces the MV Agusta line of "exclusive, premium, high performance bikes," and Cagiva, a line of lightweight motorcycles. According to HOG management, the acquisition was undertaken to enhance the company's European position.
Harley-Davidson is also trying to address its lack of minority customers, with management publicly admitting that they had failed to market to the African-American and Hispanic populations. In response, the company in 2007 hired Lagrant Communications, which specializes in developing marketing campaigns for the black and Hispanic markets.
We feel that all these moves constitute "too little, too late," and that–with help from the recession–they have done little to broaden HOG's aging customer base. Of equal importance, though, is the toll the recession has been having on the company's financial services unit, which in recent years has been originating loans for more than 50 percent of U.S. Harley-Davidson bikes sold, making one analyst call the company "a finance [company] in drag." Finance receivables accounted for more than 70 percent of 2008 revenues, and total liabilities have been increasing by more than $500 million per quarter. All this, while sales have been declining. For the most recent quarter HOG's financing arm posted an operating loss of $62.1 million.
It seems that Wall Street short sellers are aware of the company's demographic challenges as about 18 percent of its float are held short, making it among the S&P 500 stocks with the highest short interest percentage. Despite the strong recovery in Harley-Davidson since March, we believe the shares will continue to struggle longer term as the demographics of its traditional client base continues to worsen.
Disclosure: No positions