Normally, when I go about valuing the shares of a company, I determine a fair multiple to assign the shares based on recent earnings growth and business prospects. However, I have found flaws in this technique at times, especially when I encounter a company with several business segments that have performed very differently of late. It seems the best way to value these conglomerate operations is to break the company down by segment and value each segment individually, then add everything back up. Furthermore, breaking a complex conglomerate operation down by segment can greatly aid in the understanding of a company that would otherwise be perplexing to comprehend.
DeVry Inc. (DV) is one of those rather complex companies that we're all just better off breaking down. In this article I will break down the company by segment, offering a description of its subsidiaries to aid those unfamiliar with DeVry as well valuing each individual segment.
Business, Technology and Managemet

This segment solely represents DeVry University, the core of the company's operations. I don't know why the company doesn't just label the segment "DeVry University," but it is what it is. DeVry University offers undergraduate and graduate programs as shown below: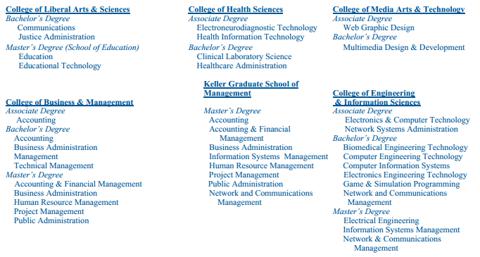 Source: DeVry Inc. FY2012 Annual Report
The courses are typically presented in a hybrid format consisting of once weekly meetings at one of DeVry's 97 locations along with a good deal of online exercises and instruction. These programs cater to adult learners who work and don't have the time to meet more than once a week but also may not be tech-savvy enough to thrive in an exclusively online course. I've taken a few hybrid courses recently and found them more attractive than fully in-person classes, even for the same price. Below you can see the demographic information: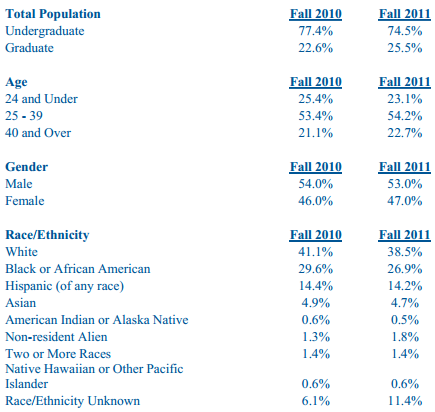 DeVry University is accredited by the Higher Learning Commission and just received reaccreditation through 2019. The University derived about 80% of revenues from Title IV funds in FY2011 and FY2010, well below the cap of 90%. This means that the university's access to federal Title IV financial aid funds is secure for the next few years.
The university's business results are shown below:

Because the company does not provide enough information related to individual segments, I am forced to use the company's current income tax rate of 21.98% across all segments and ignore non-operational income in my calculations. I adjusted figures to exclude one-time charges.
Now that we see what the university is earning on its own, we have to determine what multiple to assign to these earnings. The first thing I notice is the horrid declines in revenues and income in the past two years. I also looked at enrollment figures to get a better sense of how performance is trending.

Source: DeVry Inc. FY2013 Q3 Press Release
As you can see, both new student enrollments and total student enrollments are down across the board at the university, meaning that not only are enrollments declining, but the bleeding won't stop in the near future. Total student enrollments can be expected to grow soon after new student enrollments grow. Seeing as both numbers are presently declining, growth is not in sight. The significant decline in enrollment as well as financial results is all I need to assign the segment a low multiple. I'm thinking a P/E of 6 is probably appropriate. Actually that's being a little generous but I think there is a premium to be paid for the HLC accreditation security. That would value the segment at $566.928M.
Medical and Healthcare
This segment consists of DeVry's various wholly owned medical institutions. The segment is divided into DeVry Medical International, Chamberlain College of Nursing and Carrington Colleges Group.
DeVry Medical International operates:
Ross University School of Medicine in Dominica, a small island in the Caribbean.
Ross University School of Veterinary Medicine - 22 locations in the US as well as a larger location in St. Kitts in the Caribbean.
American University of the Caribbean School of Medicine - students complete two years of basic sciences at the St. Maarten campus followed by two years of clinical sciences at affiliated hospitals in the US and England.
DeVry Medical International enrollment performance is below:

These numbers are OK, especially in comparison to DeVry University enrollment numbers. It's too bad it's such a small division and doesn't have the weighting on the company's results that the University does.
Chamberlain College of Nursing offers Associate's, Bachelor's and Master's degrees in Nursing and operates 11 campuses that are co-located in the US with DeVry University campuses. Its enrollment results are: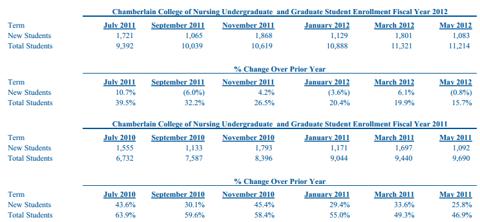 As you can see, Chamberlain has in the past been an area of high growth for the company. What is troubling to me is the steady deceleration in total enrollment growth. Every hexamester for the past two years has shown total enrollment YOY growth less than the hexamester before it. If this trend continues, Chamberlain may not be a high growth area much longer.
Carrington Colleges Group operates Carrington College and Carrington College California. The two institutions combined offer the following programs: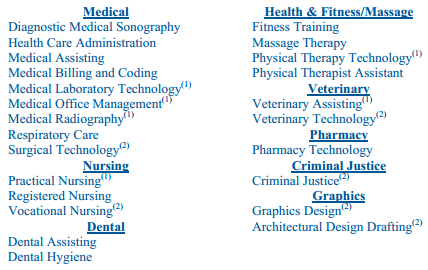 Carrington College Group also leverages DeVry's Online Services platform, offering the following programs exclusively online: Accounting, Business, Computer Technology, Criminal Justice, Graphic Design, Healthcare Administration, Health Information Technology, Paralegal Studies, Renewable Energy and Sales and Marketing. Enrollment data is below: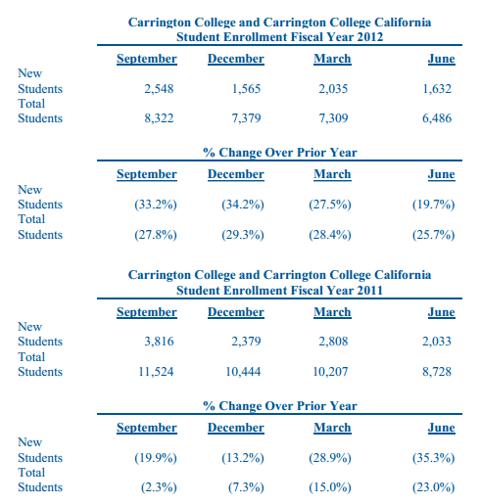 The company blames poor economic conditions for the bad numbers. That may be the case but when a company says something like that, I worry that it may not have an answer to the problem. These numbers are almost as bad as at DeVry University.
I calculated Medical and Healthcare financial results below:

From the enrollment data and the profit growth in this segment in the past year, it is quite clear to me that this segment is doing much better than DeVry University. Accordingly, we'll assign it a higher P/E. A P/E of 11 seems appropriate. I like Chamberlain College of Nursing. The idea of a college completely devoted to one of the fastest growing professions in America is enticing and I hope the company can reverse the enrollment growth deceleration and keep the growth coming for years to come. A multiple of 11 gives the segment a fair value of $847.964M.
International, K-12 and Professional Education
This segment consists of DeVry Brasil, Advanced Academies and Becker Professional Education.
DeVry Brasil provides post-secondary education in nursing, management, law and engineering to over 21,000 students in 4 major cities in Brazil. This is a quality, high growth segment in a growing, vacant market. Higher education in America is probably the most competitive market for education in the world. It also is becoming one of the most regulated. The alternative of an American education company expanding its operations into a growth market somewhere else makes plenty of sense. As you can see by the enrollment numbers below, DeVry Brasil has done very well.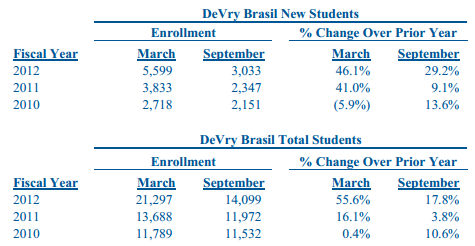 Advanced Academies provides online education to students in grades 6-12. The system is made available to students in conjunction with in-class education through school districts and charter schools that partner with the company. Since 2000, the programs have educated over 130,000 students in 30 states. Advanced Academies currently has partnerships with over 200 school districts and charter schools and 20 virtual high school programs.
It's difficult to measure performance at Advanced Academies due to the fact that the company doesn't publish any data about it but in the company's Q3 earnings call, CFO Timothy Wiggins said, "They're not doing great, but they are a smaller part of that overall mix." In Q3, revenues were up YOY in all divisions except DeVry University and Advanced Academies. Being grouped together with the university, the company's worst performing segment, tells me that things aren't going well at all at AAI, but again it holds very little weight on the company's results.
Becker Professional Education provides exam review courses for accountants and physicians. It is, in my opinion, the company's shining star. Becker is the run-away winner in CPA exam review courses. Every year, news comes out that the vast majority (around 90% since 2005) of the top-scorers on the CPA exam used Becker's review courses. In FY2012, over 50,000 students used the course for the CPA exam. In a company where exceptional educational quality is hard to find, Becker shines out. Unsurprisingly, the company discusses Becker last among its various segments and divisions.
In Q3, Becker opened two new locations in New York and Chicago and management said nothing but good things about it in the earnings call. As the tax code continues to grow and becomes more and more complicated every year, more CPA candidates will choose Becker to prepare. This is a strong point for sure.
The segment's financial results are shown:

In my opinion the strong results and positions of DeVry Brasil and Becker overwhelm the poor results of Advanced Academies, justifying a rather high multiple for this segment. In reading the company's annual and quarterly reports, very little struck me as special or differentiated from other for-profit education companies. Becker and DeVry Brasil did draw my interest though. With a compounded annual growth rate in profits of 15.6% since FY2010, I think it's appropriate to assign a multiple of 15.6 to the segment. That values the segment at $374.152M.
Putting it All Together
Now that we've valued each individual segment, it's time to add everything up and make some adjustments.

I come up with a business value of $1.927B. Obviously this valuation is extremely dependent upon my multiple assignments, but I think they were fairly generous given the company's poor performance in the last few years. Right now, the company is trading for $1.95B, almost exactly what I valued the company at.
If I we're excited about this company's prospects, I would consider buying at these levels, but I'm not. The company has performed poorly on many different levels of late but more importantly there isn't anything special about this company. Other than Becker and DeVry Brasil which contribute relatively small portions to the company's overall results, there is very little "wow factor" at DeVry. The company lives and dies on hybrid classes. That's great but hybrid classes are already being offered at traditional colleges. The company has its own proprietary online service. That's great but it's not breaking new ground like Capella Education (NASDAQ:CPLA) is.
Even more bothersome to me is the lack of direction. Management stresses diversification to minimize economic impact on results, but you have to have some identity. DeVry to me seems like a collection of random, unrelated institutions, not one company with one focus and direction. Maybe I'm being too critical but I think we all know that there is some subjectivity in business analysis. One shouldn't invest in something that he doesn't have faith in. I just don't see much sustainability in DeVry. If anything, I see the company in 10-15 years focused exclusively on professional education through Becker. If that's the case, though, the company won't be doing much better than it is now because the market for professional education really isn't large enough to sustain growth at a $2B company. I'm staying away from this company and I recommend you do the same.
Disclosure: I have no positions in any stocks mentioned, but may initiate a long position in CPLA over the next 72 hours. I wrote this article myself, and it expresses my own opinions. I am not receiving compensation for it (other than from Seeking Alpha). I have no business relationship with any company whose stock is mentioned in this article.