The MBS market has seen a great deal of movement in the past two months and it has had a huge impact on mREIT investors. Since May 1st the Market Vectors Mortgage REIT Income ETF (NYSEARCA:MORT) has taken an 11% hit, and industry leaders Annaly Capital Management (NYSE:NLY) and American Capital Agency (NASDAQ:AGNC) have endured 14.8% and 22.6% drops respectively.
MBS premiums have dropped dramatically across the board since that time, with lower coupons taking a beating (30-year 3s were off more than 3% in Q2 at recent lows). AGNC's approach seems to have in many ways exposed it to the worst of this drop, as they operate at a reasonably high leverage for the mREIT sector and have generally held lower coupon securities when compared to their peers in order to mitigate CPR risk. Their well documented approach to leverage TBA positions during QE3 also doesn't make a positive case for their Q2 performance.
With AGNC likely to announce their quarterly dividend in the next week or so, and with so much uncertainty as to where exactly their portfolio stands, we are going to break down what we know about AGNC's position based on their Q1 figures and try to get a range on where book value is, along with how the recent events may impact the dividend.
MBS Portfolio Depreciation
Exactly how much depreciation have we seen in the MBS market? Well, that depends on the coupon we are looking at but things have been down across the board. From their peak in late April to their recent bottom fair value for 30-year FNMA 3.0s have dropped 4.65%. To give some context, this is larger than the respective boost they saw from bottom-to-peak prices over the August-September timeframe in 2012 when the QE3 was announced (that boost was about 3.9%). During this period the 30-year FNMA 5.0s have given up only about 1%. We will take a look at AGNCs MBS portfolio at the end of Q1 to get a feeling for how they were positioned going into Q2 and what rates are the most relevant.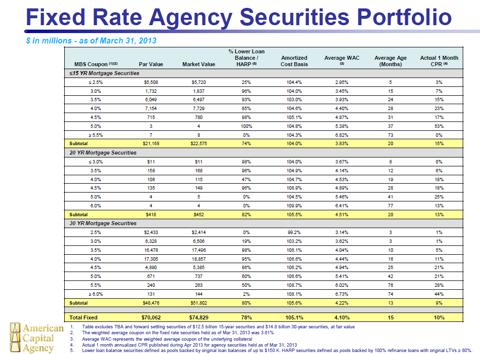 Source: Page 23 of American Capital Agency Q1 Shareholder Presentation, Retrieved June 9th, 2013.
If we look at page 6 of AGNCs Q1 presentation, we have the fair value of these securities as of 3/31/13. If we map that to the most recent pricing (market close Friday 6/7/13), we get the following drops.
30-year MBS

Coupon

3/31/2013

Holdings

6/7/2013

-Δ

-Δ%

Projected Fair Value

3.0

103.11

6506

100.00

3.11

3.016%

6309.77

3.5

105.58

17496

103.1875

2.39

2.266%

17099.53

4.0

106.61

18857

105.25

1.36

1.276%

18616.45

4.5

107.73

5385

106.75

0.98

0.910%

5336.01

5.0

108.34

737

107.71875

0.62

0.573%

732.77

5.5

109.08

263

108.25

0.83

0.761%

261.00

15-year MBS

Coupon

3/31/2013

Holdings

6/7/2013

-Δ

-Δ%

Projected Fair Value

2.5

103.75

5720

101.6875

2.06

1.988%

5606.29

3.0

105.17

1837

103.8125

1.36

1.291%

1813.29

3.5

106.03

6497

104.9375

1.09

1.030%

6430.06

4.0

107

7729

105.6875

1.31

1.227%

7634.19

4.5

107.67

780

106.5

1.17

1.087%

771.52

*Holdings and Projected Fair Value Figures in Millions
So we see that before accounting for the $27.3B in TBA positions, the portfolio AGNC held at the end of Q1 will have lost around $1.28B. Since we don't have a breakdown of what coupons the TBA positions are based upon, we could assign the weighted average depreciation rate of AGNC's portfolio to the respective bundles of 30-year and 15-year TBA positions. That however, would be a considerate projection as the TBA positions are more likely to center around lower coupons than the portfolio average (the purpose of taking the TBA approach is based on the QE3 purchases, which are related to 3.5% coupons and lower and the idea that these coupons were going to continue to have high volume buyers). Due to this, we will break the projection into two scenarios; the first where the TBA positions are marked down at the weighted average rate of depreciation (1.86% for 30-years and 1.36% for 15-years), and one where they are marked at a lower coupon rate (the 3.0% depreciation rate for 30-years and the 2.5% depreciation rate for 15-years). Between the two scenarios, we get a range of depreciation between $1.72B and $1.97B.
Interest Income
The slight differences here matter more in terms of realized income and the range is not extremely broad. As of 3/31/13 the net spread on AGNC's portfolio including TBA positions was 1.71%. After the recent rate spike, CPR will almost certainly come in lower than projected. Also, as rates rise mREIT spreads will go up as portfolios are repositioned. Despite this, the first half of the quarter saw rates fall slightly and in order for the spread to rise AGNC has to reposition their portfolio and sell lower yielding securities off (at this point that would almost certainly require selling them off at a loss). The 'as of 6/31/13' figure might look better if current trends continue, but it's unlikely AGNC has seen large improvements in their spread figure in the past two months.
Beyond simply determining their portfolio spread, it is also relevant to recognize that with the decrease in book value due to portfolio depreciation, they have to decrease the size of their portfolio to maintain the same leverage. Since that net spread will apply to a smaller portfolio, the bottom line figure will be a bit smaller. Let's place our spread projections between 1.7% and 1.9% and their average portfolio value between $90B and $100B. Those figures would mean AGNC has earned between $329M and $294M in interest income to this point (would project to yield $475M and $425M respectively for all of Q2).
Hedges
This aspect, although potentially the most important, is not easy to predict by looking at the March figures. The smaller numbers allow management to be much more fluid with how they hedge and how much they wish to allocate to each strategy. For example, in Q1 AGNC nearly doubled their swaption portfolio through acquisition of new securities. Also, it's harder to estimate the current price of these underlying securities (particularly the swaptions) since we don't know exactly which figures the holdings are based upon and how responsive they have been to rate changes.
We could use AGNCs projections on hedges and NAV based on rate change from their quarterly presentations, but the fact is that MBS have been harder hit than treasuries recently so this could produce significant errors that make the outlook appear too positive. Regardless, any assumptions about the hedge portfolio's performance to this point during Q2 may be extremely erroneous and lead us down the wrong path about AGNC's true position. This leads us to offer a large gap between best and worst case predictions after looking at past quarter performance and deriving what we can.
Through Q1 we saw a rise of 9Bps on the 10-year treasury, 5 Bps on the 5-year treasury, and a drop of 1 Bps on the 2-year Treasury. Between unrealized and realized gains on hedging activities including swaps, swaptions, and other treasury positions the net effect only resulted in a few million in gains. Thus far in Q2 we've seen roughly 30 Bps moves in the 10 and 5-year securities and a 5 Bps move on the 2-year treasury. With a large percentage of AGNC's hedge portfolio following an option profile of high responsiveness to extreme gains along with the potential for AGNC to have increased their swaption holdings further as they have seen their MBS position weaken, we feel it's safe to assume that this area has performed well even with the moderate but not extreme shift in treasury rates. To be safe we will set our worst case at $200M in gains and our best case at $600M in gains. This would be roughly in line with between 10% and 35% of MBS depreciation.
Our Book Value Estimate and What it Means
If we apply our best case conditions and our worst case conditions we get the following figures for quarterly losses to this point:
(1.97B) + 294M + 200M = (1.476B)
(1.72B) + 329M + 600M = (.791B)
Those losses imply the range on current book value to be $25.21 - $26.94
That's a relatively large range, but the significant information it tells us is that currently AGNC ($25.56 at close 6/7/13) is likely trading roughly in line with book value.
What All of This Means For the Dividend
The most important figure for the dividend is the taxable income figure, which only includes the realized items on the balance sheet. This includes interest income, any closed out MBS positions, and any expired or closed out hedge positions. For Q2 our projections suggest between $1.20/share and $1.07/share in interest income.
There is no basis to project with any confidence what percentage of the MBS portfolio's losses AGNC will realize in order to reposition given the current environment (or what profitable hedges they might realize to offset these losses). What we can observe however, is that losses on the TBA positions will hit the books when they settle as they did in Q1, and even with the uncertainty regarding which coupons those positions are centered around, the average depreciation rate (best case scenario) of basis losses on those TBA positions amounts to $445M (the worst case being a whopping $695 or $1.75/share). This will almost certainly put AGNC in the red for Q2 taxable income before any losses are realized to reposition the MBS portfolio or gains are realized on hedges.
Going into the quarter AGNC held $430M in undistributed taxable net. Approximately $253M (~.64/share) of that was taken in 2012 and by mREIT regulations must be paid out in dividends declared before September 15th 2013. Beyond that however, even though the outlook for the net spread figures is good going forward, the dividend will be assessed with either no taxable income or potentially taxable losses for the first half of 2013 in addition to unrealized losses on the basis of their MBS portfolio going forward.
Management may choose to realize gains on hedges and minimize realized losses on MBS in Q2 with the expectation that rates will turn back down significantly. Even in this case however, the current dividend would nearly deplete their undistributed taxable net income (which is something they may not be able to avoid in our worst case scenarios, even if the dividend is cut).
It is extremely unlikely that AGNC will over-distribute, especially with book value falling as it has. Our outlook suggests it is extremely likely that taxable losses will position AGNC to assess the current quarter's dividend with the expectation that less than $1/share of taxable net income will be on the books before the dividend is paid out. This means the dividend cut will be significant regardless of where book value stands. Based on our figures we would estimate that the dividend will likely be cut to $0.65-$0.95 depending on how management has handled this quarter.
Conclusion
This is a rough time period for all mREITs, American Capital Agency in particular. Management has a proven track record of strong performance over the past few years, however as even Gary Kain stated during recent conferences, the markets did not perform as they expected in a QE3 environment. Based on our figures, AGNC is likely to be trading somewhere between a 1% premium and a 5% discount to current book value. Also, given the taxable income figures, the current dividend of $1.25 represents a significant premium to what can be expected for 2013 performance at this time, and we expect a reduction to between $0.65/share and $0.95/share in Q2. If our projections are correct, those interested in opening or extending long positions in AGNC may see a buying opportunity after the dividend is announced in the near future as our figures are somewhat lower than current consensus projections. Those who currently hold exposed long positions may want to consider a hedging strategy prior to the announcement.
Disclosure: I have no positions in any stocks mentioned, and no plans to initiate any positions within the next 72 hours. I hold offsetting derivative positions related to AGNC that are net short. I may alter my positions over the next 72 hours primarily based upon AGNCs Q2 dividend announcement. I wrote this article myself, and it expresses my own opinions. I am not receiving compensation for it (other than from Seeking Alpha). I have no business relationship with any company whose stock is mentioned in this article.