ARM Holding (NASDAQ:ARMH) has been under tremendous pressure after mobile devices giant Samsung (OTC:SSNLF) announced the release of its new Galaxy tablet using a dual core Intel (NASDAQ:INTC) "Clovertail+" chip. This Intel chip was released in 2013 and is produced on Intel's older 32 nm node. This tablet design win is huge for Intel, as it is the first time that a major tablet company has adopted an Intel chip for a popular product. ARM designs completely dominate the tablet and smartphone processor landscape; and Advanced Micro Devices (NASDAQ:AMD) and Intel are almost completely absent from this area. However, Intel has been making huge investments to get a foothold into this rapidly expanding ~$40 billion industry. Intel has made rapid strides in the past 2 years and now its efforts are bearing fruit. The Samsung win is the first sign that Intel is going to disrupt the entire mobile industry which is currently built on ARM's IP and TSMC's (NYSE:TSM) manufacturing. ARM recently presented a slideshow in which they claimed their 28 nm chips will be better than Intel's upcoming 22 nm chips. I think that is a total hogwash and shows that ARM is getting scared by Intel's current design wins. The world's second largest PC company Lenovo (OTCPK:LNVGF) launched its flagship phone K900 using an Intel chip. This shows that Intel is capable of giving strong competition to ARM players in both tablets and smartphones.
Intel is making chips with focus on performance per watt rather than sheer performance
Intel has made strong strategic moves to become a big player in tablets and smartphones chips. The recent successes with Samsung and Lenovo show that the company is already competitive with Qualcomm (NASDAQ:QCOM), Nvidia (NASDAQ:NVDA) and others. While ARM is claiming that its chips are superior to Intel's future chips, I don't think Lenovo is stupid enough to release its flagship using Intel chips if they were technologically inferior to ARM designed chips. Intel has completely reoriented its R&D to focus on increasing the power consumption of its chips. The company recently showcased the "Scenario Design Power" (SDP) feature of its new chips which will consumer power based on the usage scenarios of computing devices. Instead of consuming large amounts of power for all scenarios, the new chips will be designed to consume different amounts of power for different scenarios. For example, the chips will consume lower power for less intensive computing tasks like browsing, while they will consume high amounts of power for computing intensive tasks like gaming. This will help reduce the overall energy consumption and make Intel a formidable force in the mobile devices industry, where performance per watt is more important than the sheer performance.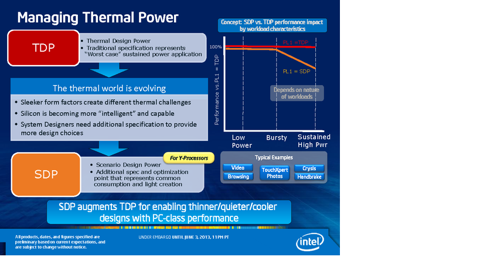 ARM's Defense does not make sense
ARM is claiming that its RISC architecture to be far superior than Intel's x86 architecture and its current 28 nm processors will outperform Intel's upcoming 22 nm Tri-Gate 3D Silvermont chips. Intel's current mobile processors are produced at the 32 nm node, while the best mobile processors from Qualcomm are being made at the 28 nm node. Intel already has factories producing 22nm silicon but they are meant for the PC and server markets. Intel is refreshing its 5 years old low power Atom architecture and will start producing low power Atom chips for the mobile market by the end of 2013. Intel is only able to produce dual core Clovertrail+ chips at 32 nm. However, even these dual core Clovertrail+ chips have been found to equal if not beat ARM's 28 nm quad-core chips on different benchmarks.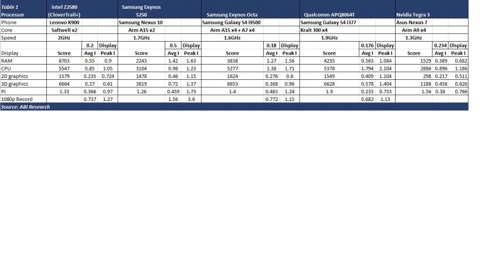 Anwyay, there was a recent battery of tests done by ABI Research and involving the Lenovo K900 phablet, powered by this CPU. They compared the Clover Trail+ to the latest Qualcomm, Nvidia and Exynos chipsets. The interesting thing was that while performance was similar, the power draw from the Intel SoC was only 0.85A average current, compared to the 1.38A for the Samsung Exynos 5 Octa and 1.79A for the Qualcomm Snapdragon 600.

Source - Tablet News
To claim that ARM's current A15 chips will beat Intel's 22nm chips seems a bit preposterous to me. Also Lenovo and Samsung are not that dumb to produce flagship products using obsolete chips. Why would Lenovo market its new flagship K900 using an Intel chip, while selling its lower priced smartphones using ARM designed chips. Lenovo is trying to make an entry into the mobile market as its core PC market is shrinking at a rapid pace. To build a flagship using a slow old chip seems like a very dumb decision, which I don't think Lenovo is going to make.
K900 is powered by the Intel Clovertrail+ platform. This means the processor inside the phone is Atom Z2580, Intel's first dual core chip while the graphics duty is handled by two cores to PowerVR SGX 544. While the phone runs Android Jelly Bean the users interface is customized by Lenovo. Unlike the elegant and mostly flat users interface in stoack Android, the software on Lenovo uses more flashy animations and on-screen buttons.

In our brief use, we found the device to be very fast. There was no lag while we opened apps, checked out widgets and opened websites on the browser bundled with the phone.Lenovo calls K900 its flagship phone and based on our first impression we can say that it look like one

Source - Times of India
Samsung like Lenovo apparently sees a bright future for Intel's mobile chips; otherwise it has no reason to make Galaxy tablets using Intel chips when it can easily plug in homemade ARM based processors. Asustek which is the world's third largest producer of tablets is also starting to increase its usage of Intel chips in its tablets and smartphones. The new Fonepad has an Intel Clovertrail+ chip and I have not seen any review that marks it being inferior to Asustek's Nexus 7 tablet, which uses ARM designed Tegra 3 chip.
That's very, very true-but Intel's processors didn't just pop up in the Galaxy Tab. Clover Trail could also be found in the bizarre Asus Transformer Book Trio laptop-desktop-tablet "frankenconvertible" (as Moorhead calls it) that runs both Android and Windows; the 10-inch Asus Memo Pad FHD; and even the 6-inch Asus Fonepad Note phablet. Asus, it seems, is at least partially won over.
Source - PCWorld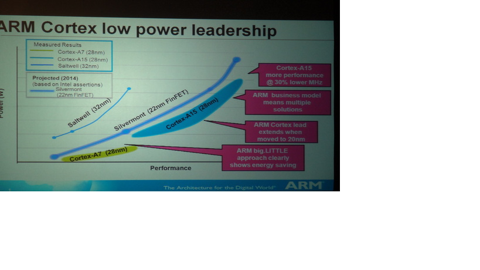 Intel's Valuation is attractive
Intel is firing on all cylinders with new product launches for the whole computing industry. Haswell has the potential to revive flagging PC sales, as it will greatly increase the battery duration for ultrabooks and laptops. These new chips will also have greatly enhanced graphic capabilities as well as better processing performance. Silvermont architecture will help Intel gain a big share of the mobile chip market as it will tremendously improve the performance of its mobile chips, which currently use the five year old Atom architecture. Intel's stock has gone up by ~25% in the last few months as the company continues to announce new products. The company gives a very attractive dividend yield at a cheap valuation. Intel has got substantial competitive barriers in its existing PC and server chip business and is rapidly expanding into mobile chips. The stock is trading at ~$25 with a forward P/E of ~12x.
Summary
Intel's stock price has been increasing with the new design wins and has touched a recent high of $25 after the Samsung Galaxy Tab 3 was announced. ARM on the other hand, has started dropping as its monopoly over the mobile market comes to an end. The ARM presentation hints of desperation on the part of ARM management. Intel is going to make chips on advanced process nodes using technology which is more advanced than anything in the market. The current Clovertrail+ chips are already competing well with ARM designed chips. I think that Baytrail will move Intel ahead of others in the tablet processor space. Intel will have a tougher fight in the smartphone processor area, as Qualcomm has substantial advantages in the communication baseband area. But I think that Intel will win a substantial share even in the smartphone processor segment, as it rectifies its communication deficiencies with a new multimode LTE XMM 7160 chip. Despite the recent run-up, I remain positive about Intel's stock while I think that ARM stock remains highly overvalued.
Disclosure: I have no positions in any stocks mentioned, and no plans to initiate any positions within the next 72 hours. I wrote this article myself, and it expresses my own opinions. I am not receiving compensation for it (other than from Seeking Alpha). I have no business relationship with any company whose stock is mentioned in this article.