There comes a time in every investment cycle that one has to make a decision to sell or not. This is not an easy decision, because most of the time it's not easy to see clearly ahead. And as Alan Greenspan has said, when you're in a bubble, you don't really know it.
While I have called for many months now that the market will continue north, even in the face of a fiscal cliff trigger, nevertheless when the situation calls for staying on the sidelines, on the sideline investors should stay.
The question is, why should we stay on the sidelines?
For one thing, the VIX index is increasing. See, volatility has been very low for a long time now. But you never know when that will change and when the VIX index will creep up and make a mess of things. The index is still quite low, however if it goes above 18, breaking above the trendline, I would be very defensive.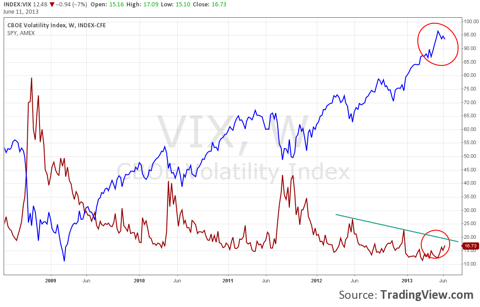 Another reason is the chart below.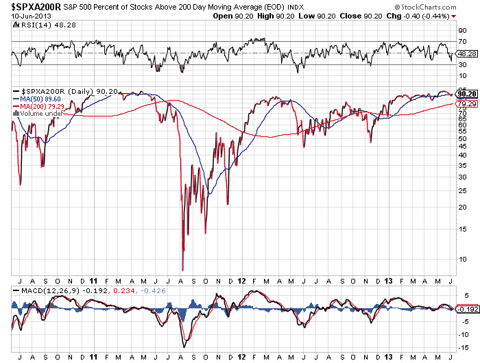 This is a very strange chart to most, but it is a very important chart. This chart shows us the percent of shares on the S&P 500 index that are above their 200-day moving average.
Basically today this chart is as bullish as it gets. This chart really does not go above 90%. You might say this is a good thing, it means we are bullish. Indeed this chart is bullish, but I mostly use this chart in a contrarian way.
In other words, when 90% of the shares are bullish I become defensive (considering other parameters of course) and when this chart is the other way around -- meaning most stocks are below their 200-day moving average -- I scout for opportunities. Given the run up in the market, there are really not that many opportunities today, especially as far as index investing is concerned. You really have to do some very surgical stock picking in this market.
Finally, as I said yesterday, on June 3, we had a Hindenburg Omen event. (Please consider: Should You Ignore The Hindenburg Omen?)
What is important about this event, is that it proceeded every single major market correction since the 1980s. The indicator only works about 25% of the time, but 25% is a big enough percent for me to be on the lookout for a major market correction. Besides, it's not a bad idea every now and then to stay on the sidelines anyway.
So the question is, what do you sell?
I would sell two categories of stocks.
Stocks that are expensive, irrespective of if they had a good run-up or not
Stocks that have had a good run-up and don't offer much future price appreciation
In the first category I would diffidently put Tesla (NASDAQ:TSLA). This stock has it all. Extremely high expectations built into the stock, very high valuation, and it breaks just about every rule of fundamental investing you can find.
| | | | | | |
| --- | --- | --- | --- | --- | --- |
| TESLA | P/E | Forward P/E | PB | Price/Sales | 1y Target Est |
| | N/A | 91 | 68 | 12 | 74 |
I would also sell Citigroup (NYSE:C). Citigroup is a stock recommended many months ago when it was at $30 a share. Today however it is at $50 a share, so it never hurts to take profits. However there is also another reason. If analysts have it right, the 12-month forward price target for Citigroup is only $55 a share, or about 10% higher than current levels. I don't think it's worth the risk.
| | | | | | |
| --- | --- | --- | --- | --- | --- |
| Citigroup | P/E | Forward P/E | PB | Price/Sales | 1y Target Est |
| | 18 | 9 | 0.8 | 2.6 | 55 |
In fact you can add the entire banking sector while you're at it, including Wells Fargo (NYSE:WFC).
I would sell the entire SaaS space, with Workday (NYSE:WDAY) and Salesforce (NYSE:CRM) on the top of the list. Like Tesla, these stocks are bubbles beyond any stretch of the imagination.
| | | | | | |
| --- | --- | --- | --- | --- | --- |
| | P/E | Forward P/E | PB | Price/Sales | 1y Target Est |
| Workday | N/A | N/A | 20 | 37 | 67 |
| Salesforce | N/A | 63 | 10 | 7 | 48 |
I would also sell Intel (NASDAQ:INTC) and Microsoft (NASDAQ:MSFT). While these stocks are not bubbles, they are in every institutional portfolio, and if we see an exodus from stocks by the investing public, these stocks will get sold, irrespective of if they are cheap (which they are not anyway) or not.
Bottom line
It never hurts to be defensive in any market environment. And like an old market saying says, no one ever lost selling at a profit. So if you do have profits, I would advise taking some of them, because markets do correct from time to time and many times for no reason at all.
Disclosure: I have no positions in any stocks mentioned, and no plans to initiate any positions within the next 72 hours. I wrote this article myself, and it expresses my own opinions. I am not receiving compensation for it (other than from Seeking Alpha). I have no business relationship with any company whose stock is mentioned in this article.