Introduction
"It's far better to buy a wonderful company at a fair price than a fair company at a wonderful price."

- Warren Buffett
Graco Inc. (NYSE:GGG) designs, manufactures and markets systems and equipment to pump, meter, mix and dispense various fluids and coatings worldwide. As a mid-cap firm, Graco has plenty of room to grow and develop into an industrial equipment behemoth. Granted, the current multiple of 22 isn't cheap, but the growth opportunities are certainly there, and the valuation of a stock can't be determined simply by a P/E ratio. We believe Graco presents a large opportunity for shareholders as it has strong fundamentals and a wide moat based on intangible assets and high level entry barriers.
Lynch Checklist
We often begin our evaluations of a small-cap firm by running it through Peter Lynch's checklist, as it briefly demonstrates the potential a particular equity has. Graco scored well on this evaluation mechanism, and it certainly appears to be an opportunity that has tremendous potential. This checklist is especially important to follow as it illustrates a firm's ability to do well in the long term. If one can discover a high quality growth stock before every analyst on the Street follows it or every institution wants to own a piece of the company, the rewards will likely be grand.
(1) It Sounds Dull, or Even Better, Ridiculous
Graco Inc. isn't too dull or ridiculous, yet it isn't overly exciting either. No point.
(2) It Does Something Dull
The manufacture of equipment to pump, mix and dispense fluids and coatings is a pretty dull business. Point.
(3) It Does Something Disagreeable
Originally being a grease gun maker, Graco's business will always have a side to it that makes people shrug, retch or turn away in disgust. Point.
(4) Its a Spin-Off
Graco was founded in 1926 in South Dakota as Gray Company Inc., and was renamed Graco in 1947. No point.
(5) The Institutions Don't Own It, and the Analysts Don't Follow It
Although Graco isn't an undiscovered stock, it still has a sense of obscurity to its name, as very few individuals have ever heard of the company. Institutions own more than 80% of the company and analysts occasionally visit the company, but this is to be expected from a company valued at just under $4 billion. No point.
(6) The Rumors Abound: It's Involved with Toxic Waste and/or the Mafia
The products Graco develops are in no way associated with either of the two. No point.
(7) There's Something Depressing About It
Despite being both a dull and disagreeable business, Graco's products aren't overly depressing. No point.
(8) It's a No-Growth Industry
While Graco is not competing in a no-growth industry, it is certainly competing in a low-growth industry. The diversified machinery industry is semi-cyclical, and the industry's slow growth discourages high levels of competition. Point
(9) It's Got a Niche
A niche is anything that a company can use to have an edge against competition. All the patents Graco has on its products make its industry have high level entry barriers, and Graco's diversified product pipeline prevents competitors from directly competing with the company. Point.
(10) People Have to Keep Buying It
Many of Graco's products are consumable, and people will need to keep buying them subject to the economy. Graco sells replacement products, which makes it have a repeat business. Point.
(11) It's a User of Technology
Graco is not employing technology to cut costs or increase profitability. No point.
(12) The Insiders are Buying
The insiders are actually selling, but the run that Graco has had makes the situation better. As a whole, insiders own 3.5 million shares and around 6% of the company. No point.
(13) The Company is Buying Back Its Own Shares
Graco has been buying back a ton of stock since 1995, as management has used the free cash flow generated by the company to buy back around 30 million shares over the last 18 years. Point.
Analysis
While a company that receives a perfect score on the Lynch Checklist is extremely rare, one that at least receives 5 out of 13 points is worth taking a closer look at. Not all criteria are the same, and some are more valuable than others. Graco's score of 6 makes the firm intriguing, but the criteria of the 6 points it received is what makes this stock an interesting opportunity. The combination of both a dull and a disagreeable business limits the interest the stock receives from the Street. Graco's activity in a low-growth industry helps it maintain its spot as an industry leader by keeping competition low. Graco's niche, a diversified product pipeline, prevents a firm from directly challenging the company, which has allowed Graco to maintain gross margins of 50% over the last ten years. A stable revenue stream is established as Graco is a repeat business, as it replaces a wide variety of parts and products. Lastly, management's commitment to continue repurchasing large amounts of stock over a long period of time makes it far easier for earnings to positively impact the stock, in addition to demonstrating that Graco is a well run company. Over time, Graco has been able to expand its moat, through developing a unique blend of patents and innovations to maintain its competitive position in the diversified machinery industry. Unlike technology companies for example, where success is entirely dependent upon the ability to innovate a newfangled and game changing product, Graco's innovation is far more modest. Graco's innovative prospects can be best compared to those of 3M (NYSE:MMM), as the innovations made aren't overly complicated and are easily improvable. This type of innovation is essential to the company's moat, as it creates a competitive advantage based upon the intangible assets of patents. Even better, unlike patents on pharmaceutical drugs that are both easily challenged and vital to their respective firms, Graco has no problem with patents. After a patent expires on one of Graco's products, they can simply enhance the original product and file for a new patent. Also, no single patent is overly valuable to the firm, as it markets hundreds of products. Furthermore, Graco's diverse product pipeline makes it exceedingly tough for any single firm to directly compete with the company. Competition in itself is also heavily discouraged by the high initial capital requirements needed in the industry to develop a formidable product pipeline. These high level entry barriers exacerbate the positive effects of the moat, as the moat initially combats competition, and high level entry barriers help maintain low levels of it. Combined, this presents a wide moat for Graco, which helps maintain profitability over long periods of time.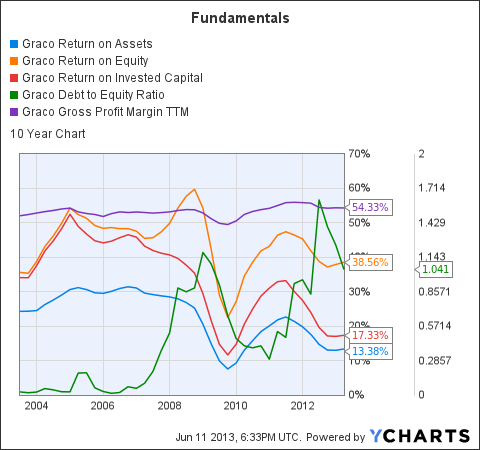 GGG Return on Assets data by YCharts
While returns on assets and returns on invested capital aren't too high, Graco's efficiency can best be expressed through the stock's return on equity, hovering at around 40%. Graco also doesn't have a ton of debt, and its ability to generate cash helps it keep this debt paid off. Importantly, Graco's gross margins allow huge profitability at over 50%, certainly showing the presence of a niche. These margins have been steady for the last ten years, proving Graco's ability to remain profitable through even the toughest of times.
Final Thoughts
In conclusion, we believe that Graco offers a wealth creating opportunity over the long term through the company's strong fundamentals and wide economic moat. Graco's dull and disagreeable business helps keep Wall Street interest low, while its niche, share repurchases and consumable products lead to increased profitability year after year. The firm's wide moat based on intangible assets and high level entry barriers helps maintain this profitability from a long-term scope and to combat competitors. While although ultimate success is based upon innovation, the innovative process Graco follows isn't overly complicated, as the modifications made to their products are modest. Graco's diversified product pipeline also helps keep profitability strong, as the company's financial success is not solely dependent upon one or two key products. Graco's fundamentals have shown that management has utilized income efficiently, and salubrious, yet stable margins will push the company forward. Even though Graco is pricey at current levels, the reward far outweighs the risk.
Disclosure: I have no positions in any stocks mentioned, but may initiate a long position in GGG over the next 72 hours. I wrote this article myself, and it expresses my own opinions. I am not receiving compensation for it (other than from Seeking Alpha). I have no business relationship with any company whose stock is mentioned in this article.
Additional disclosure: As with any small cap company, there are risks associated with investing.