ETFs For Investing In Dividend Growth Style
My stock ownership is that of a self-directed investor in individual stocks, primarily dividend growth stocks. I enjoy everything about the process, the evaluation of companies to estimate their future prospects and creation of a portfolio that has performance and risk characteristics that are better than that of the individual holdings. While I once had a coffee table cluttered with corporate annual reports, and green columnar pads and pencils on my desk, I now have a PC. I enjoy navigating the Internet to seek the best investing resources. In addition, I enjoy writing for Seeking Alpha had sharing some of what I discover.
However, I realize that not everyone has the aptitude, inclination or time to pursue the evaluation of individual stocks. There are those who do not believe that is the investment mode for individuals. One of these is Seeking Alpha author James A. Kostohryz, a well-educated man, a skillful and prolific writer and accomplished investor. He states his opinion in part, in this comment to an article.
"Individuals generally cannot properly manage a well-diversified portfolio of individual stocks. It takes about 35 stocks for a portfolio to be well diversified. The vast majority of individuals do not have the time, the resources, the ability, the training or psychological inclination to do this well. Once you start buying individual stocks in your portfolio, you will sleep much less well, not better."
I do not agree with the opinion he expresses, but believe rather that good stock investing is a learned skill, the knowledge required is accessible to most and that it is a matter of personal choice to invest with individual stocks or other means, such as funds. I believe it is a question of one's desire to learn and willingness to impose a high level of self-discipline that determines success. For those who choose not to employ their time and energy to learning stock selection and portfolio management, and taking the time to oversee a portfolio, there is a good alternative, Exchange Traded Funds. The ETF alternative also makes good sense for those who are preparing their wealth for an heir to handle, or simply want to be less involved in hands on investing.
The Cost of Our Humanness
Many know the benefits of investing in individual equities, have the requisite knowledge, but prefer not to do so. The personal time available is the largest reason. While I enjoy every aspect of being a self-directed investor, not everyone likes every part of the process. In addition, there is another important issue.
The purchase or sale of a stock on one of the exchanges puts you directly into the trading pit, electronically on the front line of the marketplace. It comes down to the reality that it is completely up to you to make, or not make, a trade. As human beings, we are susceptible to emotions that can cloud our otherwise good judgment. The overarching personality traits required in stock investing are patience and discipline. Know thyself.
The Exchange Traded Fund Alternative
Investing in ETFs is a viable alternative to self-directed investment in individual stocks. ETFs are economical and a handful of them can give you almost unlimited diversity. One terrible stock cannot ruin your whole investing year. Theoretically, you can get more focus and better performance by making a good selection of stocks yourself and buying them when they are undervalued. That sounds so simple!
Unfortunately, many people do not do as well as they would in a good fund or funds. I have recently read that the average self-directed investor in individual stocks underperforms the market by 3% to 4 %. I am bold to suggest they are not the readers of Seeking Alpha.
Embracing the Alternative
For that person who would elect not to evaluate and buy individual stocks, I have created a portfolio consisting of ETFs. I designed this for the person who wants to invest in the style of dividend growth investing. The portfolio consists of eight equity funds and emulates the performance, to a large degree, of a large dividend growth portfolio. I can assure you that it is a lot easier to pick eight ETFs than select and monitor 30-50 individual stocks.
There is intentional overlap in the holdings of the core funds. That gives added weight to superior dividend paying stocks selected by several different methods of indexing. For example, SPLV, SDY and VYM each hold Johnson & Johnson (NYSE:JNJ), Procter & Gamble (NYSE:PG) and Coca-Cola (NYSE:KO), giving emphasis to those dividend stalwarts.
In order to present a balanced portfolio, I included two bond funds. Interest rates are extremely low, and many expect an increase in rates. An initial bond investment might be made into the Short-Term Bond Fund, or bond fund purchases might be deferred into the future. I am currently at 80% stocks and 20% bonds.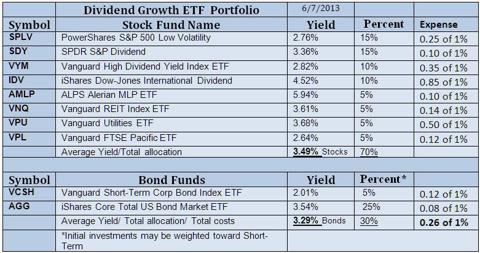 The Core of the Portfolio
SDY - The SPDR S&P Dividend (SDY). Morningstar gives this fund a 5 Star rating. It holds all the stocks in the S&P 1500 that have raised their dividends every year for the past 20 years. A rarefied group - there are only 80-something of them out of 1,500 names. Many of them are boring, quality names. If a firm has grown its dividend like clockwork for 20 years, chances are it has solid earnings and a sustainable business model. This also signals a strong commitment to intelligent capital allocation. Management is less likely to engage in reckless capital spending if its goal is to protect and grow the dividend.
SPLV - Morningstar says S&P Low-Volatility (NYSEARCA:SPLV) stocks tend to be big, boring and dividend paying. HJ Heinz Company (HNZ) is a classic example. Boom or bust, Heinz ketchup sells with clockwork regularity, insulating Heinz's earnings from the business cycle. Stocks like Heinz are as bond like as they can get. The fund tracks the S&P 500 Low Volatility Index, which holds the 100 stocks in the S&P 500 that have had the lowest volatility over the past year. The index weights stocks by the inverse of their volatilities, so steadier stocks take a bigger share of assets.
VYM - Contrary to its name, Vanguard High Dividend Yield Index ETF (NYSEARCA:VYM) has historically yielded only about a percentage point more than the S&P 500. Characteristically, Vanguard opted to market-weight the fund's holdings, so mature, higher-quality firms like Exxon Mobil and Microsoft dominate its portfolio. This may disappoint yield-seekers, but it keeps the fund from piling into distressed stocks. It would serve ably as a core holding.
VCIT - Vanguard Investment Grade Intermediate Term Corporate Bond Fund (NASDAQ:VCIT) has a higher yield than those that include government bonds. However, the broader AGG or BND might be the choice of others. Intermediate term funds have interest rate risk consistent with their duration of about 5, and if interest rates rise 1%, these funds will decline 5%. Purchase of this might be deferred to a future time.
Added Yield and Diversity
I have included a REIT fund, a utility fund, an MLP fund, an international fund and an Asian Pacific fund, all of which have good yields.
IDV - iShares Dow Jones International Select Dividend Index (IDV) is one of the highest-yielding international funds. The fund holds 100 of the highest-yielding companies from developed Europe, Pacific Asia and Canada that have passed a series of quality screens. The fund's weighting methodology allocates assets to the companies that pay the most cash from the highest-yielding countries. As a result, IDV is very heavy in Australia and very light in Japan relative to its peer group. It is also riskier than broader holdings.
AMLP - ALPS Alerian MLP ETF (AMLP), the only MLP ETF, has seen over $2.6 billion of inflow in the past year from investors drawn to the fund's attractive yield. Unfortunately, because of structural complications, AMLP is extremely expensive and has lagged its index by an annualized 5.85% since inception. Alternatives include ETNs, which have risks of their own, and closed end funds. An example of these is the highly rated Kayne Anderson MLP CEF. KYN invests primarily in energy infrastructure master limited partnerships, or MLPs, as well as in other companies that operate in the energy sector. According to FinViz this fund yields 6.42% and is rated a 1, a Strong Buy, by analysts.
VNQ - Vanguard REIT Index (NYSEARCA:VNQ) is a good pick for broad exposure to real estate investment trusts. This asset class has enjoyed healthy funds flows over the past few years, thanks to its relatively attractive yields and strong fundamentals. VNQ has low fees, good size and a broad coverage of REITs.
VPU - Vanguard Utilities ETF (NYSEARCA:VPU) offers the broadest portfolio of any domestic utilities-sector fund. Utilities stocks form one of the market's most defensive sectors. Government regulation, limited competition and stable demand have traditionally insulated these companies' profits from shocks to the broader economy.
Yield, allocation and expense are in the table, above. The price performance for three different periods is below.
Note on the charts that the three equity funds that make up the core of the portfolio (SPLV, VYM and SDY) have consistently performed well concerning price appreciation. That is in part because of the higher dividend growth rate of their holdings. The higher yielding funds, generally speaking, hold stocks with lower dividend growth rates.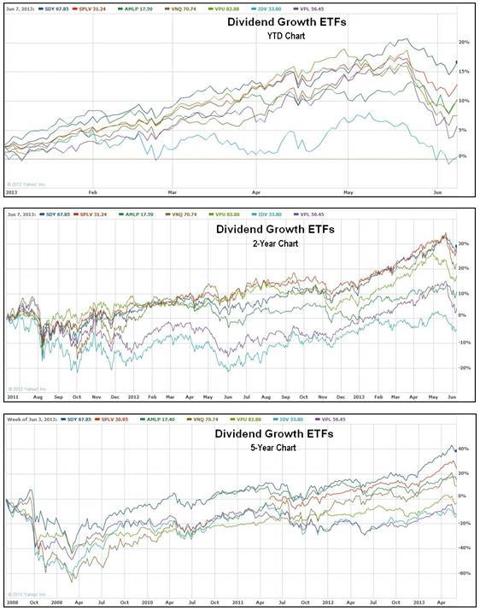 Looking Inside the Funds
One of my steps in the evaluation of any fund is to review the holdings, usually more deeply that looking at the top ten listed on financial web sites. I would not want to purchase or recommend a fund that is full of stocks I would not want to own. In a dividend-oriented fund, I do not want the largest holdings to be stocks like Windstream (NASDAQ:WIN), Frontier (NYSE:FTR), First Energy (NYSE:FE) or Pitney Bowes (NYSE:PBI). It makes much more sense to hold higher quality stocks.
Buying multiple ETFs present another challenge. That is the possibility of unintentional amassing of large positions in stocks because holdings are duplicated in several funds.
I input the above ETFs into a Morningstar Premium Portfolio, and used their X-Ray facility to view the total holdings of each individual stock within all of the ETFs. From that I generated a list of the top 25 stocks, showing relative weight of each, dividend yield and 5-year Dividend Growth Rate.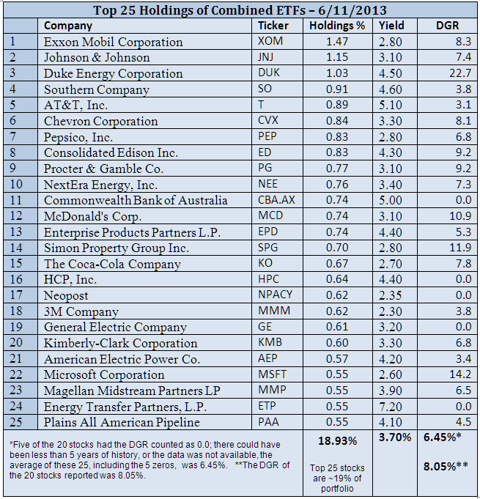 Attributes of the Portfolio
In addition to looking at the individual positions held in the portfolio, it is important to understand the characteristics of the total portfolio. Again, I use a tool from Morningstar Premium. We are holding 77% US Stocks and 22% Foreign Stocks. The portfolio is weighted toward large value stocks.

Next Steps
For some, investing in ETFs is a step on the way to future self-directed investing in individual stocks. For others, it is a reprieve from the tasks of investing in individual stocks. In January I wrote an article, Retiring From Active Portfolio Management? What is Your Plan B? The opening words are, "the time will come when you no longer manage your own investments because you choose not to or because you are not able." This article received over 90 thoughtful comments. I highly recommend it.
Another Seeking Alpha author asks, "Will this hand-tuned marvel you've spent a lifetime constructing collapse under a spouse or child's oversight?" He vows, "I must design a portfolio that is simple to manage and will take little time to do so." This link will take you to D4L's article and his proposed ETF equity portfolio.
There are many viable alternatives for you, both for now and for the future. I hope this article has been helpful in considering them.
Disclosure: I am long VCSH. I wrote this article myself, and it expresses my own opinions. I am not receiving compensation for it (other than from Seeking Alpha). I have no business relationship with any company whose stock is mentioned in this article.