Investment thesis
Coca-Cola Enterprises (NYSE:CCE) has seen its business model go through a vast transformation over the past couple of years, with the selloff of major North American assets, expansion in Europe and restructuring efforts. We believe this, and the fact that the company operates primarily in Europe, has lead to a justifiably low valuation. Yet, the majority of the countries that CCE operates in are performing robustly.
As well, we believe that after selling off North American assets, and buying up Norway and Sweden bottling operations, the company should be rewarded with higher multiples due to increased exposure to higher-growth markets.
With CCE shares trading closer to historical and peer average multiples, the stock should trade 40% higher from current levels.
Company overview
Let's do some catching up on who Coca-Cola Enterprises is; the company is a marketer, producer and distributor of nonalcoholic beverages in Western Europe, and as you would guess by its name, over 90% of its sales volume are Coca-Cola (NYSE:KO) products. CCE serves some 170 million consumers across Belgium, France, Great Britain, Luxembourg, Monaco, the Netherlands, Norway and Sweden.
Formerly the world's largest bottler of Coca-Cola beverage products, CCE sold its North American operations to Coca-Cola in 2010, while simultaneously purchasing Coca-Cola's bottling operations in Norway and Sweden. CCE is now Coca-Cola's strategic bottling partner in Western Europe and the third largest independent bottler globally.

Company specifics
Great Britain accounts for 34% of CCE's revenues, France 30%, Belgium 15%, the Netherlands 8%, Norway 7% and Sweden 6%. Over 60% of revenues are from Europe's best performing countries.
The nonalcoholic ready-to-drink category (NARTD) is the largest fast-moving consumer goods category in Western Europe despite the challenging economic environment. The company commands 20% share of the total NARTD volume and 29% share of total NARTD value, suggesting both a strong position, but also leaving room to grow.
The Coke bottler model
Coke owns the brand, but it is licensed to the bottlers for a period of time. However, there is usually little fear of termination, with a franchise losing territory being rare, only occurring with Orkla in Sweden in 1995 and Has Group in Turkey in 1991.
Coke sets the price of concentrate, done in local currencies, and in theory Coke bears the FX exposure. The selling price of beverages is set by the bottler, with the price of concentrate fixed as a percentage of sales.
The bottler and Coke share marketing, where consumer advertising, TV, social media, etc. lies with Coke, and in store, banners and posters lie with the bottler.
Current overhangs
There was a 1.5% volume decline in 2012 due to lower sales of sparkling beverages. Part of these issues were related to unreasonably cold and wet weather.
Year over year gross margins contracted due to increased commodity costs, namely sweetener.
One of the biggest overhangs for the stock and its margins are non-recurring restructuring expenses that have been a big part of the company's selling, general and administrative expenses.
Restructuring overhang: In late 2012, CCE announced a business transformation program to improve its operating model. Its initiatives include (1) streamlining the cost structure of finance support functions, (2) restructuring sales and marketing organization, and (3) improving the efficiency and effectiveness of operations, including service activities related to cold-drink equipment.
The program is expected to be completed by the end of 2014, with the anticipation of non-recurring restructuring charges of approximately $200 million. During the first quarter of 2013, the company recorded non-recurring restructuring charges under this program totaling $57 million.
CCE's other restructuring efforts are taking place in Norway to restructure and optimize certain operations. The project is scheduled for completion by the end of 2013 and is expected to result in $60 million in non-recurring restructuring charges. For 2012, restructuring charges were 4% of total SG&A charges.
Where we see value-added
Outlined below are some of the areas that we believe will lead to improved financials for the stock over the interim, which will help support our pro forma and valuation:
Plastic makes up a large part of CCE's packaging. Part of what we believe will lead to margin expansion, the transition to new, low-cost, products will have a meaningful impact on gross margins, thanks to lower commodity input costs. This includes new packages, such as the 375 milliliter PET (plastic) package and 1.75 liter PET (plastic) package.
Pushing earnings per share higher will be the continuation of share repurchases, where diluted earnings per share in the first quarter of 2013 were increased by 8.5% year over year attributable to repurchases.
As well, helping boost operating margins will be lower restructuring charges, where operating expenses were up $38 million, or 8%. Excluding the impact of restructuring charges, operating expenses actually declined $19 million year over year.
The dividend yield is 2.16%, with expectations for annual dividend payments of $0.80 for 2013 and $0.96 for 2014.
We see inherent top line strength provided via the Coke brand, which is the world's largest soft drink company, selling some 1.2 billion cans of soft drinks every year. Its volume intake is the equivalent of 3% of the global liquid intake of all types of beverages by the global population. This bodes well for all of the bottling companies. Specifically, CCE is looking to focus on new brand extensions, such as Coca-Cola Zero Cherry, and expanded distribution into additional territories, such as Vanilla Coke. Other marketing initiatives to help drive the top line is the 30-year anniversary of the introduction of Diet Coke and Coca-Cola light in Europe.
Once again, we think that CCE's valuation is being held back, unjustifiably, by its ties to Europe.
When you think about the bigger picture in Europe, it's easy to see why investors are scared of companies operating primarily in the area; there has been a steady down-and-to-the-right trend in year over year GDP growth for the Euro-area over the past five quarters.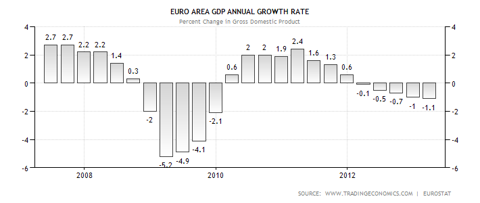 However, it's when investors dig a bit deeper that they can uncover hidden value related to unjustifiable pressures. We believe this is exactly what's happening at CCE. Although CCE does operate in the Euro-area, the company's two major territories are holding up well. France, CCE's second largest market, has seen year-over-year GDP contraction that's only a fraction of the Euro-area's.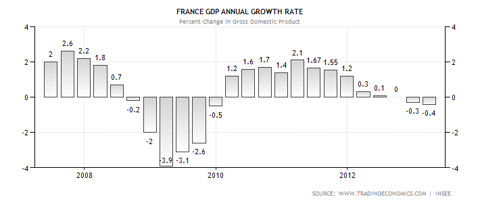 What's more is that CCE's largest market, the U.K., has seen 13 straight quarters of flat to 2.4% year over year GDP growth.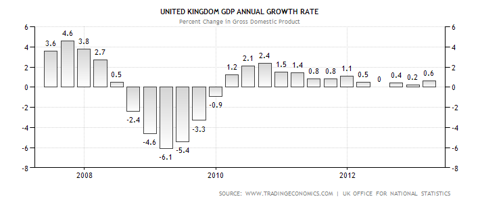 The outlook for CCE's core markets is robust:
The U.K. - The British Chambers of Commerce has forecasted that the U.K.'s GDP will rise by 0.9% over the rest of this year, 1.9% in 2014 and 2.4% in 2015, on the back of improved consumer spending.
France - economic growth and employment is expected to drive GDP growth of about 1.3% per year on average from 2014 to 2017.
Belgium - fiscal consolidation and export growth is expected to help Belgium see GDP growth of 1% in 2014 and 1.2% in 2015.
Financial Analysis
Profitability: What's impressive is that on the surface profitability might be struggling, thanks in part to higher than expected commodity costs and restructuring; however, CCE still manages to grow cash from operations nicely. From 2010 to 2012, CCE grew net income 8.5%, but managed to grow cash flow from operations 14.8%.
There is also room for margins to expand. The eight-year average EBIT margin for the company is 12.2%, but the company's current EBIT margin is depressed at 11.5%. Margins should return to normalized levels as commodity cost pressures subside, and restructuring and cost savings take effect.
A large portion of CCE's cost of goods sold is made to Coke, however, CCE does appear to be managing this cost well, and has room to expand gross margins in the future. Payments made to Coke (as a % of total COGS) has gone from 44% in 2010, to 42.5% in 2011 and 40.4% in 2012.
CCE is paying more to Coke than any other major bottler, at nearly 26% of sales. We believe the company has room to reduce this number in line with peers. This should come as sales returns to more normalized levels. What's more is that the CCE-Coke concentrate pricing contract is up in 2015, which gives CCE a chance to negotiate a lower rate.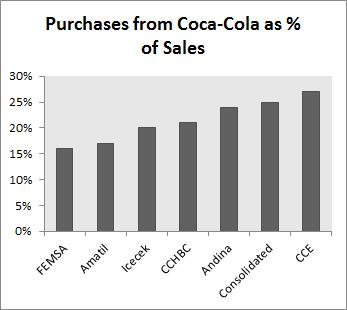 Leverage: 2013 will be one of the tougher years for CCE in relation to debt paydowns, with some $619 million in debt maturities. But, after this year the company will get a break, where the debt maturities over the next four years (2014-2017) is $1.2 billion.

Given the turnaround in CCE's free cash flow generating capabilities, having generated some $700 million in free cash flow over the past twelve months, the company shouldn't have a problem meeting these debt obligations.
Capital Efficiency: CCE has a return on equity of 23.25%, which is well above some of its major peers.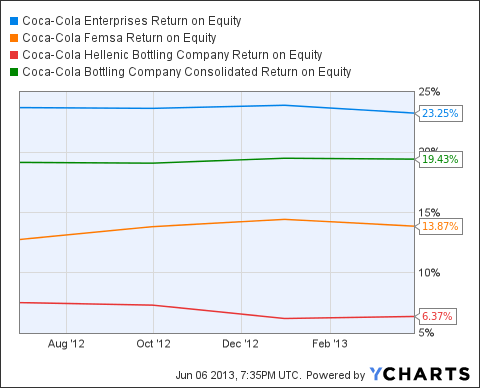 What's more is that even accounting for debt, CCE generates a 12.1% return on invested capital. Compare this to the company's weighted average cost of capital of 7.6%, and we see that CCE is effectively utilizing its capital to generate profits.
Multiple justification
CCE really does deserve a premium multiple (i.e. P/E, EV/EBITDA) given the bottler's position and relationship with Coke.
The franchisor ("Coke") and bottler (in our case CCE) do, however, have conflicts of interest. The idea is that Coke wants to maximize revenues via volume, but the bottler wants higher selling value. As it turns out, this is a big positive for CCE, because this bottler has the highest sales price per case. So maximizing sales volume is a win-win for CCE.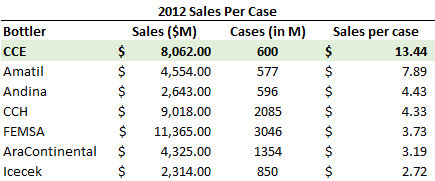 And CCE is also the only bottler that doesn't have to answer to Coke as a shareholder; Coke owns zero percent of CCE. Meaning that CCE has more control over its pricing.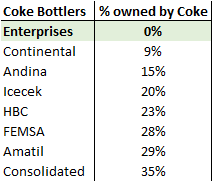 Valuation
This new focus is leading to higher growth with higher profitability, but the worry and caution over Europe has kept the stock's multiples compressed, yet, this is overemphasized, considering CCE operates in some of the best positioned countries in Europe. The company has performed well throughout the financial crisis.
The company never got the multiple it deserved after shedding its slower growth North American assets. CCE shares continue to trade at a discount to historical and peer average multiples.
P/E. CCE trades at a 13.1x forward P/E, where historically, the P/E multiple has averaged 11.9x on the low end and 17.4x on the high end over the past ten years.
The matrix below illustrates the potential annualized return to investors over the next two and a half years based on a number of various scenarios for revenue growth and EBIT margins.
The one constant assumption is that shares will trade back to an average 15x forward P/E. The green highlighted cell represents our best case, the yellow cell our base case and red our worst case. In our base case, where revenue growth is modest and EBIT margins trade closer to the company's 10-year average, we see over 25% upside.
Even assuming revenue declines by 3% annually, and margins stay at currently depressed levels, we think the stock is worth about where it trades today in two and a half years' time.
CCE also appears to be trading at a deep discount on other multiples due to the overhang from Europe. This includes trading at a EV/EBITDA of 10x and EV/Sales of 1.6x, both of which are well below its Coke bottling peers.

EV/EBITDA. Let's see how valuation stacks up from an EV/EBITDA perspective. Assuming CCE should trade closer to its peer average of 13x, and that EBITDA margins stay at current levels, the upside is over 26%. Yet, we believe CCE deserves an even greater multiple, but that's another story. As far as the downside, it assumes the company's EV/EBITDA multiple remains depressed and that margins contract over 150 basis points.

EV/Sales. In looking at the EV/S multiple, we once again assume the modest 3% revenue growth, with the stock expected to trade at the EV/S peer average of 2.6x. This puts upside to over 65%. Under this valuation method, if we assume sales decline 3% and that its EV/S multiple remains depressed, the downside is only 3%.

Overall. Averaging out the three valuation methods above, we find that the intrinsic value for CCE is upwards of $50, suggesting 36% upside to the stock.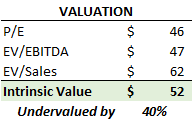 Investment risks
As with any investment, there is risks involved; for CCE these include the key factors that can impact soft drink consumption from disposable incomes, private consumption expenditure, GDP, weather, tax changes or even health issues.
The big long-term growth driver is that restructuring efforts will be fruitful. Even so, just the absence of restructuring expenses will lead to higher earnings and cash flow.
Of course, much of CCE's success lies in the fact that its key markets will see positive demand performance. If its key countries see growth underperform or slow, sales are likely to disappoint. As with any beverage company, CCE is faced with competition risk from other beverage companies. However, we think that CCE is making key moves in the still beverage (versus sparking) space to help diversify its portfolio.
Investment summary
CCE is a compelling opportunity, operating as a Coke bottler, which presents impressive customer captivity and economies of scale. The company's shares have been depressed thanks to CCE's affiliation with the underperforming European market.
However, we think the market is presenting vast opportunities. The beauty of CCE's depressed valuation is that significant price appreciation for the stock is not dependent on a recovery in Europe.
We believe the stock could see upside of 40%, but the real impressive part is the company's free cash flow generating capabilities, which help limit the downside of the company.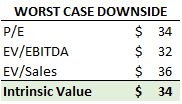 Based on our downside scenarios (highlighted red cells from the valuations above), we believe the down side is only 8%. Presenting risk/reward of close to 5:1.
Disclosure: I am long CCE. I wrote this article myself, and it expresses my own opinions. I am not receiving compensation for it (other than from Seeking Alpha). I have no business relationship with any company whose stock is mentioned in this article.