I would like to thank InvestorsHub long-timer wbmw for bringing the following to my attention. Intel (NASDAQ:INTC) recently released the data sheets for its ultra low power editions of its "Haswell" processor aimed for Ultrabooks and even high end tablets. While Intel has been bragging that its latest "Haswell" designs can be configured to have a 6W "SDP" (which basically means "when the chip is behind the glass, throttle/manage the frequencies so that the chip does not consume more than 6W on average"), it seems that the company has actually been a little shy in its PR statements. Intel's own data sheet acknowledges the existence of yet another "Haswell" - a 4.5W SDP part.
The 4.5W Part For Fanless Tablets
Straight from the data sheet, here is the evidence for the existence of this other "Haswell" part: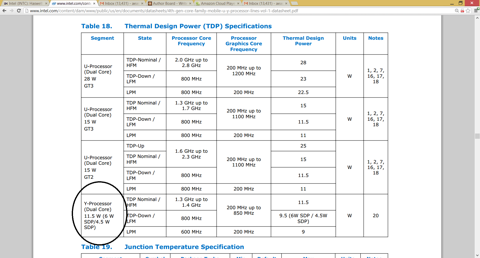 The implications of this part are enormous. While it seemed likely that a 6W SDP part would be enough for 13" fanless tablets/detachables and even fanless clamshells, the 4.5W SDP part would likely be capable of driving a fanless 11.6" tablets and convertibles with good battery life. While the performance against, say, a 15W or 11.5W unrestricted TDP "Haswell," will likely be appreciably lower, such devices would still very likely be significantly faster than the best ARM (NASDAQ:ARMH) based devices in competing form factors due to the sophistication of the design/process technology superiority.
A Pincer Attack On ARM & Its Partners
It seems that Intel is, in the words of a good friend of mine, executing a classic "pincer" attack on the ARM world. Attack from below with "Silvermont," which should be faster and lower power than ARM's finest, and then attack from above with the "Core" micro-architecture with even higher performance levels at similar power consumption levels.
The interesting thing about "Haswell" is the dramatic idle power consumption improvements that it brought to bear on the same process generation as "Ivy Bridge," implying a Herculean effort on the micro-architecture and physical design side of things, to substantially widen the dynamic range. In particular, while "Ivy Bridge" CPU + PCH consumed 3.2W - 3.4W (again, thank you, wbmw) in their deepest idle states, "Haswell" reduces this down to mere milliwatts:

So, what we have here is a family of high performance processors that can idle nearly as low as the very best smartphone processors. This dynamic range in a high performance processor is unheard of and is a very dramatic advancement in the state of micro-processors. Keep in mind that these idle numbers don't just include the processor, but the on-package 32nm PCH - so there's still some room to drive things down further.
Conclusion
This is why I have been so bullish on Intel, and this is why it is ever-frustrating when the press and sell-side don't "get it." While some outfits, particularly PC enthusiast sites, are off making claims about Haswell running too hot when overclocked (this is preposterous as overclocking is running the chip way out of specification), the fact is that "Haswell" redefines the dynamic range of what a high performance, high end processor can do. The highest end fanless tablets will feature "Core" processors, as well as the sleekest, thinnest Ultrabooks and notebooks. Sure, the overclockers on the (dying) desktop platforms will see their overclocking headrooms contract, but Intel is moving to where the market is going - mobile - and doing so in a wildly ambitious fashion.
Disclosure: I am long INTC. I wrote this article myself, and it expresses my own opinions. I am not receiving compensation for it (other than from Seeking Alpha). I have no business relationship with any company whose stock is mentioned in this article.
Additional disclosure: I am short ARMH