Citron Research is famous for skewering stocks with intense research after getting short the shares themselves. They released a scathing indictment of Angie's List (NASDAQ:ANGI) on May 1st that concluded that the shares were worth between $5 and $6.
To quote one line from the report (available at citronresearch.com/wp-content/uploads/20...) they said: "Angie's List is the most ridiculous, stupid, misunderstood, negligent, nonsensical, outdated, irresponsible business model in the new web." We did say scathing!
Yet ANGI has held up and is even hitting a new high of $26 as we write this note. The Citron report gave us cause for concern but didn't seem to acknowledge that with the US in a consumer-driven recovery in residential housing the demand for the types of services ANGI covers might be "the rising tide that lifts all boats."
It is true that ANGI sports a high valuation - $1.5B on $180M in sales with little or no profits. But valuation alone doesn't mean the stock is headed down. The Citron critique boils down to a few things:
1. "The business model is not profitable." It's true that ANGI has lost a lot of money, over $200M, to build what they have. We know these things take time so we went back to look at the original IPO roadshow and see what management had to say about long-term margins. We were surprised to see that they actually didn't commit to profitability, just improvements in the model over time. While this might be a point for Citron, it may also indicate that investors are not expecting profits soon which means their lack may not be a negative surprise.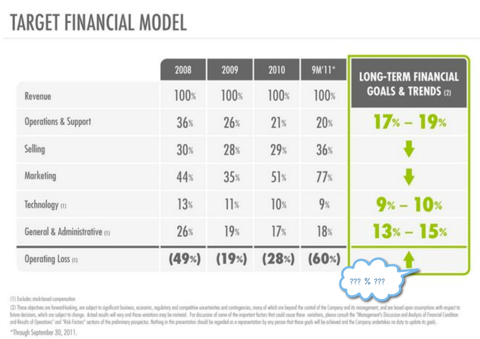 2."Lots of people and vendors have bad experiences on Angie's List." Citron provides links to at least hundreds of negative comments and reports about the service. On the face of it, this looks bad. However ANGI has millions of users and hundreds of thousands of service providers using the system. Renewal rates are around 80% which leaves plenty of room for unhappy customers.
3. "HomeAdvisor is a bigger, better and more successful company that does the same thing and as part of InterActiveCorp (IACI) is valued much lower by the same brokers who tout ANGI." Using the same logic and multiples for ANGI as used in valuing HomeAdvisor would result in a $5-6 stock price. Well brokers are not known for high integrity. They can argue that ANGI is a "pure play" and deserves a big premium for it.
4. "Their foray into other markets like healthcare won't work." Here Citron doesn't offer much research but rather opinion. It's impossible to say how doctor referrals or other services might or might not work on ANGI. It is a little concerning that the company is taking on new challenges while still noting they have lots more investment to do in building their core business.
When Citron published the ANGI piece on May 1st, they described it as a "part 1" which would be followed up with a more granular "part 2" that provided more details of their flawed accounting. So far that part hasn't been published and we don't know if it will be.
So where does that leave us on shares of ANGI? The company is almost certainly overvalued in no small part to the rampant enthusiasm of Wall Street and the fact that these sorts of internet companies are in vogue. However ANGI will benefit from an improving economy in general and a better real estate market even more.
That kind of enthusiasm makes it difficult to short a stock like this. But given the valuation and low profitability owning it doesn't make much sense. Let's say they continue to grow well and generate a 10% operating margin (big if) on $250M in sales. We'd need to put a 60x multiple on that to justify the current market value.
Based on these numbers, we wouldn't own ANGI here and if we did would hit these rather generous bids and look for something with better risk reward.
The only thing current investors can be hoping for is a buyout by one of the bigger players like Yahoo (YHOO) or AOL (NYSE:AOL). Both are somewhat desperate for this type of content but at the current market cap, it might be very dilutive and hard to sell to the market.
Disclosure: I have no positions in any stocks mentioned, and no plans to initiate any positions within the next 72 hours. I wrote this article myself, and it expresses my own opinions. I am not receiving compensation for it (other than from Seeking Alpha). I have no business relationship with any company whose stock is mentioned in this article.