The National Association of Home Builders recently released the results of its monthly survey of home builders, the data from which serves to comprise the NAHB/Wells Fargo Housing Market Index (HMI).

The survey indicated an improvement in builders' sentiment since the June survey, maintaining the positive trend that has occurred since the HMI index reached a low in January of 2009.
The HMI index is not the most quantitatively rigorous measurement of the housing market, as the data is derived from a simple survey of home builders that seeks to gauge their perception of future activity.
Additionally, the survey is only applicable to new, single family home construction and sales.
One could argue however, that the survey is a leading indicator; based on the fact that the data is collected from a "boots on the ground" perspective that may not have had time to appear in other housing market indices/data releases.
That being said, we thought it would be useful to compare the NAHB HMI to the S&P 500, using all available data from the only 24 year old HMI.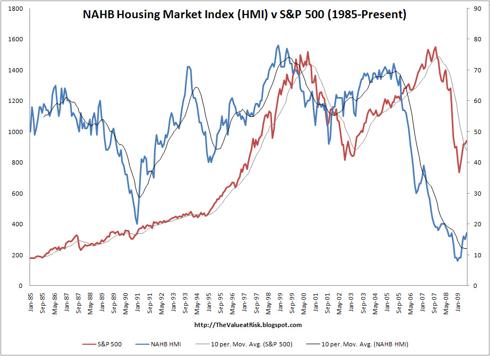 Based upon the chart above, it would seem that for the past decade at least, the HMI has been a leading indicator of major movements in the S&P 500.
Of course, nothing can be firmly deduced from a time series as brief as 10 years, so interpret the relationship at your own risk.
Disclosure: Long several stocks that comprise the S&P 500. The author is employed by the real estate industry