Credit Suisse senior Advisor Robert Parker breaks down some of the major issues concerned investors keep an eye on, as they may cause significant shocks in the market. But as his Financial Times article explains, these setbacks should actually be viewed as buying opportunities. From austerity measures to central bank leveraging, there are always new reports of economic trends that can drive investors away from the market. Parker believes that the odds of major shocks to the market in the near future are low, compared to the last few years. So any setbacks to the market, whether they appear small or large, should be taken as a positive, and an opportunity to expand a portfolio.
Considering Parker's recommendation, we decided to look for stocks that are both high-growth and undervalued, two metrics that can make a company an attractive buy despite a market setback. We also chose to limit our search to small cap stocks, as many portfolios neglect this segment of the market.
To create the list below, we began with a universe of small cap stocks, with a market capitalization between $300M and $2B. We screened for signs of strong long-term growth, with projected EPS growth over the next five years above 15%.
Next we limited our results to those companies with a PEG ratio below 1 and a Price to Free Cash Flow (P/FCF) ratio under 15, common indications of undervaluation based on earnings performance.
PEG = P/E / Annual EPS Growth
P/FCF = Market Capitalization / Free Cash Flow
And for signs of bullish sentiments, we then limited our results to those stocks that experienced significant net institutional purchases over the last quarter representing at least 5% of share float. This indicates that institutional investors such as hedge fund managers and mutual fund managers expect these stocks to outperform in the future.
We were left with three companies on our list.
The List
For an interactive version of this chart, click on the image below. Average analyst ratings sourced from Zacks Investment Research.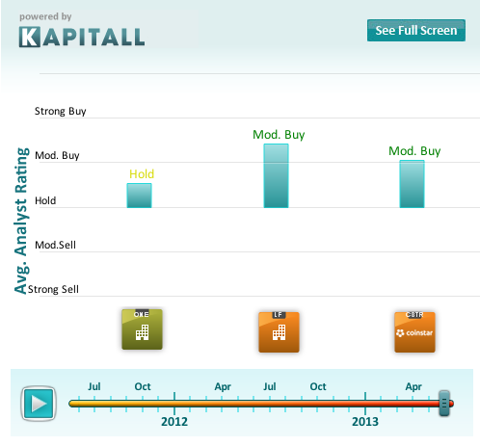 Do you think these small caps can weather future market setbacks? Use the list below as a starting point for your own analysis.
1. Higher One Inc. (NYSE:ONE): Provides technology-based refund disbursement, payment processing, and data analytics services to higher education institutions and students in the United States. Provides OneDisburse Refund Management product for streamlining the student refund disbursement process. Also offers CASHNet Payment suite, including software-as-a-service products and services, such as ePayment to securely accept online payments; eBill to automate payer billing and processing functions; MyPaymentPlan to personalize students' payment plans; eMarket for taking alumni donations, selling event tickets and other merchandise; and Cashiering for cashiering functions, back office payments, and campus-wide departmental deposits. (Source: Yahoo! Finance)
Market cap at $481.01M, most recent closing price at $10.36
EPS over the next 5 years: 23.33%
PEG: 0.70
P/FCF: 14.80
Net institutional purchases in the current quarter at 3.3M shares, which represents about 16.28% of the company's float of 20.27M shares. The top holders of the stock are Brave Warrior Advisors, LLC (13.69%) and Wellington Management Company, LLP (11.56%).
ONE recently announced a strategic partnership with Campus Management Corp., a provider of enterprise software products and services for educational institutions. Campus Management clients will be able to integrate the CampusVue® Student platform with ONE's CASHNet® payments suite and OneDisburse® Refund Management® funds disbursement service. The goal is to improve efficiency in administration while boosting quality of service to students.
Last month the company announced a new Tuition Freedom Sweepstakes, which will give the grand prize winner up to $120,000 to cover the cost of college tuition. The purpose of this new initiative is to send a student to college without having to worry about student loans. ONE is signaling they are tuned in to the overwhelming issue of student debt, and sees this contest as an opportunity to give back to the roughly 13M students with access to its services.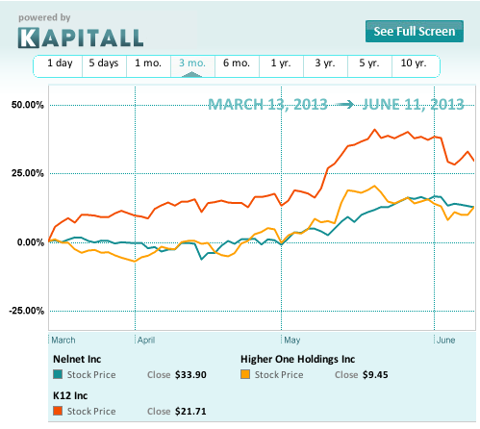 2. LeapFrog Enterprises Inc. (NYSE:LF): Designs, develops, and markets technology-based learning products and related proprietary content for children worldwide. Offers multimedia learning platform products, including LeapPad and LeapPad2 personalized learning tablets for children ages three to nine with camera and video recorder; Leapster Explorer, a handheld learning game system; and LeapsterGS, designed for children ages four to nine. Its multimedia learning platform products also comprise Tag reading system, a stylus-based reading system designed for children ages four to eight; and Tag Junior reading system designed to introduce younger children, ages one to four, to books and reading. (Source: Yahoo! Finance)
Market cap at $662.9M, most recent closing price at $9.73
EPS over the next 5 years: 20.00%
PEG: 0.37
P/FCF: 13.23
Net institutional purchases in the current quarter at 3.5M shares, which represents about 5.89% of the company's float of 59.44M shares. The top holders of the stock are Wellington Management Company, LLP (9.46%) and Wells Fargo & Company (7.22%).
Some investors see LF as a device company, but Chief Investment Officer Eric Kuby feels their emphasis is on content, and that content-oriented products are what make the company valuable. In an interview with The Wall Street Transcript, he says, "If you are a parent of a three- or four-year-old and you want to buy them something fun… that you want them to learn and play with, and you see the LeapPad, you know that's what it is. So it's really the content that is driving it, and that content has a lot of other value."
LF recently named Ken Adams as Senior Vice President of Sales, and he will be in charge of developing and executing the overall US sales strategy. Previously, Adams was vice president of sales for emerging channels and business development at Hasbro, Inc., where he found success with large sales teams working with major retailers such as Toys"R"Us and Target.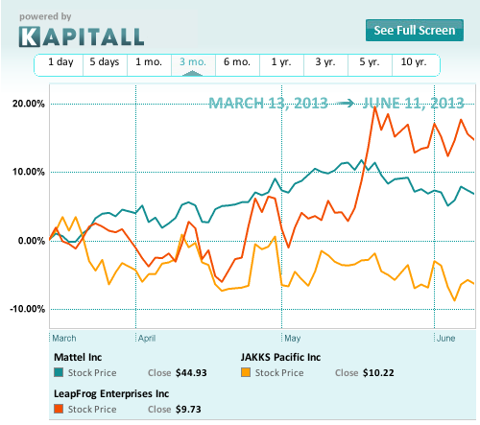 3. Coinstar, Inc. (NASDAQ:CSTR): Provides automated retail solutions primarily in the United States, Canada, Puerto Rico, the United Kingdom, and Ireland. Its Redbox segment owns and operates approximately 43,700 self-service Redbox kiosks in 35,800 locations that enable consumers to rent or purchase movies and video games, as well as purchase event tickets. The company's Coin segment owns and operates approximately 20,300 self-service coin-counting kiosks in 20,100 locations, which enable consumers to convert their coin to cash, a gift card, or an E-certificate. Its New Ventures segment focuses on developing innovative self-service concepts in the automated retail space, which includes coffee, refurbished electronics, and photo self-service. (Source: Yahoo! Finance)
Market cap at $1.63B, most recent closing price at $57.88
EPS over the next 5 years: 17.70%
PEG: 0.87
P/FCF: 6.59
Net institutional purchases in the current quarter at 2.4M shares, which represents about 9.48% of the company's float of 25.32M shares. The top holders of the stock are Goldman Sachs Group, Inc. (9.52%) and The Vanguard Group, Inc. (7.60%).
The company's earnings for the first quarter of 2013 were boosted by strong growth in its Redbox kiosks, and the expansion into new markets including TD Canada Trust-branded coin-counting kiosks. Net income for Q1 2013 was down to $22.6M, or diluted earnings per share of $0.78, compared to the same quarter in 2012, which was $53.7 million, or $1.65 per diluted share. Revenue from Redbox was $507.9M, an increase of 1.0% thanks to new kiosk installations. Coin segment revenue came in at $65.4M for the same quarter, compared with $64.8M for Q1 2012.
And this month CSTR announced that subsidiary Redbox would sell some Blockbuster Express kiosks, related software and patents to undisclosed groups for roughly $17.9M. This is expected to increase the company's EPS by $0.62-$0.69.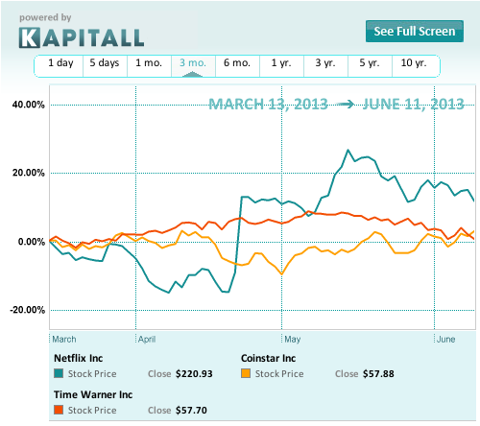 *Institutional data sourced from Fidelity, all other data sourced from Finviz.
Disclosure: I have no positions in any stocks mentioned, and no plans to initiate any positions within the next 72 hours.
Business relationship disclosure: Business relationship disclosure: Kapitall is a team of analysts. This article was written by Emily Smykal, one of our writers. We did not receive compensation for this article (other than from Seeking Alpha), and we have no business relationship with any company whose stock is mentioned in this article.