In this post I'll name some stocks that I think are worthy of adding to the stock watch list and some I may be speculating with in the weeks to come.
I'm a firm believer of stocks which have had significant moves higher, on big volume, and these are the stocks I'm seeking to find in this post. Some of these stocks will sell off, and some will continue to move higher, it is important to use caution when purchasing and use discipline when selling. All of these stocks have had nice moves higher on big volume (% volume increase compare to 50 day average).
For the week of July 20, 2009, the stocks which are on my watch list are listed in the table below.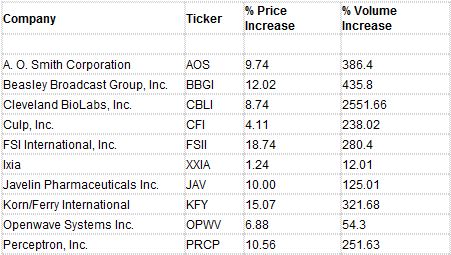 As you may know, some of these stocks could give back all of their gains just as quickly, so instead of purchasing the stock, sometimes I purchase at or near the money call options on the stock.
Purchasing call options is a cheaper way of opening a position on a stock, but if the stock sells off, you'll lose 100% of the premium you paid for the option and will not hold the stock, however if the stock continues to rally, you're % gain will most likely be much greater than if you purchased shares on the stock. To learn more about opening an option position like this click here.
Not all of these stocks have options traded on them, but the ones which do could pay off in big ways. I used this strategy when purchasing STEC Inc (NASDAQ:STEC), and it paid off as STEC continued to rally after the calls were purchase (see more here)
Two stocks which have really caught my eye from the list above, and have options available on them are: U.S. Global Investors, Inc. (NASDAQ:GROW), and Cleveland BioLabs (NASDAQ:CBLI). I'll be looking at purchasing call options for the August option expiration starting Monday.
The Trade

GROW Option Trade: Purchase the August 12.50 call options. To open this contract as of close Friday July 17, 2009 would cost roughly $100 per contract. Buying on weakness is key; If GROW pulls back, I may buy some of these contracts.
These options expire August 22, so if I could open a position on weakness, and then GROW rallies, I would most likely look at writing out my August 12.50 call options for the August 15 call options (known as a vertical call spread- learn more here).
I would do this because it would lower the cost of my position (at the same time limiting my upside), but I have completed spreads where I could not lose (waiting for a rally in the stock and selling the higher strike call for more premium than I paid for the lower strike call).

CBLI Option Trade: Similarly to the example above I would look at creating a spread, but would write out the higher strike option immediately. I would buy the August 5 Call options, which currently cost about $70 per contract, and create a vertical spread by selling the August 7.50 call contracts.
This would lower the cost by almost 30%. In order to break even the stock needs to increase about 16.28%, but if the stock increases to 7.50 a share by options expiration (currently less than a 20% probability), your return would be 400% versus 59%.

Although options can be a great way to hedge your portfolio, or a cheaper (less up front cost) way to speculate, remember the risks involved when purchasing options. To learn more about options in general and daily trading ideas click here.
Disclosure: No positions