A lot is riding on the revelation that the US government is spying on its own citizens and the fallout has the potential to be catastrophic to certain companies and potentially the government itself as more details come out. This is why we are seeing big companies join together and lobby the government to make information available to consumers in order to blunt the eventual blow and attempt to demonstrate that they are out ahead of the issue here. It is a hot potato and no one wants to be caught holding it last, but it sure appears that the companies teaming up will force the government's hand.
Chart of the Day:
This polling by Pew does show that the vast majority of citizens want the government to put a stop to terrorism even if it does snare innocent citizens into its fishnet. That is generally the consensus until one realizes that it is they who have been snagged.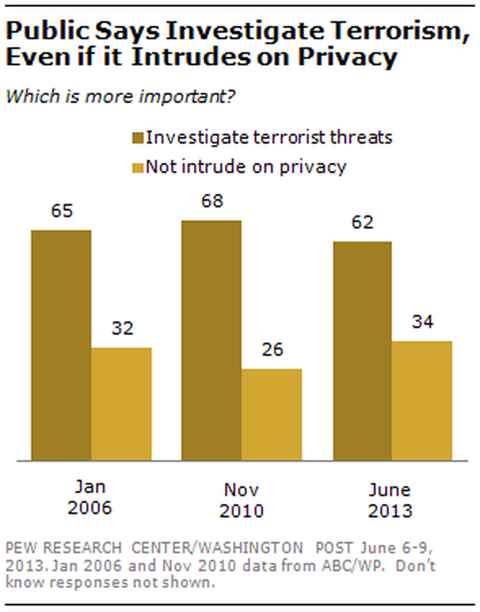 Chart courtesy of Pew Center for Research.
We have economic news due out today, and it is as follows:
MBA Mortgage Index (7:00 a.m. ET): N/A
Crude Inventories (10:30 a.m. ET): N/A
Treasury Budget (2:00 p.m. ET): -$139.0 Billion
Asian markets finished lower today:
All Ordinaries -- down 0.69%
Shanghai Composite -- CLOSED
Nikkei 225 -- down 0.21%
NZSE 50 -- down 0.48%
Seoul Composite -- down 0.56%
In Europe, markets are higher this morning:
CAC 40 -- up 0.48%
DAX -- down 0.18%
FTSE 100 -- up 0.14%
OSE -- up 0.87%
Technology
The tech world is still buzzing about the warrantless US government surveillance and now it seems that Google (NASDAQ:GOOG) is going back to their 'do no evil' days as they team up with other tech industry titans and ask the government to provide the public with more insight into the program. Transparency is what the goal is, which does not exactly go hand-in-hand with clandestine surveillance programs. Microsoft (NASDAQ:MSFT) is one of the other names supporting the move by Google to open up the shades and allow the public to know what exactly they have been compelled to turn over (See The Wall Street Journal article here). Those are two bedfellows one would not expect to see, however they have teamed up to protect their customers' rights finally. This is something we are paying attention to.
Retail
It is obvious that technology users have been the big losers in the clandestine surveillance programs riling the tech industry and news media. It is also obvious that Lululemon (NASDAQ:LULU) shareholders were big losers yesterday over the fallout from their CEO deciding to leave and the quarterly results reported, which were skewed a bit due to the too-sheer yoga pants which caused a firestorm for all the wrong reasons. The shares finished the day down over 17.5% and closed at $67.85/share, which we think provides an attractive entry point for those looking to add some retail growth to their portfolios. We think the last quarter was a stumble and that the company will hire an A-level exec to take over the CEO post and guide the company through their next growth phase.
LULU shares have come back from far worse than yesterday's news and they will come back from that as well. Shares are still in a good place and long-term the chart is not throwing up any glaringly obvious warning signs.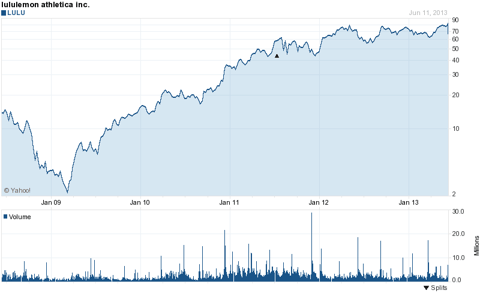 Chart courtesy of Yahoo Finance.
Pharma
Recently we discussed the ongoing battle between Carl Icahn and Forest Laboratories (NYSE:FRX) and how this battle had raged for three years. This year Forest was rumored to want to put an end to it and avoid yet another proxy fight and that seems to be exactly what has happened. Yesterday it was announced that Icahn was being granted a board seat while signing a non-disclosure and stand-still agreement, while also having an 11.50% stake in the company (see company press release here). This looks like a win-win for both parties and the big winner should be shareholders as Icahn moves in and shakes things up in a manner which should lead to further shareholder gains.
Biotechnology
Questcor Pharmaceuticals (QCOR) was a big winner on Tuesday as shares rose nearly 15% to close at $42.11/share on volume of 16.4 million shares, which is well above its three month daily average volume. Investors were excited because the company announced the acquisition of Novartis's drug Synacthen, which is used to treat autoimmune and inflammatory conditions. The deal is worth at least $135 million to Novartis and can increase in value should certain milestones be reached. It looks like a very good deal and Ladenberg came out yesterday and raised its price target on the shares to $54/share from their previous target which was set at $35/share.
After the company lost insurance coverage of its main drug and an investigation was announced shares tumbled. Questcor is now trending higher and diversifying their portfolio.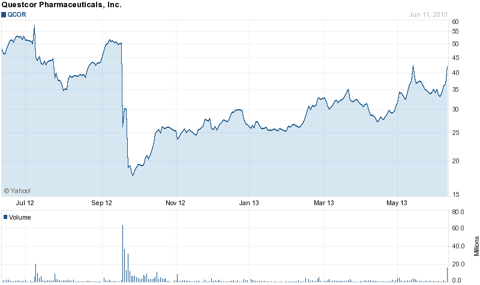 Chart courtesy of Yahoo Finance.
Disclosure: I have no positions in any stocks mentioned, and no plans to initiate any positions within the next 72 hours. I wrote this article myself, and it expresses my own opinions. I am not receiving compensation for it (other than from Seeking Alpha). I have no business relationship with any company whose stock is mentioned in this article.