With Obamacare set to take hold in 2014, is it any surprise that healthcare continues to be one of the top performing sectors in the market?
Of the sixty sectors that I track with my Best Stocks Now™ App, four of the top ten are currently healthcare related. I rank them on short-term, intermediate-term, and long-term performance.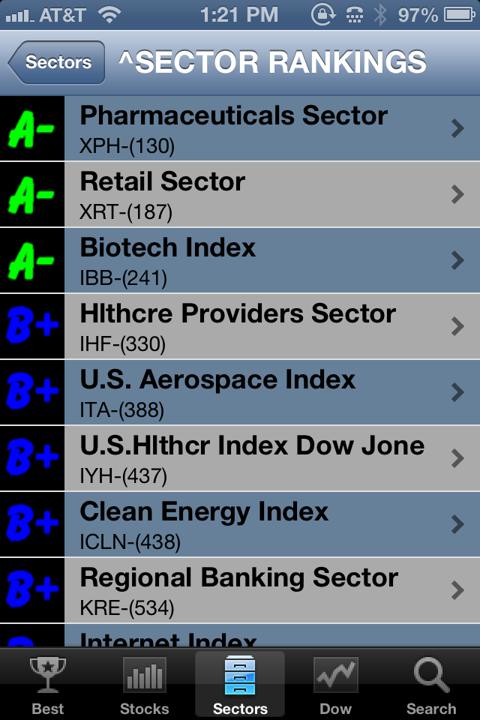 Data from Best Stocks Now App
I have been heavily weighted in the drug, biotech, and healthcare sectors for over one year, and I continue to reap the benefits from them. I have also noticed lately that as this current seven-month old uptrend in the market gets longer and longer in the tooth, the leadership in the market continues to get narrower and narrower.
The once, red-hot building and construction sector has cooled off considerably and has fallen from its leadership perch. And although I have cashed in on most of the profits that I was able to garner from this sector from earlier in the year, I still believe that the housing sector is in the early innings of a multi-year rebound. In other words, this sector will eventually come back into favor once again.
Stocks, sectors, and asset classes fall in and out of favor during the cycles that the market goes through, and I am a big believer in rolling with those cycles as opposed to fighting them. Just look at the huge difference in the performance of domestic stocks vs. foreign stocks so far this year. While the home-grown S&P 500 is up about 15% year-to-date, the emerging markets (NYSEARCA:VWO) are down over 8%, and China is down over 12%!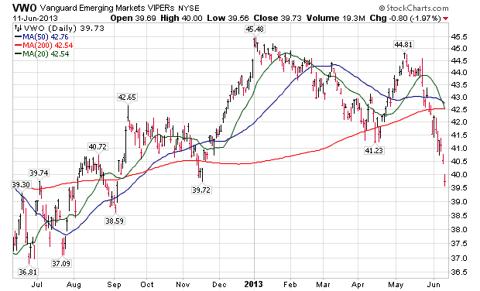 How important is it to be out of foreign stocks this year? By contrast, how important is it to be in the right asset classes in the market. For this reason, I am not a big believer in asset allocation. Why would I want to have any exposure to a bond market that is perched on the edge of a cliff right now? Have you looked at a chart of the bond market lately?
If you haven't, here is a three-year chart of U.S. Treasuries: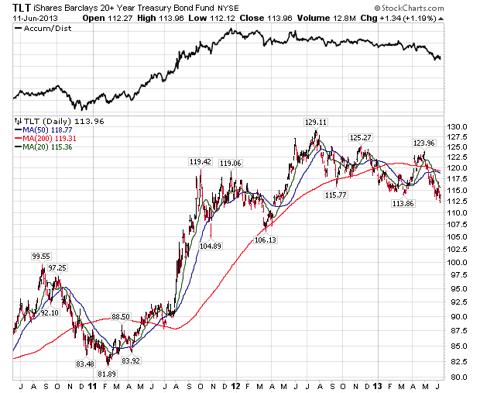 What happens when the FED pulls its bid for Treasuries? Will China and individual investors be there to continue financing burgeoning U.S. debt? I don't want to be around in the bond market to find out. For this reason, I currently have no exposure to bonds at Gunderson Capital Mgt. If your advisor still has you in foreign stocks and bonds, you may want to have a discussion with him or her. I would want to know why?
Small-cap domestic stocks have especially been one of the sweet spots of the market this year. Of the 35 asset classes that I rank on a daily basis, small cap domestic continues to dominate the top spots.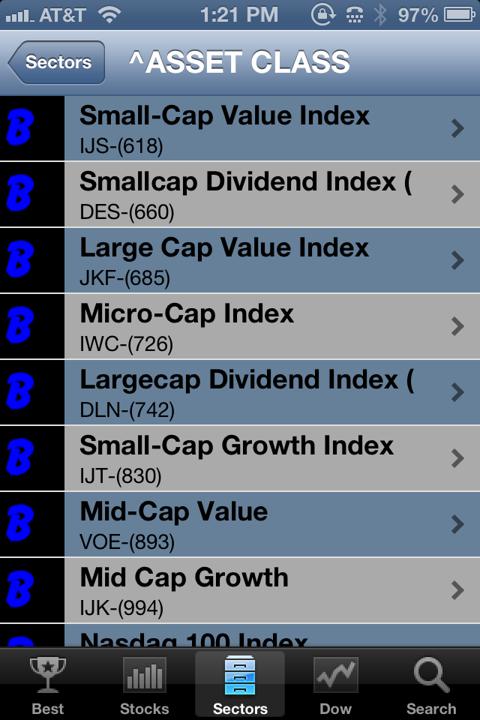 Data from Best Stocks Now App
What if we could find a top-performing small-cap domestic stock in the healthcare sector? What if the stock was still undervalued and had a great stock chart.
This is an extremely tall order, but let's give it a shot.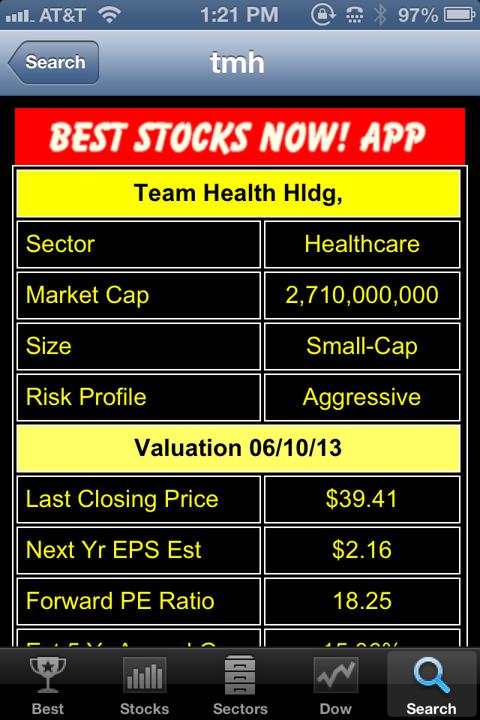 Data from Best Stocks Now App
Team Health Holdings (NYSE:TMH) was founded in 1979. The company went public in 2009 at $12 per share and is currently trading at $39.80 per share. Team Health provides outsourced healthcare staffing and administrative services to about 800 hospitals clients in 47 states.
Some estimates go as high as 30 million new customers entering into our healthcare system during the next several years of Obamacare implementation. Can our current healthcare infrastructure handle this many new customers? Team Health has been growing its earnings by 17% over the last five years and it is expected to continue growing at approximately that rate for the next five years.
This is a good beginning. We have found a domestic small-cap stock that is growing, and it is in a leading sector in the market. But, I still need performance, value and good stock chart before I will consider buying a stock.
Let's check out the stock's performance against the other 3,400 stocks that I track: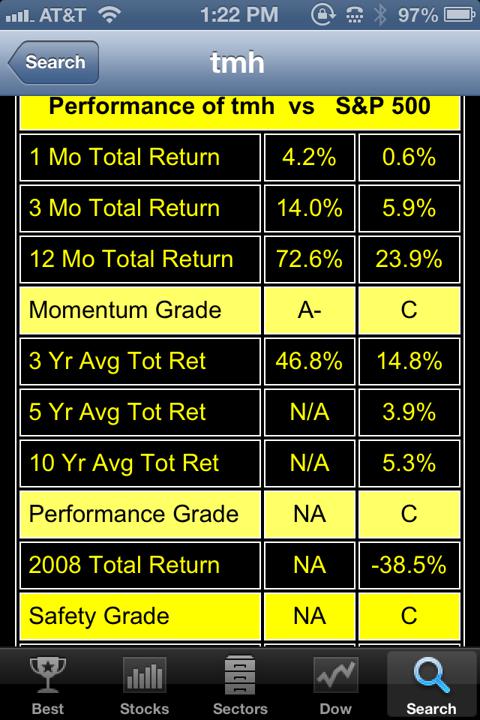 Data from Best Stocks Now App
As you can see from the screenshot above, the stock has handily outperformed the S&P 500 over the last one month, three months, one year, and three year periods of time. It does not have a five and ten-year record yet, so I am not able to give it a long-term performance grade.
The stock gets a momentum grade of "A-" however. This is a good start. We have met all of the criteria that we are looking for so far, but we still have two big ones to go.
The next requirement for me is valuation. Relative performance and momentum are good things to have, but we have learned many hard lessons over the years about the importance of value. Just ask the dot.com investor from 2001. Just ask the single family home buyer from 2006. Valuation is critical.
Let's next take a look at the stock's current valuation numbers.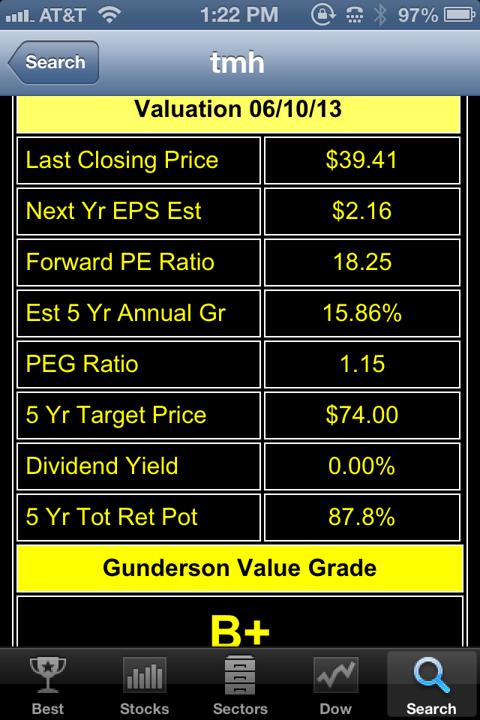 Data from Best Stocks Now App
The stock is currently trading at just over 18X earnings. The consensus growth rate over the next five years is about 16% per year. The stock is therefore currently trading at a slight premium to its growth rate. This shows up as a current PEG ratio of 1.15.
PEG ratio is just one valuation measure, however. During my years as an analyst, I liked to establish five-year target prices. I did this by extrapolating out the earnings over a five-year period of time and then applying a multiple to that estimate to establish my target price.
When I use this formula for Team Health, I come up with a target price of $74 per share. I require at least 80% or more upside potential in order to meet my valuation criteria. Team Health currently meets this criteria.
We are almost there! We just need to satisfy the good stock chart criteria that I have. I never buy sideways trends. I like to see a catalyst first. Stocks can remain in sideways trends for a long time. I never buy downtrends. Buying downtrends is almost always a very costly game. I am very nervous about buying stocks that have been going up for a long time and are extended-especially if they are getting expensive. And the worst trend of all is a tired, rolling-over trend like the chart of the bond market above.
I like charts that are breaking out of consolidations and hopefully beginning a new uptrend. Once again, meeting all these criteria is an extremely tall order. Let's have a look at Team Health's six-month chart: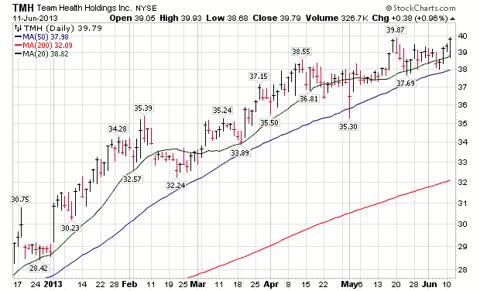 I see a chart that is currently attempting a new breakout.
There obviously are no guarantees in the stock market. All we can do is tilt the probabilities in our favor as much as possible. For this reason, I usually have 20-30 stocks equally weighted in the portfolios that I manage.
At the current time, Team Health meets all of the very strict criteria that I have before I consider owning a stock. For this reason, aggressive growth clients of Gunderson Capital Mgt. are currently long the stock.
Of the 3,406 stocks that I follow, the stock currently ranks at number 163 overall and earns a grade of A-This represents the top 5% of the entire market.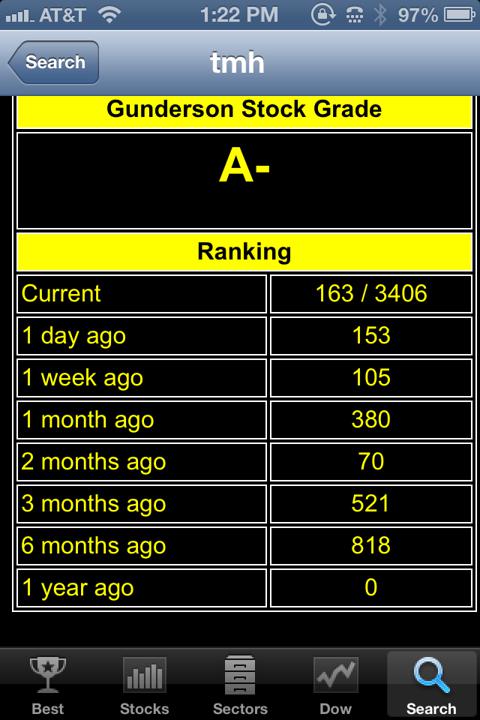 Data from Best Stocks Now App
Lastly, here is a record of the tweets and radio coverage that I have given to the stock since it initially hit my top 200 list.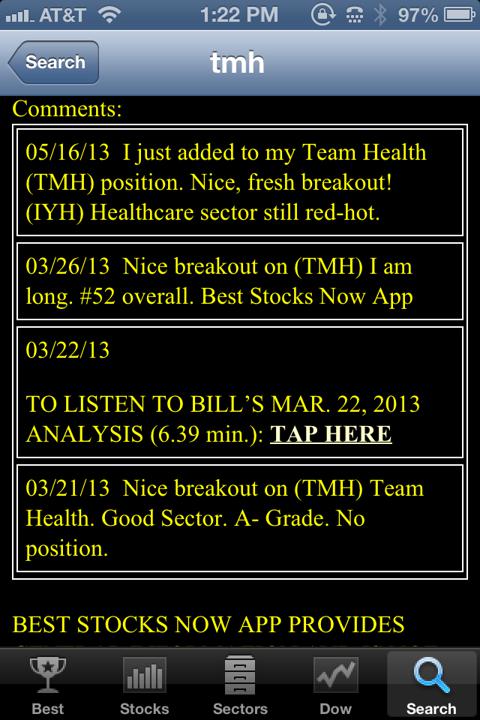 Disclosure: I am long TMH. I wrote this article myself, and it expresses my own opinions. I am not receiving compensation for it. I have no business relationship with any company whose stock is mentioned in this article.