For 5 of the past 6 quarters, whenever Google (NASDAQ:GOOG) beat forecasts, so did Cyberplex (OTC:CYPXF). The common thread between Google and Cyberplex is that they both deliver to marketing managers measureability and performance-based ad budgets.

It is well published that GOOG beat analyst estimates for both sales and earnings for the third quarter in a row. As stated in earlier posts, there are three trends that continue to propel better than expected performance at Google:
Marketing and advertising budgets are being focused on performance. Cost per Click [CPC] advertising is considered to be one of the most performance-oriented advertising approaches around. It is Google's strength, the source of its dominance, and as more marketers shift budgets, the driver of better-than-expected performance. Paid click- through increased 15% YoY while most other media (including online display advertising) declined.
Unemployment. People being laid off are spending more time online to network, research, find jobs, or create new businesses. Comments by the CEO of domain vendor Tucows (AMEX: TCX, TSX:TCS) last quarter suggested that domains are being bought at record levels as laid off people start-up their own businesses or blogs.
Brand Dominance. Most people are finding their way around with Google. The introduction of Bing in June has had little impact on Google. Traffic to Google search in June increased by 12%, while pageviews increased by 31%. The remainder of the sector enjoyed a 2% increase in traffic, and a 1% increase in pageviews. IT managers don't get fired for selecting IBM; Marketing Managers don't get fired for selecting Google.
Cyberplex is one of the vendors at the forefront of an even more measureable performance-based online advertising method called Cost-per-Action [CPA]. Essentially, marketers only pay Cyberplex if a user actually does something after they click on an ad. It could be a survey fill, a poll, or even a purchase. It has piqued the interest of mainstream advertisers who are beginning to deploy significant prgrams with Cyberplex .
Similar to Google, Q2 results for Cyberplex
may show a sequential decline from Q1 due to seasonality, although the decline may be less than analysts expect. Notwithstanding, the quarter should show significant annual quarterly growth in sales and earnings over Q2 2008.

There are two downside risks to Cyberplex results:
The company has category concentration in the Health & Beauty sector. Weakness in this sector could create downside risk. A segment proxy to this performance may be Shoppers Drug Mart (SC.TO). SC reported strong earnings for Q1 2009.


Users stop engaging. If more people click on Cyberplex

ads, but do not take action, performance could be impeded. This would show up as worse than expected sales and more than expected declines in gross margin.
There are two upside risks:
With its recent capital raise, the Company has been in a position to accelerate the development of its affiliate network during Q2, creating more revenue opportunity, and a broader footprint that attracts larger advertisers.


Unemployed people are putting emphasis on improving fitness and overall health. This trend could benefit the health and beauty category, which is where Cyberplex

has concentration.
Google had to pay more to its affiliate network last quarter, and it should be expected that Cyberplex would need to do the same, so gross margins should decline similarly for Q2.

There is more potential forecasting risk with Cyberplex , but as a performance-based online ad network, it has similar DNA to Google. For the 5 of the past 6 quarters a GOOG BEAT has foreshadowed a Cyberplex beat two weeks later. The only quarter where this did not happen, GOOG missed and Cyberplex beat (Q3 2008).

Since Cyberplex raised capital in May, the share price has trended sideways on light volume and it is now trading below its 50-day moving average, so good performance for Q2 may result in a potential move up. Google moved up well ahead of its 50 day moving average for two weeks ahead of its Q2 report as investors anticipated results to beat expectations. The stock price is declining on the news. With GOOG as a foreshadow, could Cyberplex show a similar pattern?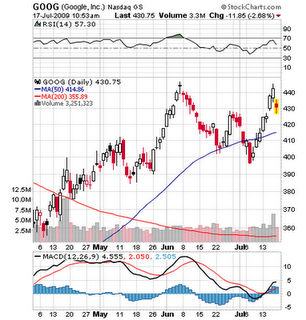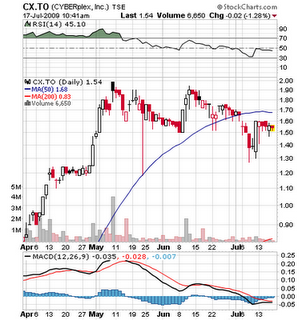 Disclosure: I own CX.TO. I do not own GOOG or SC.TO