Like its sweet doughnuts, Krispy Kreme (KKD) has given investors a bit of a sugar rush in 2013. As the chart below shows, the doughnut-maker's stock is up 77% in the year-to-date beating the returns of the S&P 500, the Dow Jones Food and Beverage Index and another popular doughnut maker, Dunkin' Brands (NASDAQ:DNKN) by a factor of at least 3 to 1.
Krispy Kreme Vs. Select Indices & Dunkin Brands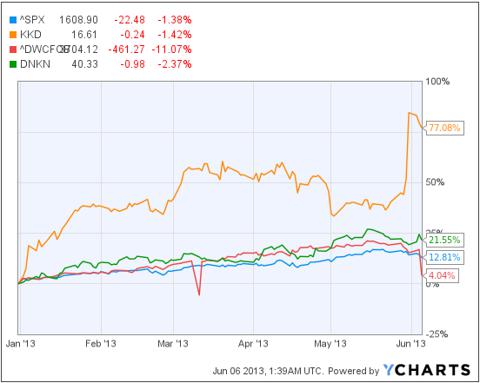 Source: YCharts
Unlike the special glaze Krispy Kreme uses on its doughnuts, there's no secret recipe for its surge: it's all about good performance. To wit, the company has beaten analysts' trailing 12-month earnings estimates by 26%. In its most recent reporting quarter, Krispy Kreme's revenues rose by 11% while beating analyst estimates by 18%. More importantly, Krispy Kreme management raised its forward earnings guidance for its current fiscal year from a range of 53-to-57 cents to a higher band of 59-to-63 cents per share.
Unsurprisingly, Krispy Kreme's stock, which had already been flirting with returns upwards of 40% in the year-to-date period, surged on the announcement of this earnings trifecta (i.e. a beat on revenues, earnings and higher guidance) as the chart above dramatically illustrates.
The question for investors now is whether Krispy Kreme can meet the lofty expectations it has set for itself. In our view, this is likely, but investors may want to wait for a pullback before getting into Krispy Kreme.
Earnings
The higher expected range of earnings that Krispy Kreme recently disclosed represents a 25 to 34% growth in earnings per share, with the higher end of that range 11% better than the 30% earnings growth rate expected for its industry this year. Over the next five years, Krispy Kreme's earnings per share are expected to rise by an average of 25%, over 10 percentage points better than the 14.6% growth rate expected for its peer group in the same period.
A survey of Krispy Kreme's competitors' expected earnings growth only reinforces the picture. Analysts covering Dunkin' Brands anticipate 15.7% growth, while those covering Starbucks (NASDAQ:SBUX) and McDonald's (NYSE:MCD) are predicting 18.6% and 8.8% growth, respectively. To be sure, the comparisons are not perfect, but these do drive home the point that Krispy Kreme is a growth leader in the broad restaurant business.
What's more, thanks to the decision to more aggressively pursue beverages sales, Krispy Kreme's same-store sales growth is on another level. At over 11% in its most recent quarter, it easily trumps the 3 to 4% growth that Dunkin' Brands has consistently reported for its own stores. Krispy Kreme intends to continue its pursuit of beverage sales this summer with a whole new line up of Summer State of Mind Beverages.
The interesting thing about Krispy's earnings is that these can actually improve further with more effective cost control. In fact, Krispy Kreme's five-year gross margin has averaged only 14% - compared to its industry group's 36.6%. In that area, investors will be heartened to know that it's trending better - its gross margin over its trailing twelve months has risen to 16.8% - but it is still trailing its peers by nearly 20%.
Naturally, these relatively poor gross margins have had a trickle-down effect on Krispy Kreme's EBITDA and pre-tax margins, which are both lower than its peer group's. There is, of course, a fine line to walk: Krispy Kreme can't simply cut costs for the sake of fatter margins at the expense of quality, thereby driving away customers. The point here is that, even with relatively compressed margins, Krispy Kreme's earnings are already growing at a faster pace than that of its peers. What happens when it catches up on the margin side?
Another area that should bolster Krispy Kreme's earnings going forward is with respect to its expansion: Krispy has been expanding worldwide over the past five years. In October, Krispy agreed to build 15 franchises in Singapore through an agreement with Star360 Group and in March 2013 made an agreement with Huan Hsin to open 10 stores in Taiwan, after Dunkin' Donuts decided to pull out of the country. The expansion has seen Krispy Kreme's capital spending growing at nearly 15% during this period. In contrast, its peers probably saw the post-financial crisis period as a time to retrench - capital spending for Krispy Kreme's peer group fell 2.1% during this time. That bet has clearly paid-off for Krispy Kreme, and we believe that it will continue to reap dividends as it looks to expand from 770 stores globally to 1300 globally the end of 2017.
Fundamentals and Valuation
Krispy Kreme, even with its recent performance, is expensive at nearly 53x earnings compared with 23x for its industry. On a forward five-year basis, however, this disparity is not quite as egregious: everything else equal, Krispy Kreme's five-year forward P/E is a more reasonable 17.3x. That would still represent a 49% premium to its peer group's five-year forward P/E of 11.6x but is a vast improvement to the 131% premium it currently enjoys.
Other valuation metrics are also more forgiving to Krispy Kreme: on a price-to-sales basis, it is trading at 2.5x - not that much higher than the 2.1x of its peer group. Meanwhile, it is actually trading at a discount to its industry (and in-line with the S&P 500) by way of price-to-tangible book value at just under 5x compared to 14.3x for its peers. The same is true for its price-to-free cash flow: Krispy Kreme is trading at 25x compared to 72.6x for its peers.
Krispy Kreme is also on better financial footing that its competitors: its quick ratio of 2, which is more than double the 0.7 of its peers, is closer to that of a conservatively-run healthcare company and is superior even to that of the average S&P 500 company (1.1x). Even better, Krispy Kreme has just 10-cents of debt for every dollar of equity whereas its peers have equal parts debt-and-equity. Among other things, this implies that further along the road, as it winds down its capital expansion, Krispy Kreme could very well start paying dividends.
Conclusion
The only area where Krispy Kreme gives us pause is with respect to the way that Krispy Kreme has traded: its spectacular rise in 2013, coupled with a beta of 1.7 compared to 0.5 for its industry group means that shareholders could be in for tough times if the market goes into an extended correction over the summer and investors start taking profits.
Consequently, while we like Krispy Kreme, we advocate taking a wait-and-see approach over the summer since a market correction could open up opportunities to buy Krispy Kreme at a lower price point - and open up potential gains 50% or more (depending on the investors' acquisition price) since we see Krispy Kreme trading at $22 by year's end.
Disclosure: I have no positions in any stocks mentioned, but may initiate a long position in KKD over the next 72 hours.
Business relationship disclosure: Black Coral Research, Inc. is a team of writers who provide unique perspective to help inspire investors. This article was written Jonathan Lara, one of our Senior Analysts. We did not receive compensation for this article (other than from Seeking Alpha), and we have no business relationship with any company whose stock is mentioned in this article. Black Coral Research, Inc. is not a registered investment advisor or broker/dealer. Readers are advised that the material contained herein should be used solely for informational purposes. Investing involves risk, including the loss of principal. Readers are solely responsible for their own investment decisions.