There is an awful lot going on these days in the peripherals which has been quite distracting to investors and taken the focus off of the core. We are hearing a lot about pullbacks and how one is needed at this time for the entire market, but that is not necessarily true. If one studies the rally we have had, although the general market has lacked major pullbacks we have seen them in subsectors which accomplishes the same thing just on a smaller scale and not at the same time. The effect it does have is slow the general market push higher and causes sideways movement...something we are seeing in the commodity space right now.
Chart of the Day:
We continue to see the US Dollar Index fall, which should eventually translate into bullishness for the commodity space as a whole. It shall take a bit of time and we need volatility in the treasuries to cool off a bit, but so long as these levels hold the commodity equities shall recover.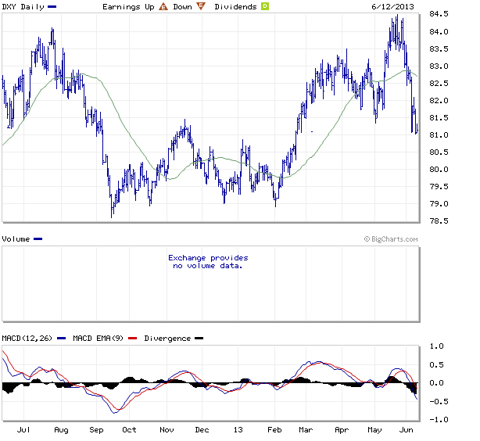 Chart courtesy of BigCharts.com
Commodity prices this morning are as follows:
Gold: $1376.30/ounce, down by $0.70/ounce
Silver: $21.72/ounce, up by $0.074/ounce
Oil: $95.27/barrel, down by $0.11/barrel
RBOB Gas: $2.8137/gallon, down by $0.0094/gallon
Natural Gas: $3.728/MMbtu, up by $0.004/MMbtu
Oil & Natural Gas
This morning we want to cover what we see as a constant theme across many of the names we have traded over the past year and a half or so. The theme you ask? Well many are either back below what have been levels of resistance/support and/or slumping back into ranges where we are quite comfortable being buyers.
First up this morning is Rosetta Resources (NASDAQ:ROSE) which we have traded quite a few times from the $42-45/share range up to the $48-50+/share level. It is a trade which thus far has never failed us and one which we would be inclined to move back into again should we see investors flee, as has been the case before. The shares finished down a shade over 2% yesterday which put the stock at $45.41/share at the close. That is a bit above where we like to buy it for short-term trades, but long-term buyers can safely being accumulating shares at these levels (although if it was us we would be buying at the lower prices which generally come over the next week or two). This should be added to readers' watch lists now for a buy below $45 and preferably in the $43-44/share range.
It looks like we are going to get another chance to do a channel trade here and that is perfectly fine with us. It has been rewarding in the past and we were always taught to do something until it does not work any longer.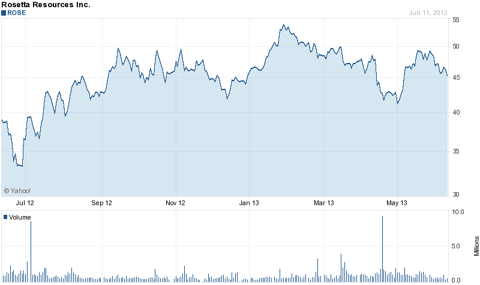 Chart courtesy of Yahoo Finance.
The next two names we want to cover are favorites of the day traders, SandRidge Energy (NYSE:SD) and Kodiak Oil & Gas (NYSE:KOG). SandRidge is now in the bear territory as shares have retreated below the $5/share level as natural gas prices have retreated in recent sessions. Natural gas is key here as the wells they are drilling in the Miss Lime continue gassier the more north they drill on their properties. One should not get too technical with SandRidge as it is a barometer of risk-on and risk-off which is weighed down by the fact that they are still drilling wells which have less liquids than previously thought and more so than other big plays out there such as the Bakken, Eagle Ford or even the Utica.
A better bet is Kodiak, which finds itself back under the $8.80/share level once again and preparing investors either for another pullback down towards the $8.30/share level or a bounce back up towards $9/share. We really like the latest acquisition where they added acreage in the Bakken and better yet around their core areas, thus enabling them to simply utilize the knowledge they have already gained and continue to find economies of scale and efficiencies in their drilling techniques. Long-term we are bullish of this name and think a pullback is a buy, but short-term we see another opportunity to make some fast money, as they say on the street. If we see a pullback to $8.30/share that is the level where the buy signal really flashes green.
Iron Ore
It is a name which continues to get thrown around by traders far smarter than us and simply continues to lag the general market and even the commodity market. We are speaking of Vale (NYSE:VALE) and the yield trap that it has become. Our view has been that the shares were overvalued as the dividend was falling due to profits falling and that it would take a few quarters for the dust to settle. When shares broke below $17 the stock really caught our attention and had us intrigued, but with the continued retreat and yesterday's price action we feel that now is the time to bring it to readers attention as a potential long-term buy.
With the shares below $14/share after yesterday's 2% drop the company looks like it would be a good addition to a retirement portfolio where one can hold onto the shares without worry while the iron ore market recovers from today's troubles. We are not in love with the economics of the business, but Vale does have low cost production and a domestic market which should require more raw materials in the next few years and with the mines nearby they have a real advantage.
The stock has been a poor performer as of late, and the downtrend at the back end of the chart is very ugly. Long-term this could work though, but do not buy the entire position at once because this is not a bottom call.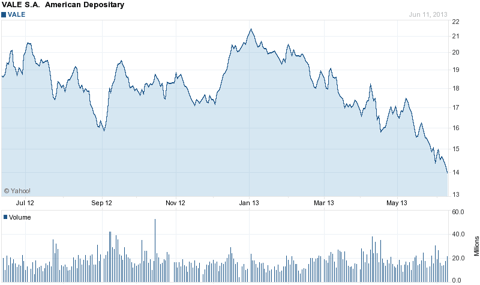 Chart courtesy of Yahoo Finance.
We want to be very clear here though. Just because we are saying that Vale is a buy for long-term holders does not mean we feel the same about a name like Cliffs Natural Resources (NYSE:CLF), which has far more problems than iron ore markets. For all the reasons we like Vale, we dislike Cliffs...with high production costs being at the top of the list. We are not trying to slam the stock, but the name always comes up when discussing Vale and iron ore, so we wanted to do a pre-emptive strike in order to avoid any confusion over the matter.
Disclosure: I have no positions in any stocks mentioned, and no plans to initiate any positions within the next 72 hours. I wrote this article myself, and it expresses my own opinions. I am not receiving compensation for it (other than from Seeking Alpha). I have no business relationship with any company whose stock is mentioned in this article.