Despite resulting in great returns for investors, Tyler Technologies (NYSE:TYL) has been under the radar for a long time. The company receives next to no coverage in financial websites and it enjoys only 174 followers at Seeking Alpha. Year-to-date the stock's price has appreciated by 44% and in the last year, it has appreciated by 80%, not to mention the 315% appreciation in the last 3 years. Did investors miss the train with this company?
First, I'd like to offer a description of the company since not many people know what it actually does. Tyler Technologies mostly works with local governments and provides them with information management solutions and other integrated services. It conducts business with the financial arms of cities, counties, local agencies and many different arms of municipal courts, departments of planning, licensing and permitting, departments of public safety, schools and departments of documents and records. Because the local governments across the nation have been cutting costs all over the place, many investors were worried that this company would stop growing but it hasn't happened in the last few years.
In 2010, Tyler Technologies generated $288 million in revenues of $128 million in gross profits. In 2011, the company generated $309 million in revenues and $142 million in gross profits, followed by $363 million in revenues and $168 million in gross profits in 2012. As per earnings, they were 71 cents per share in 2010, 83 cents per share in 2011 and $1 per share in 2012. We are looking at an earnings growth of 41% in the last 2 years.
In the last quarter, there were a lot of positive items in the company's results. The last quarter marked Tyler Technologies' 9th quarter of year-to-year revenue growth and 48th profitable quarter in a row. The recurring revenues represented 62% of total revenues as they grew by nearly 20% in the quarter compared to the same quarter a year ago. Because the company has a subscription model, it doesn't have to always rely on new sales to make money.
Moreover, Tyler Technologies makes money on license and royalty payments as it enjoys multiple valuable patents. Last quarter, these revenues were up by 17%, particularly due to a large payment from Microsoft (NASDAQ:MSFT) regarding Microsoft Dynamics AX software.
Tyler Technologies enjoys 11,000 customers around the country which gives it more than enough room to breathe if it were to lose a few customers due to economic conditions. The company's target market is as large as $11 billion and the market is growing at a 2-3% rate annually, while the company's penetration rate it as little as 3%, which gives it a lot of room for growth. In the long term Tyler's growth rate is expected to be much larger than the market's growth rate, which should allow the company to gain a lot of market share in the years to come.
Even though local governments are cutting funding all over the place, Tyler is expected to grow rapidly in the next few years. This may make some people wonder. After all, why would local governments pay more for a contractor when many of them face bankruptcy if they don't cut their costs significantly? Here is the thing: Tyler's products actually help local governments with cutting their costs. Tyler's software products enable organizations to do more with less. Most local governments still use home-grown software that was developed a long time ago and most of this software is getting outdated as we speak.
There are many companies like SAP (NYSE:SAP) and Oracle (NYSE:ORCL) that compete with Tyler Technologies. These companies typically have multiple focuses including national governments, local governments, national companies, local companies and multi-national companies. On the other hand, many companies that only focus on local governments are local players that don't have much market share. Tyler Technologies is one of the few companies that has these two qualities: 1) being nationwide, 2) focusing only on local governments. This allows the company to steal market share from competition.
Having a recurring revenue model and high client retention allows the company to remain profitable for a long time. As of right now, Tyler has a customer retention rate of 98%, which is one of the highest rates among companies that serve local governments.
The chart below demonstrates how Tyler Technologies has been able to grow its revenues by an average of 14% annually since 2002. Notice that 2013 guidance is in line with the company's ongoing growth, which tells me that the growth rate isn't slowing down anytime soon.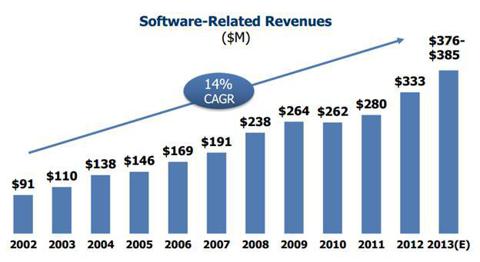 When we look at the growth in Tyler's recurring revenues, we see that it is growing at an even faster rate than the company's overall revenues. Since 2007, Tyler's recurring revenues have been growing by an average rate of 18% annually and they currently represent 62% of the company's revenues.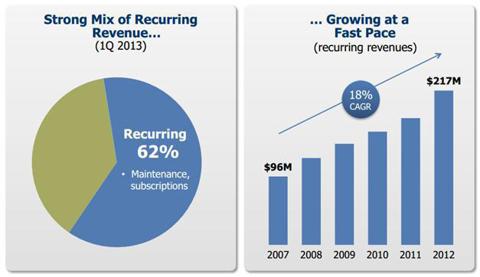 Tyler's margins continue to increase as the company's volume goes up. Between 2007 and 2012, the company's gross margin has increased from 38.4% to 46.2%. We are looking at a relative gross margin growth of 20% in 5 years, which is impressive.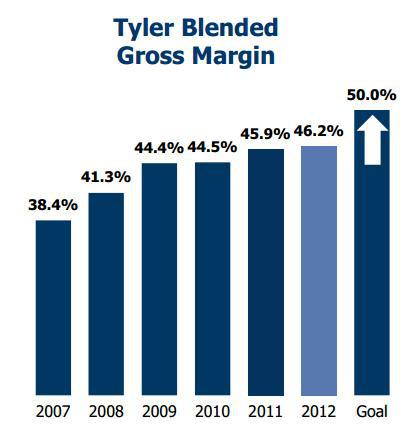 In the last 5 years, Tyler's cash flow to earnings ratio has been 1.5 which is very strong. The company has been able to spend the money on acquisitions and share buybacks. Since 2007, Tyler has made 13 acquisitions which increased the company's client base as well as the variety of available products. Since 2002, Tyler has repurchased 25.8 million of its outstanding shares. When we consider that the company only has 31.5 million outstanding shares right now, this is a big number. We may be looking at a company that will be able to buy itself and become private within this decade.
The company has multiple divisions: Local Government Division, Appraisal and Tax Division, School Division, Microsoft Dynamics Division and Courts and Justice Division.
Local Government Division
This division provides local governments such as cities, counties and related agencies with tools to run their financials, plan for the future, keep documents and records and improve efficiency overall. Recently, Tyler acquired Energov which provides complimentary products to Tyler's products. The great integration between the products of these two companies will allow Tyler to increase its customer base as well as revenue per customer as it will be able to sell more products to existing customers. Recently, the division secured many solid contracts such as a $4 million contract from Providence of British Columbia Safety Authority in Canada, a $2.7 million contract from Prince William County, Virginia, and a $2.2 million contract from Cedar Rapids, Iowa.
Appraisal and Tax Division
This division provides software and appraisal services for local governments and their tax departments. In total 55% of the revenues come from software products and 45% of the revenues come from appraisal services. Of the software revenues, 65% are recurring and 35% are one-time revenues. Software is used in 35 different states and 2 different Canadian provinces whereas the appraisal services are offered in 18 states. This division typically enjoys a contract-win rate of 25-40% and it had an exceptional year in 2012 as it enjoyed a win-rate above 50%.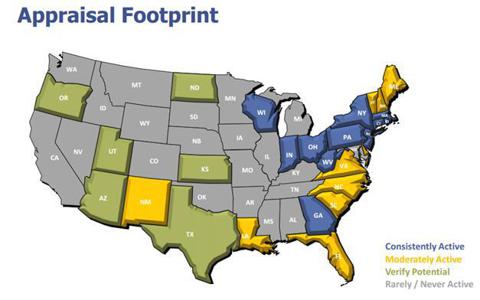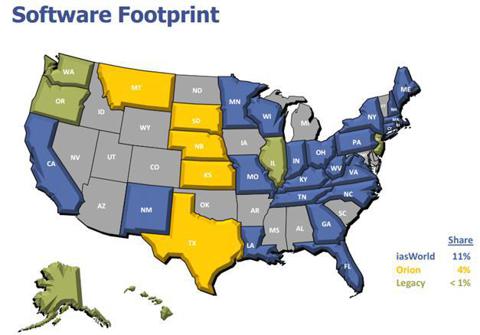 Schools Division
Out of the 13,830 schools in US and Canada, Tyler Technologies has exposure to 1,500 through its VersaTrans solution (software package used for school bus route planning) and 1,000 through its Tyler SIS (software package used for keeping student records) solution. While the company enjoys a significant market share in schools, it still has more than enough room to grow.
Microsoft Dynamics Division
Microsoft Dynamics is a highly dynamic product that serves more complex clients who need multi-government, multi-language, multi-currency capabilities as well as those clients who need significant customization. The product utilizes Microsoft Office. The partnership between Microsoft and Tyler Technologies combine Microsoft's marketing power with Tyler's specialized knowledge and experiences in the local government sector. The software is easy to learn and use and it is very comprehensive. The software can run many different functions including but not limited to financial management, fund accounting, budgetary control, travel and expense management and business intelligence and reporting.
Unlike most of Tyler's other products, this product is being sold across the world. So far, 75 local governments from 35 different countries (4 in North and Central America, 4 in Africa, 2 in Australia, 9 in Asia and 16 in Europe) have adopted this product. The international exposure of the product is mostly due to Microsoft's marketing power. In the 4th quarter of 2012, Tyler generated nearly $1 million from this product which is more than the previous 4 quarters combined together. There is still a lot of room for growth of this product.
Courts and Justice Division
Twelve years ago, Tyler Technologies released a new product called Odyssey Court Case Management Solution. In the last 12 years, the product has gained a lot of market share. States like Oregon, North Dakota, South Dakota, Indiana, New Mexico, Maryland, New Hampshire, 3 counties in California, 2 counties in Nevada, more than 70 counties in Texas, 3 counties in Michigan, 1 county in Illinois and several counties in other states utilize this product today. There are still many places across the country that could use this product, which gives it a lot of room for growth.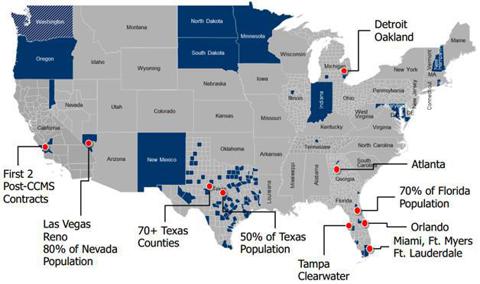 The company has products for many different types of people in the court system. Case managers, jail managers, attorneys and supervisors can find products designed by Tyler to meet their needs in the court system. Tyler's dataXchange software allows courts to share information with each other, which helps with solving many cases more efficiently. Furthermore, there are many counties, cities and states that utilize different Tyler solutions to allow their residents to utilize E-filing, which allows many forms to be filled electronically without actually going to the court building. In addition to these products, the company offers many smartphone apps, which allow users to be mobile.
Now I can hear you saying "what about the high P/E ratio Jacob?" Tyler's trailing P/E ratio is 65. The estimates and guidance for 2013 imply a forward P/E ratio of 55. For 2014, we are looking at a P/E ratio of 48. If the company were to grow its earnings by 20% annually, we'd be looking at forward P/E ratios of 44 by 2015, 35 by 2016, 28 by 2017, 22 by 2018, 18 by 2019 and 14 by 2020. It would take a lot of growth for many years to justify the company's current share price. While the company has a solid growth story, I would wait until there is a correction/pullback before buying it. An entry level around mid to high $50s would present a great opportunity for this company.
Disclosure: I have no positions in any stocks mentioned, and no plans to initiate any positions within the next 72 hours. I wrote this article myself, and it expresses my own opinions. I am not receiving compensation for it (other than from Seeking Alpha). I have no business relationship with any company whose stock is mentioned in this article.