With interest rates still near all-time lows (albeit rising), we think high-yielding equities are as vital as ever to providing income investors with an attractive total return investment. Realty Income (NYSE:O), one of the ideas on our dividend-growth watch list (not yet a portfolio constituent), has come under significant pricing pressure as of late. As such, we are strongly evaluating the firm's shares for addition to the portfolio of our Dividend Growth Newsletter after this rather material slide. Let's take a look.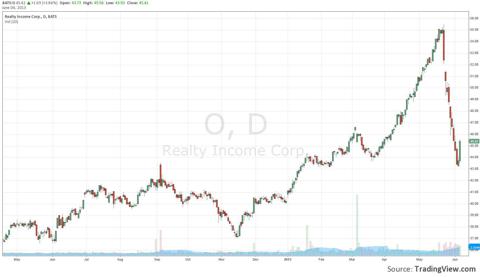 The 'Monthly Dividend Company'
Initially, we were a little taken aback by a REIT actively touting itself as the "monthly dividend company." However, after further investigation, we think the company is truly focused on returning capital to shareholders rather than taking advantage of income-seeking investors.
Realty Income started in 1969 with two partners looking to provide investors with monthly income. The idea was and still is, relatively simple: purchase properties, lease them to reliable tenants, collect monthly rent checks, deduct fees to cover overhead and return the rest to shareholders. However, unlike many REITs, Realty doesn't take on massive amounts of debt in order to invest in properties. Rather, the firm tends to issue some common or preferred equity or sell some properties in order to rebalance its portfolio. The firm had about 40% of its capitalization in debt (lines of credit payable, mortgages payable, term loan, notes payable) as of the most recent quarter.
Though it might be advantageous to capitalize on historically low interest rates, we like management's conservative approach and unwillingness to over-leverage (add too much debt to) its balance sheet. If tough times strike again, we think Realty will be better positioned to sustain its dividend than many of its peers.
Nice Geographic Diversification
Further, the firm does a fantastic job diversifying its property portfolio. Aside from California, which comprises roughly 11% of the portfolio, no other state comprises more than 10% of its portfolio-which encompasses 49 of 50 states.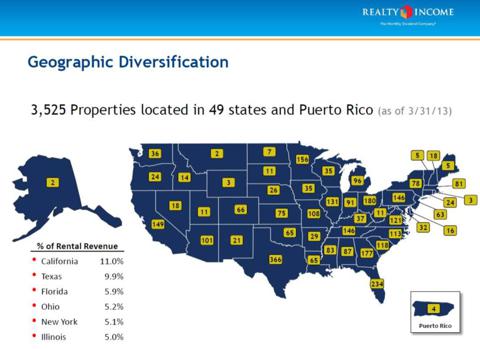 Image Source: Realty Income
In addition to tremendous geographic diversity, the firm also diversifies on an industry basis. The company is most reliant on the retail industry, which accounts for about 77% of revenue. Retail tends to have relatively low rents (resulting in high rent coverage ratios for occupants), but not every company that leases large amounts of real estate from Realty is in great financial shape. Financially-precarious Rite Aid (NYSE:RAD) accounts for about 2% of the portfolio, though we think national chains like Walgreen's (WAG) or CVS (NYSE:CVS) could be interested in acquiring Rite Aid's footprint. In any case, we're not too worried about Realty's retail exposure.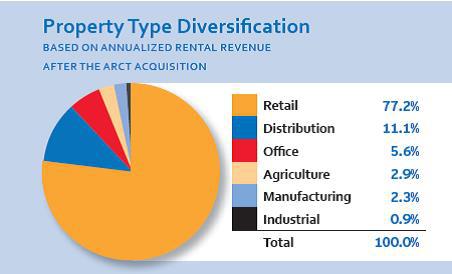 Image Source: Realty Income 2012 Annual Report
American Realty Capital Trust…a Good Deal
The makeup of tenants has changed a bit after the firm acquired American Realty Capital Trust (NASDAQ:ARCT) in 2012. Though Realty was formerly highly reliant on AMC Theaters and Regal Entertainment (NYSE:RGC) before, the firm now considers FedEx (NYSE:FDX) its largest tenant at 5.7% of revenue, with L.A. Fitness (4.5%) and Family Dollar (NYSE:FDO) rounding out the top three.

Image Source: Realty Income
Since we're not huge fans of the theater business over the long term (given mobile and in-house consumption trends), we were happy to see the REIT diversify away from it. More importantly, the firm boosted the credit quality of its portfolio. Prior to the ARCT acquisition, only 19% of tenants had an investment-quality debt rating (now, that figure stands at 34%). Realty Income also lowered the impact of its top 15 tenants to 42% of revenue from 47% of revenue, reducing dependency risk.
Although the firm had to take on some additional debt and issue over 17 million shares of new equity to consummate the ARCT deal, we think the firm made a savvy move. Not only did it lock in several investment-grade tenants, but the deal also gave the firm an additional 515 properties that had 100% occupancy. Further, we believe it offers the combined entity additional scale and negotiating leverage which could come in handy when discussing rental terms.
Realty's Key Financial Metrics
GAAP earnings are essentially meaningless to the firm, since non-cash charges like depreciation affect GAAP earnings potential. Realty's metrics, Funds from Operations [FFO] and Adjusted Funds from Operations [AFFO] are much more useful, in our view. In its first quarter, Realty earned $0.60 per share in AFFO, easily covering the dividends it paid ($0.543 per share). Impressively, the REIT has raised its dividend 71 times in its history and for 62 consecutive quarters. That's 15.5 years of dividend growth. Looking ahead, the firm anticipates $2.33-$2.39 per share in AFFO for the year, an increase of 13.1% to 16% over the 2012 AFFO per share of $2.06. This should also cover the anticipated annual dividend of $2.175 per share while giving the firm flexibility to invest in new properties.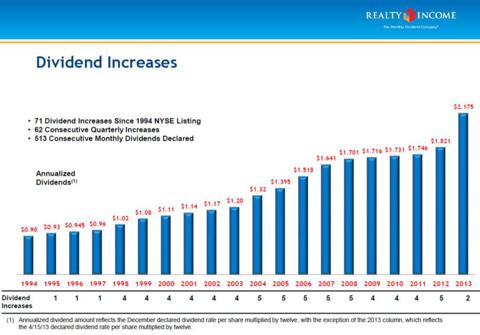 Image Source: Realty Income
Looking Ahead...
Though management seems fairly cautious going forward, its average lease life is secured for 11.1 years, suggesting revenue should be fairly predictable for the next several years (especially with a 97.7% occupancy rate). The firm isn't overweight big box retailers by any means, but we suspect management fears its portfolio will be negatively impacted by the secular shift toward online purchasing. The company is clearly focused on diversifying its portfolio to places other than retail as we saw with the ARCT acquisition (retail exposure: 77%, was 86% pre-acquisition).
Realty Income would make an interesting dividend growth idea given the firm's healthy dividend track record and future dividend-growth potential. Though the REIT is fairly valued at current levels, any move to the low-$40s per share (below the low end of our fair value range) would get us very excited about a potential entry point for the portfolio of our Dividend Growth Newsletter. We're monitoring its pricing action very closely.
Disclosure: I have no positions in any stocks mentioned, and no plans to initiate any positions within the next 72 hours. I wrote this article myself, and it expresses my own opinions. I am not receiving compensation for it (other than from Seeking Alpha). I have no business relationship with any company whose stock is mentioned in this article.