The MLP sector has had a fantastic start to 2013, with the Alerian MLP Total Return Index (AMZX) producing a total return of 20% YTD through last Friday versus 16% for the S&P 500. In recent years, this income-oriented segment of the Energy complex has done even better, up 500% from the March 2009 bottom: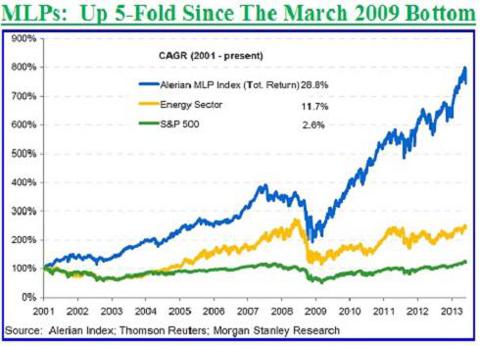 (Click to enlarge)
I am loath to recommend stocks in a sector that are up that much in recent months and having put in such a strong performance over the last few years. Mean reversion, and all that. But I do believe that to an extent with the MLPs that "this time it really is different." The sector has a huge amount of infrastructure builds as a result of the shale revolution in the United States. Although the stocks have experienced increased correlation to the price of oil and natural gas, the depressed price of natural gas is likely to increase (if modestly) over the next few years as demand increases. That should help with overall business fundamentals since so many MLPs have big exposure to natural gas.
With the MLP sector up so strongly year-to-date and since the March 2009 stock market bottom, buying a basket of MLPs based on iffy short-term prospects would be counter-productive. I felt a look at those MLPs best positioned for a 5-10 year run would be best. Those MLPs which are best positioned for sustained revenue and distribution growth would be the ones to put-under-your-pillow and be able to withstand and recover long-term from any upcoming dip in the sector, much as they did post-2009. Going forward, even with the huge domestic opportunity from shale plays, one will need to be more selective.
In reviewing MLPs for the next 10 years, I obviously discounted recent quarterly results. Quality of management, long-term revenue and business opportunities, potential dividend growth, CAPX projects about to come on-line, corporate structure, and competitive position become more important in the out-years. With that in mind, here are 5 buy-it-and-forget-about-it MLPs you can hold for the long-haul, without regard to the next stock market or MLP sell-off. Even with their share and distribution growth potential, the group averages just under a collective 7% current distribution yield:
Plains All American Pipeline (NYSE:PAA): Plains All American Pipeline L.P. is a $19 billion market cap MLP headquartered in Houston, Texas. The partnership's business activities are conducted through three segments: Transportation, Facilities, and Supply & Logistics. PAA is engaged in interstate and intrastate crude oil transportation and crude oil gathering, marketing, terminaling, and storage. Crude oil, refined products, liquefied petroleum gas, and other natural gas-related petroleum products in the U.S. and Canada are pushed through the PAA networks. Plains has an extensive network of assets in key oil producing basins, transportation corridors, and at major market hubs in the United States and Canada. In addition, Plains All American is engaged in the development and operation of depleted reservoir and salt dome natural gas storage facilities through PAA Natural Gas Storage (NYSE:PNG).
PAA has a competitive advantage through a strategically-located crude oil pipeline and storage business that allows it to capitalize on the supply and demand imbalances that regularly occur in the U.S. and Canadian crude oil markets. About 60% of the partnership's 2012 cash flows were derived from stable, fee-based businesses such as crude oil transportation and terminaling with the remainder coming from supply & logistics operations which are sensitive to changes in commodity prices.
PAA is well into the 50/50 split of the Incentive Distribution Rights (IDRs) resulting in a more moderate distribution growth outlook of about 5% for the next 3-5 years, with potential upside. Plains' management has established an impeccable track record of solid operating performance across the business cycle, regardless of the commodity market structure. Shrinking basis differentials - think the WTI-LLS and Midland-Cushing spread contractions -- are likely to weigh on PAA's results for the remainder of 2013 as new infrastructure continues to come on-line throughout this year. Still, PAA recently upped guidance for 2013 to the top of most analysts' range.
PAA's conservative balance sheet and disciplined approach to M&A provide investors with an excellent long-term investment opportunity. The units currently yield 4.1% and about 70% of PAA's distribution is tax-deferred. PAA has one of the strongest balance sheets in the business, allowing relatively cheap cost of capital via both equity and debt offerings. Distribution coverage is at the high-end of the MLP sector with PAA's expected 2013 distribution coverage ratio of about 1.4x well-above the MLP average of 1.1x. 2014 distribution coverage is likely in the 1.25x range. Cash flows are varied and diversified, not relying on any one type, region, or commodity. 2013E debt/EBITDA is expected to be below the MLP average at under 3x for 2013 vs. about a 3.5-4x range for the entire MLP universe.
PAA derives a majority of its revenues from fee-based activities, which reduces cash flow variability to a large degree. PAA does experience volatility in its Supply & Logistics segment but only a sharp decline in the demand for or the production of crude oil in PAA's geographic regions would severely dent PAA's cash flows by impacting volumes transported. Otherwise, PAA is well-positioned for growth as a result of the burgeoning shale gas and oil plays in North America and has ramped up her CAPX and now has almost $7 billion in projects coming online for the next few years which will reap benefits long beyond: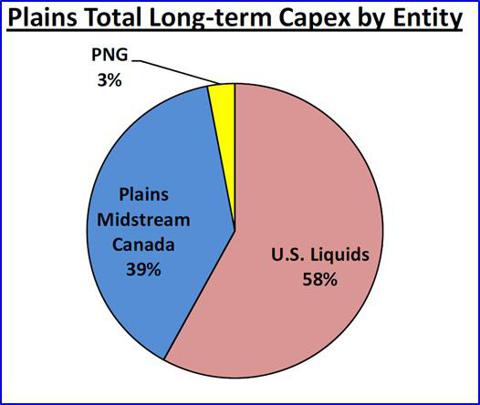 (Click to enlarge)
PAA has a diverse portfolio of projects including pipelines, rail, terminals, gas storage, barge docks, natural gas processing and fractionation facilities. The $7 billion project portfolio consists of more than 200 projects in total. The project portfolio skews towards U.S. Liquids (58%) and Transportation (56%). Plains Midstream Canada (PMC) represents 39% of the total projects portfolio and Canada can represent the next leg of growth for PAA, especially if natural gas and/or oil sands crude pricing rebound: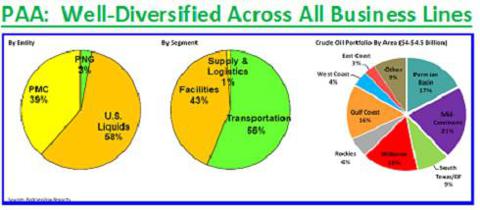 (Click to enlarge)
In April 2012, Plains completed its $1.7 billion acquisition of BP's Canadian NGL business (now called Plains Midstream Canada or PMC). The assets include significant storage, transportation, and fractionation facilities in Western Canada. PAA acquired 1,250 miles of NGL pipelines, 22 million barrels of NGL storage capacity, 7 fractionation plants with annualized fractionation volumes exceeding 230,000 bpd, and other gas assets. This year PAA plans to spend ~$290 million on organic expansion related to PMC (50% crude, 19% NGL, and 31% mixed). More importantly, the partnership has $2.5-$3.0 billion of PMC-related projects in its backlog, most of which would focus on NGL-related opportunities: 70% NGLs, 29% crude, and 1% other; 61% transportation, 38% facilities, and 1% S&L.
Plains is well-positioned to take advantage of the growing demand for liquids dedicated infrastructure, particularly in remote, emerging shale plays such as the Permian, Eagle Ford, and Bakken. PAA is able to generate internal cash flow that funds a third or more of its organic CAPX. Add PAA's at-the-market equity program and Plains should be able to pre-fund all its growth (including moderate M&A and potential upside to organic CAPX) without subjecting unitholders to the downdrafts associated with a secondary offering.
MarkWest Energy Partners (NYSE:MWE): MWE is a $9 billion market cap MLP with natural gas gathering and processing (G&P) MLP with operations in the Southwest, Northeast, and Gulf Coast regions. Southwest operations consist primarily of G&P assets in the Granite Wash, Woodford, Haynesville and Cotton Valley formations. In the Northeast, MWE's operations consist of a rapidly growing G&P and NGL fractionation asset base through its Liberty segment in the huge Marcellus Shale as well as assets in mature Appalachia gas producing regions. On the Gulf Coast, MarkWest operates a refinery off-gas processing and fractionation facility. In early 2008 MWE bought back its general partner in order to lower its cost of capital.
MWE has among the most attractive asset positions in the rapidly-ramping Marcellus (the largest shale resource in the U.S.) as well as the fast-growing Utica Shale. MWE has exceptional relationships with customers and an inventory of growth projects that are likely to continue to grow as these twin shale plays are developed over the next 5 to 10 years. This makes MWE a great long-term holding despite the recent strong rise in the share price. MWE has demonstrated very attractive rates of returns in the Marcellus of about 15% -- despite depressed natural gas and NGL pricing -- augmented by the company's strong balance sheet, high distribution coverage ratio, no general partnership interest, and sufficient liquidity. MWE may be able to grow the distribution close to 10% over the next 5-7 years, well above the MLP peer group average of 7%. The units currently yield 4.9% and approximately 70% of the partnership's cash distributions will be tax deferred.
MWE brought over 1 Bcf/d of processing capacity in 2012 in the Marcellus and is on track to add another 1 Bcf/d in 2013. Plants are filling up faster than expected, with the NGL rich Granite Wash play in the Mid-Continent another bonus beyond the Marcellus/Utica. MWE has 18 processing plants and fractionators under construction and expected to be placed into service over the 2013-2014 time period. By 2014, MWE expects to operate 48 plants, representing approximately 6 Bcf/d of processing capacity. Once completed, this will mark a nearly three-fold increase in processing capacity over a 3-year period (versus ~1.9 Bcf/d of capacity in 2011) and a two-fold increase in the number of operated processing plants (versus 22 plants in 2011). Expansion for future shale and oil production will be easily facilitated. Nearly all of this growth is expected to be driven by opportunities in the Marcellus and Utica Shales, where combined processing capacity is forecasted to reach more than 4.1 Bcf/d by 2014, as depicted here: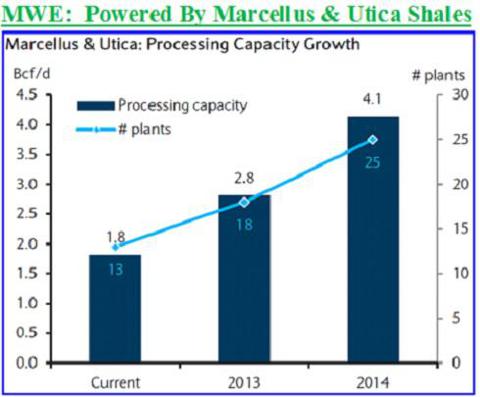 (Click to enlarge)
MWE predicts that for 2014 the company will generate 70% of its net operating margins from fee-based contracts. This is up from less than 50% in 2012 and under 40% in 2011. This increased fee-based income should lead to an increased multiple revaluation over time and a higher stock price with reduced commodity volatility. MWE is also reducing the percentage of proceeds (POP) arrangements it has utilized in the past. In these arrangements, the processor gathers and processes the natural gas and then sells the residue gas and produced NGLs at market prices. The processor receives a percentage of the resulting dry gas and/or NGLs. Under percent of liquids (POL) contracts, the processor receives a percentage of the NGLs only. Holders of POP or POL contracts are effectively long on natural gas or NGL prices. This has been a losing proposition the last few years, though the bias might be to a recovery the next few years while MWE makes the transition.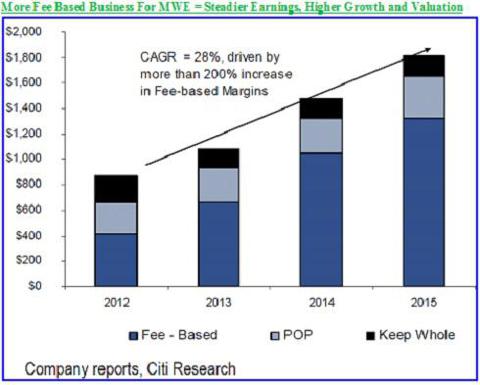 (Click to enlarge)
MWE's leverage ratio increased to 5.2x due to a $1 billion 10-yr senior note offering in January issued to pre-fund 2013 CAPX (priced to yield 4.5%). In retrospect, this was good timing as rates have moved up substantially since MWE floated the debt offering.
Linn Energy LLC (LINE): LINN Energy, LLC, based in Houston, Texas, is an independent producer of oil and gas in the Mid-Continent, East Texas, Hugoton Basin, Green River Basin, Permian Basin, Williston/Powder River Basin, Michigan/Illinois, and California. LINN grows production and reserves through a combination of development drilling and property acquisitions. Proved reserves at year-end 2013 should be over 7 Tcfe.
Linn Energy is the 9th-largest MLP and 10th-largest E&P among domestic U.S. companies. I've loved Linn Energy and written about it previously. The shares have been weak in recent months, first because of another BARRONS article detailing long-talked about production problems. Rumors regarding a delay in the closing of the Berry Petroleum (NASDAQ:BRY) deal have also crept up in recent weeks; the delay is likely to be only weeks, not months. This 'bear raid' has led to an increase in the short interest in LINE, but the closing of the BRY deal and the initiation of the monthly distribution should help counter the attack: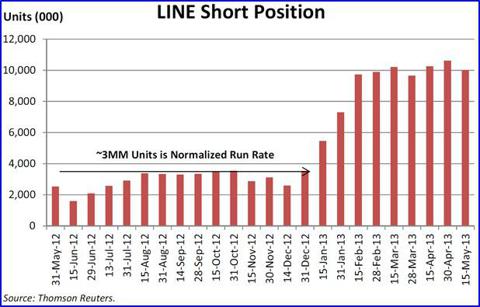 (Click to enlarge)
There are three ways to invest in Linn Energy. You can invest in LINE, the MLP, with all the tax-deferred, return of capital benefits, as well as the requisite K-1 filing, which many people (and accountants) find one big pain-in-the-you-know-hat. Or you can invest in LNCO, the C-corp structure created by Linn, which avoids the K-1 as you get a simple 1099 instead. Or you can purchase Berry Petroleum, which converts into 1.25 shares of LNCO, most likely in July. By purchasing BRY you are in effect buying LNCO at a 5% discount. This helps, as a straight purchase of LNCO - favored by most retail investors and IRA purchasers - has pushed the shares to a 13% premium after it opened last year at a discount. The short attack on LINE shares has also increased the LNCO premium to LINE (LNCO is difficult to short vs. the Berry deal).
LINE has been an M&A machine in its brief existence, growing by doing numerous deals to the point where it now has interests in various properties located in California, Kansas, Michigan, North Dakota, New Mexico, Oklahoma, and Texas. The company began operations in March 2003, and was formed as an MLP in April 2005. Including recent and pending acquisitions, the company has proved reserves as of Q1 2013 in excess of 6.8 Tcfe (proved developed and 52% liquids, inclusive of Berry).
The catalyst with LINE/LNCO is the BRY acquisition. Not only does it increase the "oily" nature of the company's assets but Linn gets long-lived assets and access to the California market. Refiners and other end-users are logistically cut off from much of the Mid-Continent shale production, enabling producers to get premium pricing for their oil. The Berry acquisition will be accretive to both cash flows and distributions going forward. In fact, the boost has allowed Linn to switch to a monthly dividend policy going forward. So LINE/LNCO holders now have monthly income for their shareholders, and also to fight the shorts.
Early results on the Hogshooter (OK) wells are very encouraging, but as we have seen with the Mississippian wells under Sandridge's (SD) control, you never want to extrapolate too early. The results from the Hogshooter (NYSE:TX) wells was below expectations. Partly because of Linn's lower working-interest in the OK wells vs. the TX wells, as well as some weather and ethane-related bottlenecks, production and cash flow for Q1 2013 was below expectations and the distribution coverage ratio fell to 0.88x. The ratio should rebound going forward, and both coverage and distribution figures do not incorporate additional M&A activity. These accretive deals for Linn are increasingly likely as other companies sell off properties - or themselves.
Ignore the short argument regarding the put-selling: Linn could just as easily hedge using swaps and the recent quarterly distribution coverage ratios would still mostly be above 1x if the company had used the more common hedging techniques other MLPs utilize. The monthly dividend payout, which commences in July, should help by giving investors monthly income, reducing stock price volatility around the ex-dividend date, and making shorting LINE/LNCO a bit tougher.
Linn is only the second MLP to initiate a monthly dividend. LNCO yields 8.0%, which is 110 bp. less than LINE at 9.1%, and the stock now trades at a rich premium after opening at a discount to LINE shares. The shares have increased in yield by close to 200 bp. each in recent months as the price has fallen. LINE has a market cap of about $8 billion. Purchasing BRY is a way to reverse some of that premium-creep in recent months as more and more retail holders have swapped LINE for LNCO, driving up the latter's price. With more drop-down assets available and a rich dividend yield while investors in LINE/LNCO wait, the long-term M&A and organic growth outlooks for Linn look impressive.
Because it is an upstream MLP, two main risks LINE faces are commodity price risk and drilling risk. To offset near-term commodity price risk, LINE has created one of the most comprehensive hedge books in the industry which covers approximately 100% of projected gas and oil production through 2017. This hedge book has been the course of the accounting controversy. The other recent attack on LINE has been recent production growth. Over the past 18 months, the company has increased its development of high rate/high decline Granite Wash, Hogshooter, and Wolfberry wells. This near-term shift has increased the company's overall decline rate to approximately 25% and placed an increased importance on organic production growth. The overall decline rate should fall back to the mid-teens by acquiring mature producing asset packages (as it did in 2012 when it spent $2.2 billion to acquire BP's Jonah Field and Hugoton assets which have decline rates of 14% and 7%, respectively) and C-Corps with low corporate decline rates (as it did in 1Q13 when it announced the BRY acquisition, which has a decline rate of 15%).
Energy Transfer Partners (ETP): ETP is an $18 billion MLP, one of the largest MLPs by market cap, largely operating in the transport sectors. Through a series of acquisitions including Lone Star, Southern Union, and most noticeably Sunoco, ETP has evolved from a mostly natural gas focused MLP to a diversified MLP with operations across natural gas, NGLs, crude oil, and refined products. The portfolio of assets across the natural gas and natural gas liquids value chain includes natural gas gathering; treating, processing, transportation and storage; and NGL transportation, storage and fractionation. ETP also has exposure to crude oil and refined products through its acquisition of Sunoco and ownership of the Sunoco Logistics general partner. Tax deferral on the distributions of ETP is estimated at 85% for this year and the units yield 7.2%.
The acquisitions have caused a bit of 'indigestion' for the company as management has had to integrate all the new operations. Financial results and the distribution have lagged in recent years. But ETP has done the heavy lifting of preparing itself for growth for the next decade, and investors should be rewarded going forward. Intrastate Transportation and Storage includes legacy ETP assets, which consists of 7,800 miles of natural gas pipeline and three natural gas storage facilities in Texas. The Midstream segment includes the legacy ETP midstream assets and the holding company unit for Southern Union Gas Services (SUGS) assets, which is in the process of being sold to Regency Energy Partners LP. Interstate Transportation and Storage includes legacy ETP assets, 50% interest in the Fayetteville Express Pipeline and 50% interest in the Citrus Florida Gas Transmission, which ETP acquired from Southern Union.
The flow chart will change somewhat as the structure is simplified going forward, but here is how ETP was structured as of a few months ago: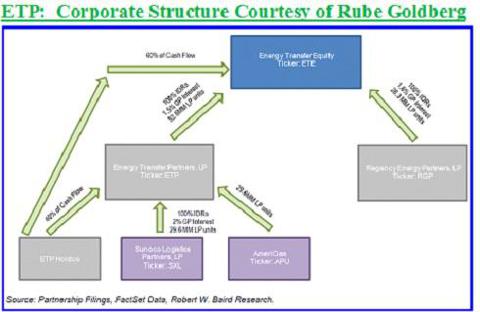 (Click to enlarge)
Down the line, do not be surprised to see RGP, SXL, and ETE rolled up into a single entity owned by ETP. This is years away, but another plus for the out-years as the synergies and cash-tax benefits from such consolidation could lead to years of distribution growth above and beyond normal operating results.
ETP has not increased the distribution since 2008. This is one of the longest droughts among MLPs aside from those that had to actually cut because of post-2008 credit problems. But the $3 billion in CAPX projects that ETP has coming on-stream from 2012-2014 will ramp up EBITDA and cash flows through 2020 and beyond. Additional projects that represent major upside include converting the Trunkline Pipeline into a liquids/crude transport, rising natural gas prices, reduced differentials for 'stranded' natural gas production, and higher storage spreads (once the natural gas glut lessens).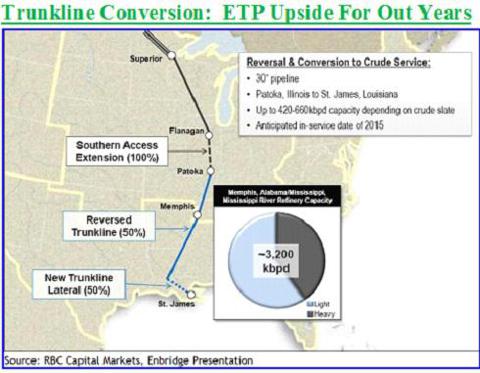 (Click to enlarge)
With her expanded footprint, diversification and management expertise, ETP is more easily able to pursue new and attractive crude oil and NGL infrastructure opportunities (i.e., fractionation, NGL pipelines, and the Trunkline Pipeline conversion). Energy Transfer is also developing the Lake Charles liquefaction project. The project is expected to consist of 3 trains capable of exporting up to 2 Bcf/d of LNG. ETP expects the initial export from the facility's first train to begin in 2018. ETP recently completed the acquisition of the remaining 60% interest in the holding company from general partner ETE for $3.75 billion in April and the sale of SUGS to RGP (another ETE affiliate) for $1.5 billion. With the streamlining complete, ETP is well positioned to restart distribution growth. The sale of SUGS assets to RGP and the sale of the remaining 60% of the holding company from ETE to ETP should be completed within the next few weeks.
The IDR structure and relatively high cost of capital are ongoing concerns, as are the continued natural gas glut. Drilling declines in some of ETP's older and more marginal oil and natural gas territories could lead to volume declines for ETP's transport divisions. But those are well-baked into the stock price which compensates with an above-average yield to her peer group.
Vanguard Natural Resources (NYSE:VNR): Vanguard is another upstream MLP that generates oil and gas production revenues from a portfolio of primarily natural gas producing reserves located in the Big Horn Basin, the Williston Basin, the Permian Basin, the Arkoma Basin, South Texas, and Mississippi. Robust acquisition activity over the past several years has led to a 43% increase in distribution to unit holders since the IPO and transformed VNR from a predominantly natural gas weighted company to a more diversified and a much larger MLP. As of December 31, 2012, Vanguard's estimated total reserves are approximately 150 million barrels of oil equivalent. Reserve life is estimated to be approximately 13 years.
Like Linn Energy, Vanguard Natural Resources is an E&P MLP that has done 17 M&A deals since her October 2007 IPO. Total acquisitions have been just under $3 billion as VNR has expanded from a small concentrated Appalachia base to 9 diverse basins and shales. VNR focuses on maintaining production through the drill bit while growing the distribution through accretive acquisitions. In targeting acquisitions, the partnership looks for mature, long-lived properties consisting primarily of proved developed reserves involving low drilling risk and development costs. With large integrated supermajors like ExxonMobil (NYSE:XOM) and Chevron (NYSE:CVX) shedding such assets for cost-reasons, plus other divestitures by smaller E&Ps, there should be a steady supply of accretive deals to be done over many years going forward. Indeed, the upstream category of the MLP universe might be one of the fastest-growing in future years, eclipsing transport and storage.
VNR has no general partner and, as a result, pays out no IDRs. This results in a cheaper cost of capital. This lower cost of capital significantly impacts the accretion VNR enjoys from acquisitions relative to peers. An additional boost could come if VNR were to form a C-corp, much as LINE/LINCO. Linn Energy is copying VNR by going to a monthly distribution policy. Perhaps VNR will be copying Linn with a C-corp addition once the conditions are right.
VNR has hedged ~90% of crude production through 2014, with ~85% of natural gas production hedged through Q2 2017. These hedges help to lessen VNR's exposure to commodity price fluctuations and make forecasting cash flows more predictable. VNR is still exposed to basis differentials, particularly within the crude production in the Rockies and Permian. Rising prices in those areas will augment VNR's bottom line.
VNR has an above-average distribution coverage ratio of 1.2x in 2013, the highest among the upstream E&P MLP sector. Distribution growth going forward will likely be driven by acquisitions. VNR acquired properties in the Permian Basin from Range Resources for $269 million earlier this year. Following the acquisition, VNR anticipates 2013 production to be around 34.5 kboe/d. The acquired assets have net production of ~2.8 MBOE/d (59% liquids). VNR has a proved reserve life of 14 years based on the new 2013 target.
In Q1 2013, VNR reported a coverage ratio of 1.05x largely because of wider-than-normal differentials in the Permian and Big Horn Basin as well as higher-than-expected spending levels. This is expected to improve over the course of 2013 as oil differentials in the Permian Basin have returned back to historical norms. On the acquisition front, over 60 new oil and gas properties hit the market in April, more than double April's five-year average rate. Vanguard completed over $700 million in acquisitions in 2012. Forecasted debt/EBITDA ratio of just 3.1x at the end of Q2 2013 means there is plenty of firepower between equity and debt capacity to make additional acquisitions. The expanded space of upstream E&P MLPs bears watching as it could increase prices for all future buyers.
VNR expects to dedicate ~20% of its $55 million capital budget in 2013 to its drilling program in the Woodford Shale, where it will drill 10 gross, 4 net wells in the liquids-rich section. Vanguard completed its first five wells in late April. The flush production will partially benefit 2Q's production volumes. VNR stated that these wells were completed at 20% lower costs than initially expected (~$3.7 million vs. $4.5-$5 million), which does wonders for the economics of the resources. The Woodford shale play derives a significant amount of value from the liquids content, roughly 100 bbls. per MMcf, providing upside to the dry gas economics:
The distribution should continue to grown and is well-covered: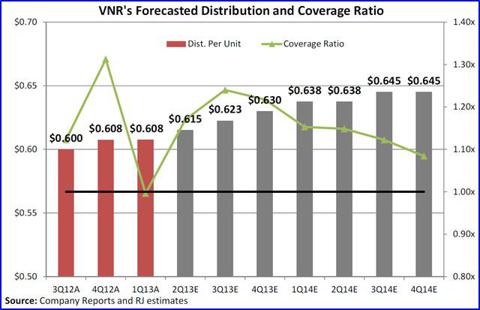 (Click to enlarge)
Q1 2013 results were impacted by wider than normal differentials in the Permian basin and the Big Horn Basin. As natural gas prices increase, VNR will benefit from higher cash flows on unhedged volumes, adding longer-dated hedges at higher prices to improve cash flow visibility, a rising borrowing base which reduces its percentage drawn and improves financial flexibility, and an increase in drilling inventory and reserves.
VNR expects 2013 to be another robust year for acquisitions and plans to spend at least as much CAPX on acquisitions as the last year. From a liquidity standpoint, as of the end of Q1 2013, VNR had $461 million outstanding under its revolving credit facility (38% drawn). Only 55% of the company's debt facilities have been drawn down. Bottom Line: plenty of financial firepower, plus the ability to do equity follow-on offerings.
There you have it: 5 MLPs for the long-haul, and yielding just under 7% right now as protection against any short-term MLP or stock market bump. As an added bonus, the MLP structure is fairly new and many of the original management teams are just getting up there in age in the next few years. Consolidations and mergers of both general and limited partners, including C-corps, could accelerate towards the end of the decade as some companies sell out for efficiency, business, inheritance, or other reasons. If pricing remains rationale, it could be win-win for both buyers and sellers, including the names listed above.
Disclosure: I am long ETP, PAA, MWE, VNR, LINE, LNCO. I wrote this article myself, and it expresses my own opinions. I am not receiving compensation for it (other than from Seeking Alpha). I have no business relationship with any company whose stock is mentioned in this article. The author owns all of the positions featured in the article in various online portfolios under his control.