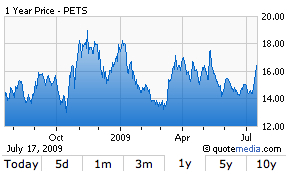 We wanted to share our recent work on PetMed Express, which reports June quarter results Monday before market open.
We've followed PetMed's progress for at least several years and believe the company is one of the best we've come across: >70% repeat customer business (an effective annuity), no debt, mid-teens operating margins, healthy free cash flow, limited capital requirements, and an incredibly high return on net operating assets (RONA) of 76% (and ROE of 31%). In addition, PetMed is benefiting from favorable secular trends as more pet owners order medications and supplies online instead of making purchases at vets (to dismay of vet owners).
On a P/E basis, we can envision PETS trading at an 18 to 20 times multiple given the company's consistent, profitable operating model, implying a $20 to $23 fair value. We rely on absolute valuation criteria to make our purchase/sale decisions, but can't help noting that certain online retailers, from large to small, trade at much higher multiples. Amazon (NASDAQ:AMZN) trades at 54-times trailing EPS and 41-times forward EPS, while Drugstore.com (NASDAQ:DSCM) has no positive earnings or free cash flow, yet fetches a market cap of $193 million. PETS is an incredible bargain relative to these names.
Disclosure: Long PETS