There are certain things in life you are just going to have to spend your money on; near the top of that list are your children. You are definitely going to feed them well, make sure they are healthy by taking them to the doctor, ensure they are well educated by taking them to the best schools, and most importantly make sure they are entertained so that you can have some relaxation time to yourself. For the entertainment portion of things Hasbro (NASDAQ:HAS) and Mattel (NASDAQ:MAT) are the dominant players in this sector. Hasbro is a maker of toy products, which includes the likes of Transformers, G.I. Joe, and Monopoly while Mattel's offerings consist of Barbie, Hot Wheels, and Fisher Price toys. Mattel does offer the bigger name products but Hasbro has been around as a publicly traded company a lot longer. Though you might spend your money indiscriminately between these two companies at the stores let's put them through a quick stock test to see which of the two might be best to throw your money at in the investing world.
Valuations
| | | | | | |
| --- | --- | --- | --- | --- | --- |
| Ticker | P/E | Fwd P/E | PEG | EPS next Yr | EPS next 5Yr |
| | 17.88 | 13.97 | 1.85 | 8.47% | 9.67% |
| | 19.62 | 14.43 | 1.78 | 9.93% | 11.00% |
Fundamentally, of the two companies, Hasbro is inexpensive based on the trailing twelve month P/E ratio with a value of 17.88 and I believe that both companies are fairly valued for that metric. But when I take a look at valuations I like to look at where the stock is going in the future and not really what has happened in the past, meaning I like to take a look at the 1-yr forward looking P/E value and the PEG ratios. Hasbro is still in the lead with respect to the 1-yr forward P/E at a value of 13.97 with Mattel not too far behind with an inexpensive 14.43 value but both companies are almost at a value, which will begin to be rich for my blood. The PEG ratio based on the current P/E ratio in comparison to its 5-year EPS growth outlook is almost fully valued as well for both companies. I believe the logic behind this is that people have plowed into these stocks for their juicy dividend yields driving the price up. In the next 5 years Hasbro is expected to grow earnings only 9.67%, as opposed to Mattel's 11% growth projections, which isn't too much more to make me completely dismiss Hasbro. I see a tie in the valuations department at this particular moment in time.
Financials
| | | | | | |
| --- | --- | --- | --- | --- | --- |
| Ticker | Dividend | Payout Ratio | ROA | ROE | ROI |
| | 3.58% | 57.80% | 8.34% | 23.21% | 10.23% |
| | 3.22% | 55.79% | 13.64% | 27.87% | 16.51% |
In this arena of the comparison Mattel barely takes the crown for the return on assets, equity, and investment measurements. Where Hasbro wins is the dividend payout. Hasbro sports a 3.58% dividend yield. Although Mattel wins the ROA, ROE, and ROI battles to me the winner in this war is Hasbro with the bigger dividend payout, but I don't believe you can do any wrong whichever way you choose to move.
Technicals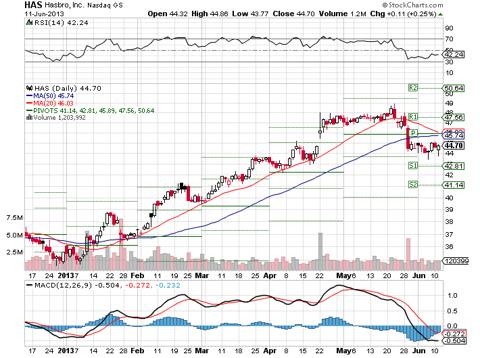 Taking a look at Hasbro first we see that the relative strength index (RSI) which is a good indicator of oversold or overbought territories shows a value of 42.24, but was a bit lower at the beginning of June indicating that it was a bit oversold. Looking next at the moving average convergence-divergence chart we see that there is downward momentum on the stock but is subsiding by the looks of the divergence bars (blue bars) getting smaller. Currently the stock stands at $44.70 and I see resistance at $45.89 with support at $42.81 giving a risk of -4.23% and reward of 2.66% for the time being.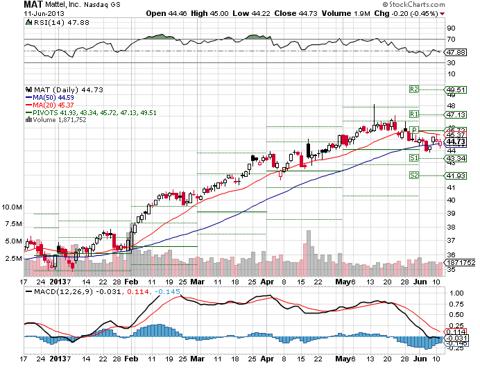 Mattel's RSI number on the other hand is at 47.88 which indicates that it is in middle ground but with upward trajectory you can say that it will get to overbought territory quicker than Hasbro will. Looking next at the moving average convergence-divergence chart we see that there is downward movement on the stock but is subsiding by the looks of the divergence bars getting smaller. Currently the stock stands at $44.73 and I see resistance at $45.72 with support at $43.34 giving a risk of -3.11% and reward of 2.11% for the time being. In the technicals department I see a draw once again.
Conclusion
The only conclusion I can draw is that you can't go wrong with whichever stock you want to select. Personally I'm going to start a position in Hasbro because it is the higher yielding company and has been increasing its dividend for the past ten years. Both stocks exhibit similar valuations while Mattel is expected to grow just a little bit more than Hasbro, but analysts can always change their estimates. Financially both companies are sound, and technically there seems to be a little bit more upside potential with Hasbro, but not much of a difference to make a big deal of it.
Disclaimer
These are only my personal opinions and you should do your own homework. Only you are responsible for what you trade and happy investing!
Disclosure: I am long HAS. I wrote this article myself, and it expresses my own opinions. I am not receiving compensation for it (other than from Seeking Alpha). I have no business relationship with any company whose stock is mentioned in this article.