The 2013 world smart device market comprises 918 million phones and 191 million tablets based on IDC estimates. How that translates into industry income is an interesting exercise. By using IDC data for market size, recent estimates of market share and reasonable guesses as to margin rates, I have calculated the worldwide profit potential of the smart device market and what it means for each major player.
The market size of 918.6 million units forecast by IDC is as good as any, so I will use it, although some estimates top 1 billion.
For market share I have used estimates published by Gartner for 2012, and for the purposes of simplicity assumed these held constant for 2013.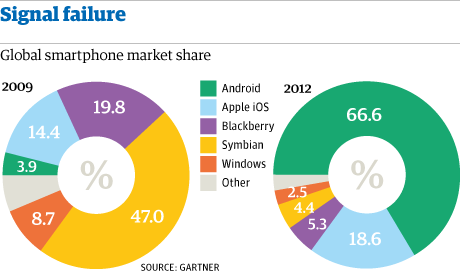 Of course, they have not held constant and I will deal with the implication of the market share trends later in this article. For the time being I have used the 2012 estimates. I used a similar methodology for the tablet market and constructed the table of the 2013 world smart device market sales and margins set out below. The margin rates are representative and I believe them to be reasonable. You can readily plug in your own estimates if you prefer.
The result is interesting nonetheless.
2013 Smart Device Market by Supplier
Supplier

Smartphones

Tablets

Units

ASP

Revenue

Margin %

Margin $

Units

ASP

Revenue

Margin %

Margin $

iOS (Apple)

170.9

$614.0

$ 104.9

45.0%

$ 47.2

87.8

$ 449.0

$ 39.4

20.3%

$ 7.99

Android (varies)

611.8

$300.0

$ 183.5

25.0%

$ 45.9

93.2

$ 300.0

$ 28.0

25.0%

$ 6.99

Windows 8 (Microsoft)

$ -

$ -

9.0

$ 850.0

$ 7.7

45.0%

$ 3.44

Windows 8 (Nokia)

23.0

$300.0

$ 6.9

20.0%

$ 3.5

0.0

$ -

$ -

$ -

Blackberry

48.7

$450.0

$ 21.9

45.0%

$ 9.9

1.0

$ 200.0

$ 0.2

10.0%

$ 0.02

All other

64.3

$250.0

$ 16.1

25.0%

$ 4.0

0.0

$ 250.0

$ -

0.0%

$ -

TOTAL

918.6

$382.4

$ 351.2

34.2%

$120.2

190.9

$394.09

$ 75.2

24.5%

$18.44
Source: Unit and share estimates from IDC and Gartner, my estimates of margin
The most obvious is that continued dominant position of Apple (NASDAQ:AAPL) earning over $55 billion of the total $138 billion estimated industry margin. That assumes Apple will hold its market share at the 18.6% level of 2012 for the phone segment in particular. The other data point worth noting is that the tablet market is of relatively little importance despite its size and growth, contributing only 14% of device margins to the industry and likely to see margin rates shrink as lower priced Android tablets continue to gain traction. It is likely for that reason that Thorsten Heins commented that no one (other than Apple) was likely to make money in tablets.
In an earlier article on SA, I pointed out the risks to Apple of conceding market share to maintain margins and it would add nothing to reiterate those concerns here. The more interesting data arises if you calculate the impact of higher market share on Nokia (NYSE:NOK) or BlackBerry (NASDAQ:BBRY).
In the case of Nokia, increasing its Windows 8 Lumia line market share from by 2 percentage points (from 2% to 4%) doubles sales and profits. IDC reports Window 8 market share increased to 3.2% in the first quarter alone, and analysts expect further growth.
Similarly, BlackBerry success with its new Z10, Q10 and Q5 models could increase its market share despite its loss of share to only 2.9% in Q1 when these devices were barely into the market. Each percentage point of market share for BlackBerry adds 9 million phones representing $4 billion of sales and $1.8 billion of incremental margin. Will BlackBerry make meaningful increases in market share in 2013? It is too early to tell but there is not doubt that BlackBerry's management and board of directors understand the importance of market share.
In my view, 2013 will see three pervasive trends develop in the smartphone arena:
Android will continue to displace iOS in many markets and expand its share at Apple's expense;
Nokia will steadily increase its share of market; and,
BlackBerry will stem share erosion and in all likelihood make incremental gains.
If I am correct, BlackBerry and Nokia will see profits that grow at a rate that most will find more than satisfactory and their stock is sure to follow. Apple will see growth in earnings as long as the market grows fast enough to offset the losses of market share I expect it to experience.
In light of these trends, I am short AAPL and long NOK and BBRY.
Disclosure: I am long BBRY, NOK. I wrote this article myself, and it expresses my own opinions. I am not receiving compensation for it (other than from Seeking Alpha). I have no business relationship with any company whose stock is mentioned in this article.
Additional disclosure: I am short AAPL