CNA Financial (NYSE:CNA) is a property and casualty insurance company trading at a price that gives it a margin of safety. The company is the 7th largest commercial lines carrier in the U.S. According to a recent corporate presentation, the company has a business mix of 45% specialty lines, and 55% commercial lines. CNA has three segments, CNA Specialty, CNA Commercial, and the recently acquired Hardy, a Lloyd's of London underwriter.
The company's shares closed June 11, at $33.19, compared with its most recently reported book value of $46.00. That means a purchaser of CNA shares is buying its assets for 72 cents on the dollar, a meaningful discount. The assets are largely tangible financial assets, which should not require a discount to book value. The company has its investments mostly in bonds, which have an average rating of "A." The company grew book value per share by 7% in 2012.
The only reason an insurer should trade below book value is if its operations are earning an unacceptable return on equity. There are generally two potential causes for an insurer to have a low ROE: low returns on its investment portfolio or a poor combined ratio. Combined ratio is a measure of how much money an insurance company spends on claims and other expenses relative to how much premium revenue it receives, with lower numbers indicating more profitable underwriting. The company's recent ROE has been around 8%, excluding the impact of Hurricane Sandy. This is probably lower than it would need to be for the company to trade at book value.
The company's combined ratio excluding catastrophes and development was 101.9% in 2012 and 101.8% in 2011. These results are consistent, but not quite good enough. The combined ratio has consistently been worse in CNA Commercial, and that business is also more affected by catastrophes than CNA Specialty. CNA is bolstering its specialty business with the acquisition of Hardy, and as it improves operations there its combined ratio should improve. An improving combined ratio would improve ROE and be a potential catalyst for a re-rate of the shares.
The investment mix of CNA is also causing it to earn a below-potential return on equity due to extremely low bond yields in the current interest rate environment. With approximately 95% of the company's investments being fixed income products as shown below, low rates hurt its investment income. As rates eventually rise, the company will be able to reinvest its portfolio in higher interest securities as it rolls over. Because the duration of its property and casualty assets is only 4.1 years, CNA will be able to capture higher interest rates quickly. This will improve its ROE as approximately all of its earnings are coming from the investment portfolio.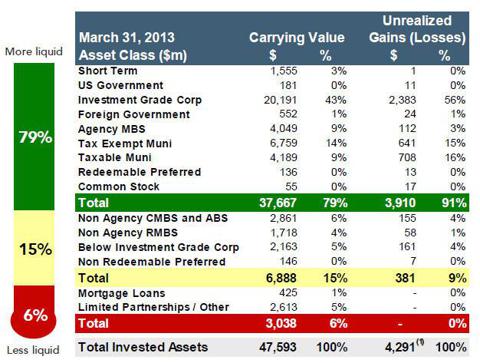 Source: Company Presentation
Strategically, CNA Financial is an excellent fit for investors rotating out of bonds due to their low yield and downside risk from higher rates. The company's stock makes an excellent substitution for a bond allocation, because most of its value is comprised of its bond portfolio. Because that portfolio is already trading at a significant discount to its book value, it provides downside protection. However, if rates do rise that should improve the earnings power of the company, allowing the shares to re-rate and trade higher.
The company has significantly increased its quarterly dividend each of the last two years, and the payout is now 20 cents per quarter, or approximately 2.4%. That should support a re-rate of the stock, and provides income-oriented investors a payout stream that should allow them to hold the stock as a bond alternative.
CNA Financial shares are less liquid than one would expect for a company of its size, due to the 90% shareholding held by Loews (NYSE:L). Loews is a holding company I recently wrote an article on, with a number of public company investments including CNA, and those considering buying CNA may want to consider Loews as a possible substitution.
Disclosure: I have no positions in any stocks mentioned, and no plans to initiate any positions within the next 72 hours. I wrote this article myself, and it expresses my own opinions. I am not receiving compensation for it (other than from Seeking Alpha). I have no business relationship with any company whose stock is mentioned in this article.