The sell-off in mortgage real estate investment trusts (mREITs) that began in May has continued into June. There is a lot of volatility in this sector right now. One of my long-time favorite mREITs, American Capital Agency (NASDAQ:AGNC) has suffered double-digit losses in just a few short weeks, and is currently trading under $25.00 at $24.83, after being over $30.00 to start May. My second largest mREIT holding, Annaly Capital Management (NYSE:NLY) now at $13.45 has traded down from $17.00 range just a few months ago. My other holdings Western Mortgage (NYSE:WMC) and American Capital Mortgage (NASDAQ:MTGE) have followed suit.
What started it all? Well it was primarily the belief that the Federal Reserve will be slowing its bond buying program. Paradoxically, when the purchasing was announced, these stocks got crushed and now that the buying may end they have been getting crushed. The primary driver of this action was rising interest rates. But its wasn't just the rising interest rates, but the pain felt in the mortgage backed security [MBS] values. AGNC buys mortgage bonds with borrowed money, thus, as interest rates rise, it can lend at higher rates. If the long-term rates don't exceed the rate of growth in shorter-term yields, we will have a widening of the interest rate spread due to a steepening of the yield curve. In fact this yield spread is key to mREIT profits, because these companies borrow capital at very low short-term rates, and then invest in potentially higher-yielding real estate mortgage assets. If the short-term borrowing rates (AGNC borrows slightly above the federal funds rate, which is near zero), rise at a rate faster than long-term rates, we will have a narrowing of the spread. One of the positives for AGNC and its brethren this semester? The long-term interest rate has expanded faster than the short-term rates. The federal funds rate is now at 0.09, whereas to start May it was at 0.13. This means that companies like AGNC could make more money as it likely costs less to borrow. While I have warned of a flattening of the yield curve in the past, it seems the curve is actually widening right now. What we need to consider is what will happen to the dividend in light of interest rate fluctuations and the pain in MBS prices.
Interest Rate Spread is actually widening for AGNC
The interest rate spread is a key driver of profitability. When the spread is trending towards a favorable ratio, AGNC can use repurchase agreements to leverage its holdings, in some cases up to 6, 7 even 8 times. AGNC is currently leveraged 6.5 times (at the end of Q1 2013), down from 7.5 times leverage at the end of Q2 2012. This leverage magnifies risk substantially, which can maximize returns (or losses). Interest rates in the last month have trended favorably, so AGNC may make some moves to lever up.
Why? Well I mentioned above that 0.09 is the current federal funds rate and AGNC borrows a bit above this rate. Let's look at the action in mortgage rates so far during the quarter. The higher the longer-term rates go, the better the spread, so long as short-term rates stay low. However, if long-term debt rises too fast, it could seriously dampen demand for mortgages as consumers may not be able to afford additional monthly payments on a home, and in turn, can hurt the mREIT business model.
As of the time of this writing, the current interest rate for a 30-year fixed rate mortgage in the United States is 4.08%, whereas the shorter 15-year fixed rate mortgage is 3.17%. At the start of the quarter, these rates were 3.5% and 2.8%, respectively. Thus, longer term rates have increased. This 30-year rate rise has caused much panic, when in reality, it has led to a widening of the interest rate curve, for now. However, as far as the mREIT investors were concerned, interest rates have risen, pressuring consumers, commercial borrowers and has increased fears the interest rate spread is diminishing and that the residential housing market could weaken. This is in addition to fears (whether rational or irrational) of a tapering of Fed asset purchases that could impact the mREITs' business operations and pressure margins.
Book Value is Just All Over the Place
Most of the mREITs and all of my holdings in the sector, AGNC, NLY, MTGE and WMC saw book values nosedive in the first quarter simply because of a decrease in the value of its portfolio of MBS. The AGNC book value dipped 9% to $28.93, down from $31.64 at the end of the 4th quarter. The reported book value for NLY was $15.19 down from $15.85, or a loss of 4.1%. The MTGE book value was down 5.8% from $25.74 to $24.25. WMC saw a decrease in book value from $21.67 to $19.42, or a loss of just over 10%.
AGNC President Gary Kain noted that the federal funds interest rates dropped again in April and May, which could allow the company to acquire assets at attractive prices. He also noted that much of the action in the mREIT space in Q1 was due to a belief that the stronger economy would lead to an end to the Federal Reserve's quantitative easing. AGNG's and MTGE's Gary Kain stated:
Fears of an early Fed exit led to extension risk becoming the main focus of mortgage investors. This weakness in both TBAs and specified strove that declined in our book value. Importantly, these conditions appear to be reversing in Q2 and recent Fed statements have been considerably more balanced…. As such, as of month end, our book value had recovered a portion of the Q1 declines. We also believe the significant weakness in the prices of specified mortgages has created an excellent opportunity to add value-added product at attractive levels.
Early in May, I thought that book value had likely rebounded and got back into AGNC. And for the first half of the quarter, it likely did increase significantly. What is pressuring book value and the stock further is that there has been a huge sell-off in MBS partially resulting from the increasing interest rates (see figure 1, 2). While the rates spread is increasing, it is not enough to prevent the damage to book value resulting from the MBS losses. As AGNC holds a wide range in MBS, the steep drop in their value will undoubtedly negatively impact the net asset value of AGNC's holdings. The question that remains unanswered is "is this baked into the stock?" We will find out when AGNC reports its Q2, though I believe that AGNC is likely trading at or below its real book value.
Figure 1. Decline in the price of the FNMA 3.5 Mortgage Backed Securities in the last month.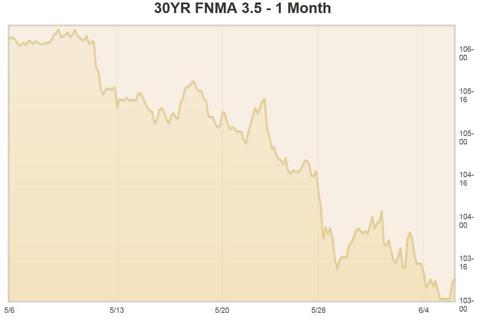 So What Now? The Next Catalyst for Price Action is the Dividend Announcement
AGNC should be announcing its dividend this week. The dividend relies on the taxable income figure, of which it generally pays out 90% to maintain REIT status. Their income will depend on actual, which realized gains and losses on the balance sheet. While I think interest income will rise, I am concerned in the short-term about any closed out MBS positions, which could impact earnings. MBS losses could be large if AGNC management closed positions to re-enter at lower prices or reposition the portfolio. AGNC has some cash it entered the year with that must be distributed, but earnings for Q1 and the potential losses in Q2 will likely impact future distributions. Some of this is expected. I am anticipating a drop in the dividend to $0.95-$1.10, a range which I believe will stabilize the stock price. Why? A drop is expected. If only a small drop, investors will expect a massive drop come Q3/Q4. If it drops it too much it will be a sign that the party is over and could spark selling. In a rather elegant piece at Seeking Alpha, a Matt Cote article presents an analysis to suggest the magnitude of the dividend cut. Although there are many assumptions made regarding the sources of gains/losses for the quarter, I agree with a cut. However, Cote suggests that the dividend could be as low as $0.65 and will likely not over-distribute. I believe this is incorrect. It could very well over-distribute if it is confident that any moves it is making now in light of the panic action in debt instruments and MBS will pay off in Q3 and Q4. Further, $0.65 would represent nearly a 50% cut. I see this as highly unlikely with the widening spread in interest rates even with the losses AGNC may take. However, this is just the type of healthy debate that makes a market and I encourage analysis from all sides of the table.
What Will I do With the Stock?
I added a few shares to my position at $24.30. Should the dividend announced be over $1.00 I expect the stock to stabilize or even rebound as it would be a healthy sign and I will hold tight. If it is between $0.90-$0.99 I expect the stock to drop another point or point and a half, at which point I would likely add to my position a bit further as this cut is large, but still maintains a healthy yield on a forward basis. However, I am only allocating 3% of my sizable portfolio to the mREITs. Another round of purchases will bring me to that threshold. A dividend less than $0.90 will result in a reassessment of my mREIT allocation between AGNC, NLY, WMC and MTGE.
Disclosure: I am long AGNC, NLY, MTGE, WMC. I wrote this article myself, and it expresses my own opinions. I am not receiving compensation for it (other than from Seeking Alpha). I have no business relationship with any company whose stock is mentioned in this article.