T. Boone Pickens' latest email to the "Pickens Plan" faithful says China is now on the receiving end of most of Iraq's oil production: According to Pickens:
....the United States spent $2.2 trillion and tragically lost more than 3,000 men and women fighting in Iraq, and now the Chinese are getting over half the Iraqi oil.
Pickens then points out the United States is spending billions of dollars per year to protect the OPEC cartel's oil.
Foreign Oil Imports For March
In 2012, the U.S. imported 3.9 billion barrels of petroleum at a cost of $434 billion. Despite growing U.S. production, the U.S. is on track for another $400+ billion foreign oil bill again this year.
In March 2013, the U.S. imported 296 million barrels of foreign oil -- 52% of the petroleum consumed in the U.S. At a price of $108+/barrel, that works out to over $32 billion in March alone -- more than $1 billion a day.
Higher U.S. Oil Production No Help For Consumers
Despite sharply higher U.S. oil production, 2012 saw the highest average price ever for gasoline ($3.60/gallon). Recently, gasoline consumers in the Midwest have gotten hammered by record gas prices due to refinery outages. Gasoline hit a record $4.27/gal in Minnesota recently. Even in North Dakota, were oil production is surging, gasoline prices recently hit a record high of $4.24
Meanwhile, according to cngprices.com, compressed natural gas ("CNG") prices in Minneapolis, MN were $1.99/gge and $1.95/gge in Bismarck, ND. So not only is CNG roughly half the price of gasoline, it also emits 30% less CO2, 100% less toxic particulates emission, and it is produced domestically instead of in Saudi Arabia. Hmmm... do we really need a PhD in economics or environmental science to tell us what we should be doing?
The Refined Product Export Argument
Every time I write an article citing the magnitude of U.S. foreign oil imports, several comments will be left saying "But Mike, you don't understand, the U.S. is exporting refined products like gasoline and diesel." To which I say, "Oh, I know." That is why I have invested in a company like Phillips 66 (NYSE:PSX), which is poised to expand its very profitable export business because it has so much refining capacity on the U.S. coastline. That is why I wrote the article, Forget LNG - Exporting Gasoline Is Where the Action Is Now.
But this misses the point. The U.S. has been an oil importer for decades. I believe this is the root cause of the decline in U.S. economic power. I also believe it is the root cause of the U.S. trade and fiscal deficits as well as the Federal Reserve's QE programs and all the other hanky panky going on in the financial markets. So, why not actually become an overall energy exporter? Why not use natural gas in the transportation sector and replace millions of barrels of imported foreign oil (every day) with domestic abundant, clean, and cheaper natural gas?
Ethanol Mandates Making Things Worse
Making things even worse for the consumer will be rising gasoline prices because of the ridiculous Bush administration's ethanol mandates, which have been embraced and expanded by President Obama. Reuters reports that Chevron (NYSE:CVX) CEO John Watson says refiners will export more gasoline to get around the mandates since exports are exempt from the requirements.
U.S. Energy Policy - Blowing It Again
After near $150/barrel oil and $5/gallon gasoline, combined with a financial crisis (partly caused by those high energy prices), it was clear (at least to me) the U.S. needed a long-term strategic energy policy like the one I have been advocating since 2008. The U.S. needs to reduce its dependence on foreign oil imports and the only domestic fuel capable of significantly doing so, by replacing gasoline in the transportation sector, is natural gas. Instead, billions were wasted on the oxymoronic "clean coal" (there is no such thing), EV and battery research, and the continued ethanol debacle. What has been achieved with these taxpayer dollars? The highest gasoline prices on record, a slew of bankrupted companies, and a few thousand Tesla (NASDAQ:TSLA) Model-S vehicles.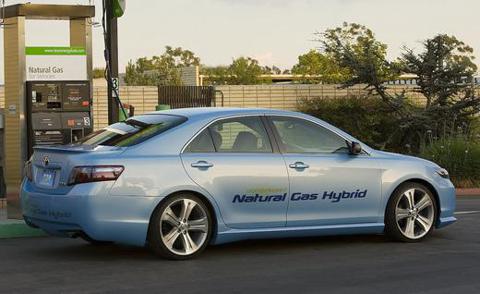 Speaking of Tesla, I felt validated by a recent article in Barron's magazine. My article produced 241 comments (at last count) wherein I suggested:
A "green car" is only green if it is refueled by green sources, and coal ain't green.
I could make a case the Toyota Camry natural gas/electric hybrid was a superior environmental choice than the Model-S.
Affordability, range, and battery reliability issues will keep EV volumes low, and therefore are inconsequential from an environmental standpoint. The reduction in emissions and in foreign oil imports are a drop in the ocean.
Well, you can only imagine the response from Tesla owners and shareholders by these observations.
My Natural Gas Transportation Portfolio
I publish monthly updates to my 5 Natural Gas Transportation Stocks for 2013 portfolio. The updates usually provoke at least one comment asking why Clean Energy Fuels Corp (NASDAQ:CLNE) isn't in the portfolio. Answer: the portfolio was designed for stock price appreciation and income, and CLNE offers neither at this point. Don't get me wrong, I think CLNE is the only significant energy policy the U.S. has other than on the production side. But since the U.S. government isn't supportive of natural gas transportation, the company is, more or less, on its own. The picks I made are all leveraged to worldwide natural gas transportation initiatives. Cummins (NYSE:CMI) and Westport (NASDAQ:WPRT) don't care what country their engines are deployed in. And natural gas producers Exxon (NYSE:XOM) and ConocoPhillips (NYSE:COP) will profit selling natural gas anywhere. Same with General Electric (NYSE:GE) and its energy infrastructure equipment. At the same time, if the U.S. ever really engages in natural gas transportation, these stocks will thrive.
Back To Pickens' Question
Boone, I don't know why the U.S. is securing and subsidizing Iraqi oil for China. I don't know why the U.S. doesn't join the EU, China, and Russia by adopting strategic long-term natural gas transportation policies -- especially since the U.S. has the lowest natural gas prices in the world. I don't know why Americans are able to refuel NGVs in their garages with domestically produced natural gas. I don't know why the ethanol mandates have not been stopped. I don't know why, as long as we seemed determined to stay addicted to gasoline, that we continue to import heavy oil from Saudi Arabia while the Keystone-XL pipeline faces delay after delay. There is a lot I don't know and don't understand.
But I do know this: the U.S. had better adopt natural gas transportation at some point. The shale boom has bought us a little time. But we are wasting it. Oil is still very expensive. Shale oil depletion rates are very high and so is the energy required to get it out. Gasoline is at record levels. We are still importing huge amounts of foreign oil, and printing money out of thin air to "pay" for it. The world is still warming and the U.S. is still over-stretched militarily. And again, we are wasting precious time.
Summary and Conclusions
Natural gas is the only domestic fuel capable of solving the economic, environmental, and national security problems the U.S. faces as a result of its addiction to foreign oil. Refusal to embrace natural gas transportation in a significant way has led to record gasoline prices in America despite the growth in U.S. oil production. As a result, how can an investor not own a company like Phillips 66? What alternatives do the vast majority of ordinary Americans have to gasoline? Answer: none.
Disclosure: I am long PSX, CVX, XOM. I wrote this article myself, and it expresses my own opinions. I am not receiving compensation for it (other than from Seeking Alpha). I have no business relationship with any company whose stock is mentioned in this article.
Additional disclosure: I am an engineer, not a CFA. The information and data presented in this article was obtained from company documents and/or sources believed to be reliable, but has not been independently verified. Therefore, the author cannot guarantee its accuracy. Please do your own research and contact a qualified investment advisor. I am not responsible for investment decisions you make. Thanks for reading and good luck!