Sprint Nextel Corp. (NYSE:S) announced its quarterly earnings April 24, 2013. The company has managed to beat analysts' expectations by $0.12 and delivered the earning surprise of 36.40%. The year 2012-13, being the last year of the investment phase in the company's turnaround matrix, holds a key position for the years to come. As mentioned by Sprint's CEO Dan Hesse: "This is a transformative year for Sprint and we've gotten off to a good start."
In the recent past telecom revenues have shifted toward the wireless segment and Sprint has managed to take advantage of the changing requirements of customers. It is in a direct competition with the two market giants Verizon Communications (NYSE:VZ) and AT&T (NYSE:T).
Key Highlights of Financial Performance of 1Q'13
As mentioned earlier, first-quarter performance was better than anticipated. Operating income has reached a positive number of $29 million after five consecutive quarters of losses. Total net operating wireless revenues increase by 1.74% YOY. Out of which around 88% of the revenues came from the Sprint's platform. However, the wireline segment experienced a decline of around 65% in operating income. Consolidated adjusted OIBDA has risen by 25.63% YoY. This increase was achieved through lower sales costs along with the reduction in the net equipment subsidies.
Both net operating and free cash flows don't paint an encouraging outlook and they declined on a YoY basis. Sprint's postpaid churn rates have improved whereas prepaid churn rates remained somewhat stable. On the same lines, average revenue per unit improved for Sprint's postpaid segment whereas the prepaid segment experienced a decline. Some other key highlights of financial performance have been shown in the graphs below: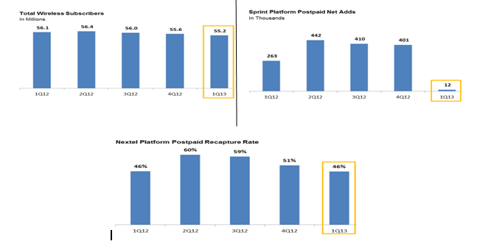 What to expect?
Sprint Nextel margins are on a lower side when we compare them with its competitors. They are expected to expand as the investment phase ends. The table below shows the margin comparisons of various companies, which indicates a margin expanding to reach the average level of the industry.
| | | |
| --- | --- | --- |
| Companies | Profit Margin | Operating Margin |
| Verizon Communications Inc. | 0.98% | 12.79% |
| BCE, Inc (NYSE:BCE) | 13.99% | 23.14% |
| AT&T, Inc. (T) | 5.81% | 10.11% |
| S | -11.60% | 2.44% |
Source: Yahoo Finance
The company has made significant investments to build a world-class network and reduce costs. Its deals with SoftBank and Clearwire Corporation (CLWR) to expand the spectrum to 2.5GHZ will help the company to pose a serious threat to the market leaders. However, the company faced headwinds as Dish Network Corp (NASDAQ:DISH) offered $4.40 per share, forcing Sprint to rethink its bid price, which was way lower than $4.40. Interestingly, Sprint already has the majority shareholdings in CLWR. Another recent positive development is the Federal Communications Commission's green flag to the Sprint-SoftBank deal. This positive signal might help Sprint to recover from the speculation that T-mobile is a back up deal for SoftBank. Moreover, the expected shutdown of Nextel's platform on June 30, 2013, will eventually enable it to get rid of the loss-generating unit.
Conclusion
The company's financial performance was better than estimated and it managed to start the financial year well on course to meeting its 2013 expectations. I believe the company has a great growth potential, which will start to yield in 2014 onwards. The current market price of $7.24 per share is a safe entry point.
Disclosure: I have no positions in any stocks mentioned, and no plans to initiate any positions within the next 72 hours. I wrote this article myself, and it expresses my own opinions. I am not receiving compensation for it (other than from Seeking Alpha). I have no business relationship with any company whose stock is mentioned in this article.