During his presentation yesterday to the Cowen & Company Global Transportation Conference, Fredrik Eliasson, the CFO of CSX (NYSE:CSX), touched on some power generation trends that highlight some of the issues I have discussed in previous articles. Specifically, the return of coal following the rebound in natural gas prices and, most importantly, how this is impacting individual coal basins and producers.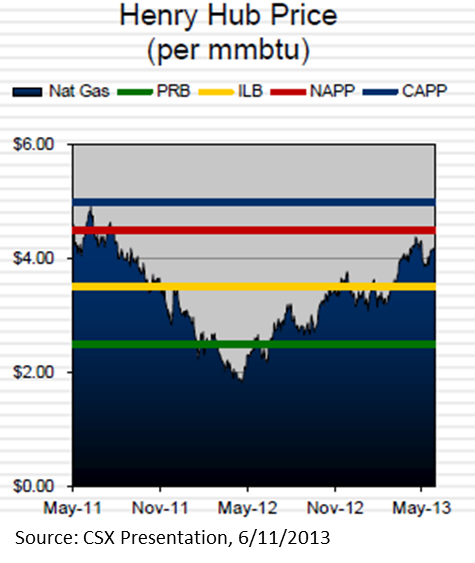 It's no secret that coal has returned to a roughly 40% share of U.S. power generation market; however, the impacts on individual regions are slightly more nuanced. The above chart does a great job at highlighting how each Basin fares relative to natural gas. We can see that the Powder River Basin and Illinois Basin are both back "in the money" relative to natural gas; while North and Central Appalachia still have a ways to go. This is great news for PRB producers such as Arch (ACI) and Cloud Peak (NYSE:CLD). However, their share prices don't necessarily reflect this market shift. For example, Cloud Peak closed at $18.06 yesterday while in early July 2012, it was trading near $18. When one considers the degree to which the market outlook has shifted, this does not appear to be much of a premium.
Perhaps a contributing factor is the manner in which coal is making its comeback. Mr. Eliasson pointed out that much of the loss in CAPP demand has been replaced by ILB coal rather than PRB. Low caloric content and long shipping distances have always been a challenge for the PRB and low-cost ILB producers are taking advantage of that fact. The largest producers in the ILB, Murray Energy and Foresight Energy, are both private. While Peabody (NYSE:BTU) is publicly traded, you're buying into much more than ILB coal. A hoped for IPO of Foresight would open a new way to invest in coal, as it would be a pure ILB play.
As it stands, those interested in investing in the long-term recovery of the coal markets have several options with exposure to the PRB and Western Bit. As coal inventories continue to be burned off, we should expect to see production pick up in the near term. In the long term, a blended portfolio of coal companies offers added exposure to the potential upside from a Pacific Northwest terminal (see this article for more detail).
Disclosure: I am long CLD, ACI. I wrote this article myself, and it expresses my own opinions. I am not receiving compensation for it (other than from Seeking Alpha). I have no business relationship with any company whose stock is mentioned in this article.