As stated in Friday's blog post, the volatility index (VIX) is below 25 which shows signs of the market stabilizing, however I still believe this market could sell off. Usually as the market sells off the volatility index increase as the amount of put options surge.
However, the market could also continue this rally as earnings may continue to surprise. In either case volatility could increase substantially (as many of the stocks in this analysis will report earnings by the August options expiration). So in the case that the volatility increases, a good option strategy to know is the option straddle play.
With the next options expiration being August 22, 2009, I decided to blog about this option strategy. I use the straddle often, but don't blog about it too much. The option straddle requires a solid background in options, as you'll need to know how to purchase both call and put options. To learn more about opening this type of option position, and about options in general click here.
As we all know the stock market can change greatly over a months time, and using this strategy allows us to capture both the upside as well as the downside. In either case a continuous trend is needed. For this analysis I chose 20 higher beta stocks, with market caps greater than $1 billion.
Understanding the Table
The table below has each of the following components:
Companies listed
Their ticker
The last price as of Friday July 17, 2009
The Call and Put option strike price
The % move up required to break even from the position (everything above and higher is profit)
The % move down in order to break even from the position (everything below and lower is profit)
The first stock from the table below is AK Steel Holding Corp (NYSE:AKS) and would be interpreted as:
Buy both the AK Steel (AKS) August 20 Call option, and August 20 Put option. The required move up from the closing price is 18.81%, and the required move down from the closing price is 18.71% in order to break even from opening this option straddle position.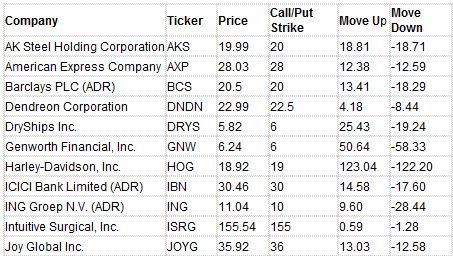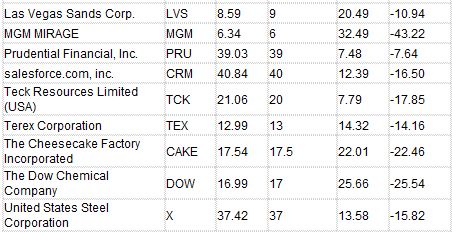 These option ideas are all extremely dependent on volatility and direction. Remember the risks involved when purchasing both call and put options. To learn more about options click here.
Disclosure: Long AXP