Financial companies come in various forms and sizes. Their business focus is usually well defined and each firm tends to develop a core expertise. These business model characteristics make it relatively easy for investors to develop a focused group of financial stocks that offers exposure to niche areas of the vast global financial structure.
Three financial firms offer not only exposure to often overlooked segments but also an above-average income and dividend stream. HSBC Holdings (HBC), Och-Ziff Capital Management LLC (NYSE:OZM) and BGC Partners (NASDAQ:BGCP) offer interesting opportunities mainly overlooked by U.S. investors. While total returns for the three have lagged the overall markets, improvements in their respective segments should reward long-term shareholders.
HSBC Holdings, aka Hong Kong, Shanghai Bank Corp
HBC is one of the largest global banks with a market capitalization of $209 billion. Compare this to the market cap of Wells Fargo (NYSE:WFC) at $215 billion, JP Morgan at $202 billion, CitiGroup (NYSE:C) at $151 billion and Bank America (NYSE:BAC) at $141 billion.
Below are a few fundamental valuation comparisons
| | | | | | |
| --- | --- | --- | --- | --- | --- |
| Firm | HBC | WFC | BAC | JPM | C |
| Price | $ 54 | $ 40 | $ 13 | $ 54 | $ 50 |
| EPS 2012 | $3.70 | $3.37 | $0.25 | $5.20 | $3.86 |
| EPS 2013E | $6.07 | $3.71 | $0.93 | $5.70 | $4.72 |
| EPS 2014E | $4.86 | $3.90 | $1.29 | $5.94 | $5.34 |
| LT Growth | 15.30% | 7.80% | 16.30% | 6.30% | 12.20% |
| Forward PE | 11.11 | 10.26 | 10.08 | 9.09 | 9.36 |
| Forward PEG | 0.73 | 1.31 | 0.62 | 1.44 | 0.77 |
| Yield | 4.27% | 2.95% | 0.3% | 2.80% | 0.8% |
| Div Growth 3-yr % | 9.7 | 21.5 | 0 | 81.7 | -26.3 |
| Div Growth 5-yr % | -12.9 | -5.7 | -55.9 | -4.1 | -71.5 |
| ROE TTM % | 10.16 | 13.45 | 1.6 | 11.32 | 4.53 |
| ROE 5-yr Avg % | 7.87 | 10.71 | -0.1 | 8.14 | -1.92 |
| LT Debt to Equity | 0 | 0.77 | 1.17 | 1.57 | 1.12 |
| ROIC TTM % | 10.16 | 7.60 | 0.74 | 4.40 | 2.14 |
| ROIC 5-yr Avg % | 7.87 | 6.05 | -0.05 | 3.17 | -0.91 |
| Price to Sales | 2.8 | 2.5 | 1.6 | 2.1 | 2.3 |
| Price to Tangible Book | 1.15 | 1.88 | 0.91 | 1.36 | 0.95 |
| Payout Ratio % | 49.1 | 25.5 | 12.2 | 21.9 | 1.4 |
| Beta | 1.21 | 1.14 | 2.39 | 1.77 | 2.60 |
Source: reuters.com
HBC offers investors more exposure to international markets than the more popular choices above. The majority of HBC's business is in non-U.S. markets and management has been reducing exposure to its U.S. footprint. Based on the fundamental data above, HBC has generated substantially better returns on invested capital than its peers have, and has a goal to generate a ROE between 12% and 15% annually. Valuations based on price to sales, price to tangible book and forward PEG ratio put the current share price about middle of the pack. The trump card is the current yield and the ability to provide sustainable dividend growth.
HBC has better exposure to Hong Kong and China than its U.S. peers. This makes HBC the bank of choice for international firms conducting large transactional business in China. The diversified geography approach of HBC was a benefit during the financial crisis, with limited exposure to the U.S. and Europe. While not unscathed, HBC has fared better than its U.S. counterparts have.
HBC pays a quarterly dividend of $0.50 a share and it was recently raised from $0.45 a quarter. In addition, the company pays an annual special dividend based on earnings. In 2012, this amounted to an extra $0.40 a share. Using the base of $0.50 a quarter and a special dividend in 2013 equal to 2012, total payout should be in the $2.40 range, or a 4.4% current yield. Management has targeted a 55% payout ratio as the goal. Going forward, both strong earnings growth and above industry average return on invested capital should provide the groundwork for continued dividend increases.
More information can be found in its May investor's presentation here and a previous SA article here.
Och-Ziff Capital Management LLC
Och-Ziff is an alternative asset manager operating one of the top 10 global hedge funds. The assets under its control have grown from $6 billion in 2001 to over $33 billion as of last quarter. The growth in assets under management or AUM, is a direct result of not only the growth in popularity of hedge funds among institutional investors but also the firm's client-friendly policies.
For example, OZM has a "perpetual high-water mark" fee-based structure. While hedge funds normally charge 2% of assets as a management fee and 20% of capital gains achieved, OZM pegs performance fees based on surpassing previous high account balances. Other hedge funds only compare performance returns over the previous year. In addition, throughout the financial crisis, OZM was known for returning assets upon request during the appropriate window for redemption while some peers were not as accommodating. This difference has made OZM a preferred hedge fund manager and has set it apart from many in the business.
Even with the difficult time experienced by most hedge funds in 2012, OZM managed to increase its inflow by $500 million. A program offered by OM with a lock-up of assets at lower fees is expected to free up additional assets for its higher-fee programs. This should increase performance and management fees this year over last, even without an increase in AUM.
As an LLC, there are tax advantages to OZM's distribution. During the process of going public several years ago, OZM was able to generate large amounts of amortization, which creates a reported earnings loss most every quarter. This makes traditional stock analysis confusing and investors should focus on distributable cash flow as a preferred tool.
Distributions are a bit lumpy as performance fees are billed annually while management fees are billed quarterly. In the spring, OZM pays an annual special dividend based on the previous year's performance fees. A "back of the napkin calculation" estimates that global markets need to generate a 7% year-over-year return for OZM to pay a total distribution of over $1.00. Management fees translates into an annual distribution of $0.48 and upwards of between $0.50 and $0.75 as a special Feb distribution, for total annual payouts ranging from $0.48 to $1.25, based on overall global financial market performance. Currently, OZM has a trailing 12-month distribution of $1.29 and TTM yield of 12.0%, much of which is classified as return of capital.
More information can be found in the 2012 annual report here.
BGC Partners, LLC
BGC Partners is the most risky of the three. BGCP is a spin-off from Canter Fitzgerald and is one of the largest global inter-broker dealers. BGCP recently sold its eSpeed trading platform to Nasdaq for over $750 million and currently has a large cash balance. In addition to its financial trading business, BGCP has been aggressively expanding in the commercial real estate business as a broker and financier.
Like OZM, BGCP is structured as an LLC with tax-advantaged distributions. The most recent quarterly distribution was $0.48 annualized, after being reduced last year from $0.68 annualized. Lower earnings resulting from poor trading volumes and fees prompted the reduction. Much like other firms relying on trading volumes of mainly interest sensitive products, as interest rates increase it is anticipated that trading volumes will as well. This should put BGCP on track for improved earnings.
With the large cash payout from the sale of assets, management is in the enviable position of having flexibility for a special dividend, share buybacks or for further acquisitions. While management has given no hint as to its future actions, many anticipate a combination of all three.
Along with the announcement of the sale came a huge run-up in share price. Partially, the previous decline put share prices at a very low valuation, as demonstrated by the value of the asset sale. Going forward, the current distribution is well supported by cash flow. At a $0.48 annual distribution, the current yield is 8.2%.
More information can be found in the most recent investor's presentation here and in a previous SA article here.
Investors should be aware that both OZM and BGCP use stock options, high insider ownership, as a means of aggressively rewarding management. For example, BGCP management controls about 70% of voting shares by owning the Class B shares while outsiders control about 30% of voting rights through Class A shares. The other side is management has a stake in maintaining a high distribution policy and in achieving sufficient growth to consistently expand distributions.
Below are charts outlining total return performance of HBC, OZM and BGCP over the previous five years in relation to peers and the overall market (NYSEARCA:SPY).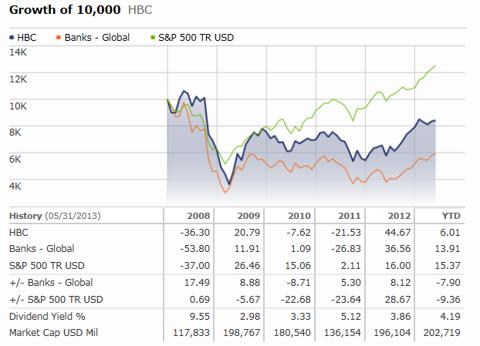 Source: morningstar.com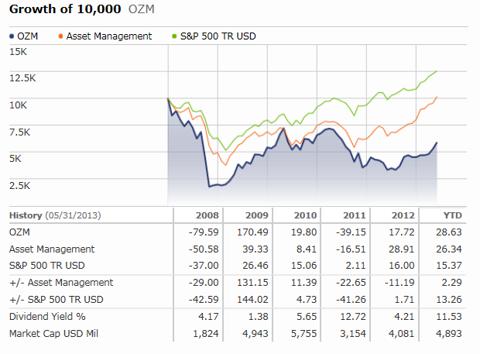 Source: morningstar.com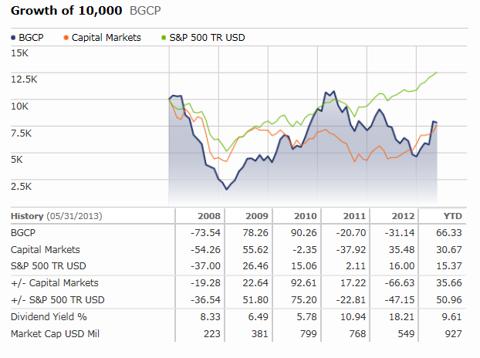 Source: morningstar.com
Income investors seeking higher yields, albeit with a bit higher risk, may consider these financial firms. Each has unique attributes that should diversify a portfolio focused on income.
Author's Note: Please review important disclaimer in author's profile.
Disclosure: I am long HBC, OZM. I wrote this article myself, and it expresses my own opinions. I am not receiving compensation for it (other than from Seeking Alpha). I have no business relationship with any company whose stock is mentioned in this article.