Investors who own individual municipal bonds, real estate investment trusts, corporate bonds and/or preferreds may not see the day-to-day volatility of their holdings. For one thing, individual bond prices may not update regularly on websites; similarly, those who do not value the liquidity of ETFs are less likely to watch price movement of their individual REITs and/or preferred stocks.
On the other hand, ETF enthusiasts tend to be folks who have a plan to sell. They're not married to their investments. In fact, if an asset class is trending significantly lower, they may leave the asset class until it comes back into favor. In essence, exchange-traded fund fans are less inclined to "buy and hold."
The fact that you can trade ETFs is frequently regarded as an advantage. However, there are times when the power to decide when to hold and when to fold serves as a double-edged sword. For example, the recent upswing in interest rates initially created a rational market-based response whereby rate-sensitive income producers (e.g., high-yield bonds, preferreds, dividend stocks, etc.) fell in price. In the ETF world, however, initial selling promoted a less rational firestorm to dump REIT ETFs and emerging market bond ETFs at all costs; rates hadn't surged high enough to justify the level of hostility that occurred (see "3 ETF Categories Correct 10% Or More").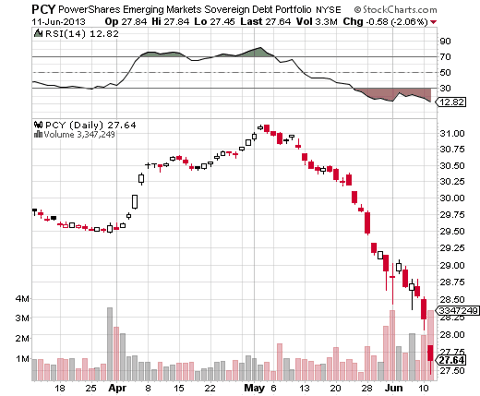 In the current week, 10-year yields have stabilized near 2.2%. Yet contagion is spreading to Preferred Stock ETFs as well as more innocuous areas like Muni ETFs. Both of these rate-sensitive areas are witnessing daily percentage price declines far greater than common stock ETFs, and that's a phenomenon that market-watchers rarely witness. In some instances, the activity is representing "regular Joes" who choose to sell now and ask questions another day. More likely, however, institutional money managers, opportunistic short-sellers and heads of hedge funds are forcing "Mr. Retail" to think, blink, and potentially sell in a panic.
Even though sellers have concentrated on any asset type that can be tied to rising interest rates, common stock ETFs are not immune. Daily price volatility for the SPDR Dow Jones Industrials (NYSEARCA:DIA) is averaging 1.25% month over month. Daily price volatility for the prior four and a half months was closer to 0.75%. Meanwhile, the CBOE S&P 500 VIX Volatility, a gauge that typically moves in the opposite direction of the SPDR S&P 500 Trust (NYSEARCA:SPY), is holding above a 50-day and 200-day moving average.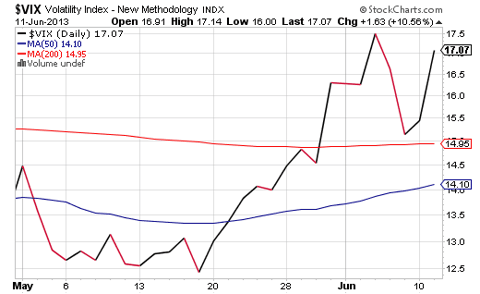 What may be more remarkable than the interest rate story is the high probability than something else is weighing on common stocks -- something other than the overstated possibility of the Fed tapering its bond binge. In other words, the 10-year yield may dip back to 2% or below in the near future, but that may not be enough to encourage a stock rally. The other story? The Japanese yen may cease to depreciate further and begin recovering against world currencies; that would effectively end the "carry trade" used to finance the purchase of higher-yielding and higher appreciating assets. In fact, the CurrencyShares Yen Trust (NYSEARCA:FXY) often moves in the opposite direction as the SPY.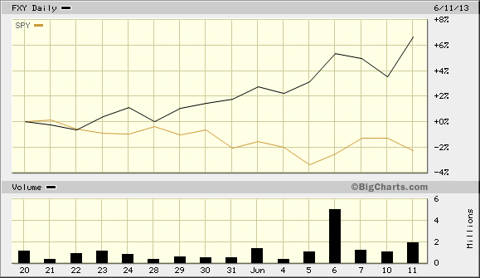 Granted, it still makes sense to keep an eye on the direction of interest rates. If the 10-year moves significantly higher than 2.25% (a possibility that I regard as improbable), rate-sensitive income producers would feel even more pain. Still, if you really want to know whether U.S. stocks can withstand the pressure cooker, track FXY. If the yen tracker manages to stay above its intermediate-term, 100-day trendline -- and climb even higher -- U.S. stocks may find themselves in the same downward spiral that other asset classes have already experienced.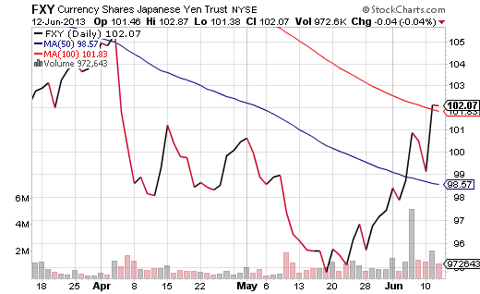 Disclosure: Gary Gordon, MS, CFP is the president of Pacific Park Financial, Inc., a Registered Investment Adviser with the SEC. Gary Gordon, Pacific Park Financial, Inc, and/or its clients may hold positions in the ETFs, mutual funds, and/or any investment asset mentioned above. The commentary does not constitute individualized investment advice. The opinions offered herein are not personalized recommendations to buy, sell or hold securities. At times, issuers of exchange-traded products compensate Pacific Park Financial, Inc. or its subsidiaries for advertising at the ETF Expert web site. ETF Expert content is created independently of any advertising relationships.