Ingredion (NYSE:INGR) is a company with a business that is both odd and mundane to most investors - supplying mainly starch and sweetener ingredients to companies that use these ingredients to create their products. But through this article, I will explain why Ingredion, this company much neglected by investors, is quite a compelling buy at current levels.
Business
Ingredion was founded in 1906 and used to be called "Corn Products International" until its name change in 2012. Its business model essentially makes the most out of corn, mainly manufacturing and selling starch and sweetener ingredients, like glucose syrups, high-fructose syrups, high-maltose syrups and caramel syrups. It also sells food grade or industrial starches for various uses, cooking oil for producers of salad dressing and mayonnaise that need this ingredient, and also corn gluten feed for animals such as chickens. It has operations across the world, and products are derived mainly from processing corn and other starch-based materials - including tapioca, potato and rice.
Therefore, it serves a diverse range of industries, which includes the food, beverage, brewing, pharmaceutical, paper, textile and personal care industries.
But before I continue on this article, here is a snapshot of Ingredion's key figures for investors to get a better idea of the fundamental and valuation aspects of the company.
Price (12.06.2013)
$68.39
Market Cap
$5.30B
Earnings

$444.60M (P/E: 12.06)
(Forward P/E: 10.65)

Sales (Trailing 12-months)
$6.54B (P/S: 0.81)
Book Value Per Share (BVPS)
$32.10 (P/B: 2.13)
Debt/Equity Ratio
0.73
Return on Equity
18.94%
EPS Growth Past 5 Years
16.16% per annum
Dividend
$1.52 (2.22%)
Dividend Growth Rate (Latest Year)
46.2%
Payout Ratio
26.81%
1. Creating Shareholder Value Through Dividends
After freezing its dividend through the recession, Ingredion started raising its dividend payout in 2011, with its latest dividend increase the fourth in two years. It is still in its early stages of growing its dividends consistently, and is definitely off to a great start, nearly tripling its dividend since it first increased dividends in 2011. Ingredion currently yields 2.22%, which is slightly higher than the yield that the Dow Jones (NYSEARCA:DIA) or the S&P 500 (NYSEARCA:SPY) offers at the moment. Another plus point would be the company's amazingly low payout ratio of 26.8% at the moment. This signals further dividend growth going forward.
Although this is the case, the company's dividend growth rate, which stands at 46.2% so far in 2013, is still rather unrealistic over the long term. I would expect a 10% dividend growth rate to be a more realistic growth rate for the years to come.
Here is a chart showing the company's past dividend payments.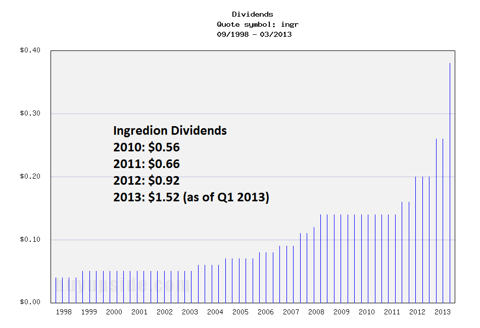 2. Review Of Past EPS Growth
Ingredion supposedly has very volatile EPS numbers over the past five years, with EPS figures at $3.52 in 2008, then falling to merely $0.54 in 2009, then jumping to $2.20 in 2010, and finally leaping higher to the $5 range in 2011 and 2012.
But this is not the case if one delves deeper into the company's numbers. Investors would have found out that the company was affected by extraordinary one time charges, which was even a whooping (-$120M) in 2009, which pulled earnings down substantially. The chart below shows the EPS values for Ingredion without any charges.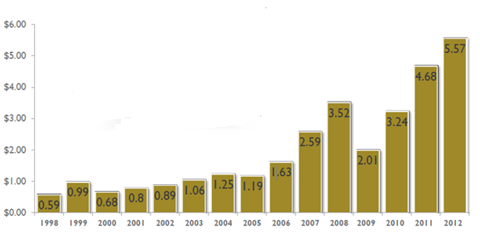 Courtesy of Ingredion, Inc.
As shown in the chart above, Ingredion's adjusted EPS growth, especially over the past 3 years, has been very impressive indeed, growing at a whopping 40.5% per annum over 3 years (2009-2012). The company's EPS has also been growing at 16.2% over the past 5 years, and 20.1% over the past 10 years. This is remarkable performance even for a small-cap company transitioning into the mid-cap range.
However impressive past growth has been, it is by no means representation of future growth. Here are some catalysts for future growth.
3. Favorable Future Prospects
3.1 Wide Customer Base From Many Industries
Ingredion's ingredients serve many markets and industries, and are essential in the making of everyday products and foodstuff, which ranges from chewing gum, ice cream, fruit juices, cookies and pudding to rubber, textiles, fertilizer and even wall boards. A more complete list of the everyday items the company helps create can be found in the image below.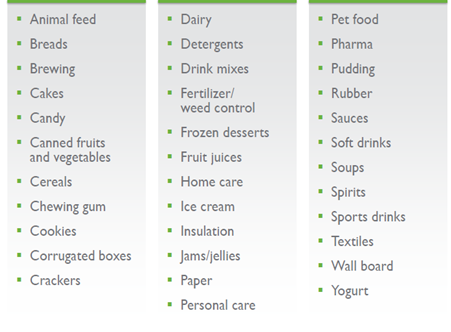 Courtesy Of Ingredion, Inc.
This fact that Ingredion serves a diverse array of companies and industries (a very wide customer base) also comes with benefits. With this, Ingredion does not have a significant customer concentration issue. This ensures that the company's loss is limited if one customer stops buying its products, or if a company or an industry is facing major headwinds at one point of time.
3.2 Continual Business From Strong Companies
In addition, Ingredion has many strong companies as customers. This gives the company a continual source of income from these strong companies, which are unlikely to face steep declines in sales given their established and popular brands. Such customers include Heinz (HNZ), which uses Ingredion's ingredients for its famous ketchup; Unilever (NYSE:UL), which utilizes these ingredients for its soaps and beauty products; and Coca-Cola (NYSE:KO), which requires these ingredients for the production of its world famous soft drink.
Although the use of sugar is also a good alternative to such starch-based ingredients, that might endanger sales from such large companies, sugar prices are currently about 25% more expensive than the prices of these sweetened syrups. This is a key factor that will ensure that companies continue favoring corn products to sugar.
In fact, when Mondelez (NASDAQ:MDLZ) and ConAgra (NYSE:CAG) turned to sugar because it was known to be slightly healthier as compared to corn syrup (although both are still unhealthy) a while ago, they soon decided to use high-fructose corn syrup again, after finding that such a move did not increase market share or sales significantly.
3.3 Exposure To Emerging Markets, Many Growth Drivers
The company also has a considerable amount of exposure to emerging markets, such as in South America, Africa and Asia Pacific.
Sales from South America made up 22% of total sales for Ingredion in fiscal year 2012, and this number is expected to grow further in the future, mainly due to a rapidly growing middle class, which will increase the overall spending power of the people in the area. In addition, Ingredion is also the largest producer of starches and sweeteners in the area, which secures its position for growth.
In addition, the company also sees the 2016 Rio Olympics and the Brazil 2014 World Cup a main growth driver in the coming years, as shown in the slide below. With 600,000 overseas visitors visiting Brazil for the World Cup and even more visitors expected for the next Olympic games, this should fuel demand for mainly food products, bringing more sales for Ingredion.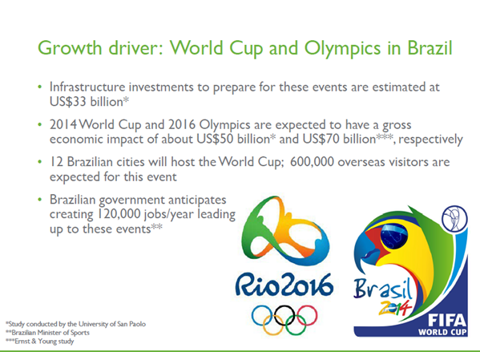 Courtesy Of Ingredion's May 2013 Presentation at the Citi Global Consumer Conference
Another source of growth for the company is the Asia Pacific region. This area was responsible for merely 13% of sales in fiscal year 2012, but is also providing quite a substantial amount of growth, with countries such as Vietnam, Thailand, Philippines, Malaysia, Indonesia, Singapore, China and India still developing at a considerably fast pace today.
Besides this, Africa and the Middle East also look like an area that the company can grow further into the future. Ingredion currently only has manufacturing facilities and offices in Kenya, South Africa and Pakistan, and although sales from these areas are only responsible for a few percent of sales, they could potentially grow into a larger portion as the African region develops quickly going forward.
3.3 R&D Efforts, Acquisitions
In addition, the company has been spending considerable amounts on Research and Development (R&D) in recent years, as shown in the slide below. The company is planning to spend $28 million on R&D per year from now. It has 140 scientists currently at its main research facility, and 110 more in other centers, and has about 170 projects in its pipeline at the moment.
This will ensure that the company consistently innovates going forward to attract new potential customers to its improved products, especially since competition in its industry is rather strong, with Archer-Daniel Midlands (NYSE:ADM) and Cargill, Inc. as its main competitors, owning over half of the high fructose corn syrup facilities in North America at the moment.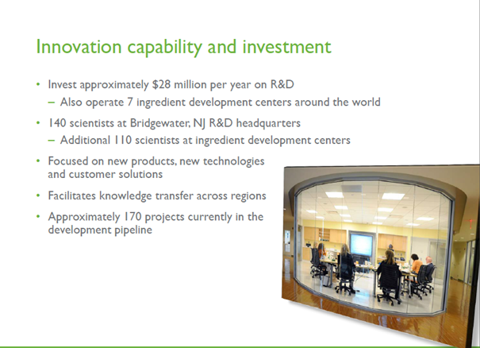 Courtesy Of Ingredion's May 2013 Presentation at the Citi Global Consumer Conference
Another catalyst of future growth would be the acquisitions the company plans to make. After the company made a major acquisition, purchasing National Starch for $1.3B in 2010, which enlarged its footprint into the United Kingdom, Germany and the Asia Pacific area (The news report for this 2010 acquisition can be found here.), it is looking to acquire more companies currently.
As shown in this news report on Food Business News, Ingredion is looking for more acquisition targets. Therefore, with the global corn starch and sweetener industry highly fragmented, the company looks like it is also going to increasingly use acquisitions to supplement organic growth.
3.4 Employees Generally Happy
Finally, I believe that a final driver of growth would be Ingredion's employees themselves. This is one area for analysis that is frequently neglected but is extremely important in my view. The employees are the ones who will carry out the company's growth plans, and without this group of important people, the company would not be able to even manage day-to-day operations, let alone even more sales growth.
Ingredion's average employee review on Glassdoor.com (employer review website) is 4.2 out of 5, which is one of the highest I have ever seen. On Glassdoor, employees offered mostly favorable comments about the company, talking about how the company recognizes hard work and promotes employees who put in effort, and even organizes a mid-year career discussion to find areas of further growth. Although there are some setbacks of working in the company, such as having an unfavorable work-life balance, most reviewers are optimistic about the outlook of the company and would continue working in it.
In addition, 10 out of 11 reviewers approve of the current Ingredion CEO, Ilene Gordon, and 91% of reviewers would recommend a job in Ingredion to their friends, which again, are impressive numbers.
4. Balance Sheet
Before I start my analysis of the company's balance sheet, here is the company's balance sheet on MSN Money.
First, Ingredion's assets grew faster than its liabilities over the past five years, as shown in the table below. From fiscal year 2008 to fiscal year 2012, the company's total assets had increased from $3.21B to $5.60B, representing a growth of $2.39B over 5 years. On the other hand, the company's total liabilities had only grown from $1.81B to $3.16B over five years, representing relatively less growth of $1.25B.
This has resulted in an impressive $1.04B, or 74% growth in equity over five years.
Although liabilities and assets had grown at nearly the same speed over the past 5 years, the company has evidently made efforts to reduce its total liabilities in fiscal year 2012, with the number declining $50M from 2011 to 2012.
Fiscal Year
Assets ($)
Liabilities ($)
Equity ($)
2008
3.21B
1.81B
1.40B
2009
2.95B
1.26B
1.70B
2010
5.04B
3.07B
1.98B
2011
5.31B
3.21B
2.10B
2012

5.60B

3.16B
2.44B
Growth Over 5 Years

$2.39B
(74.5% Increase)

$1.35B
(73.6% Increase)

$1.04B
(74.3% Increase)
Second, Ingredion has more current assets than current liabilities. As of the end of fiscal year 2012, it had $2.36B worth of current assets and a mere $933M in current liabilities. This is a good sign as the company is able to pay off its short-term liabilities if it is obliged to pay all of them off at one time.
The company had also $628M, which equates to around $8.15 (Price/Cash: 12.1) per share in cash as of the end of fiscal 2012. The table below shows the company's current assets and current liabilities numbers over the past 3 years.
Fiscal Year
Current Assets ($)
Current Liabilities ($)
2008
1.30B
859M
2009
1.05B
565M
2010
1.75B
873M
2011
2.10B
926M
2012
2.36B
933M
Current Ratio (Current Assets/Current Liabilities)
2.53 (Very Healthy)
Lastly, the company has no preferred stock, which is a good sign for the company and its shareholders - it does not need to pay extra special dividends, which would only drain its cash reserves, which can be used for other operations. A company that has preferred stock also shows how cash-strapped it is, to have to borrow money from its shareholders at higher interests than normal.
Besides the company's healthy balance sheet, its cash flow statements also look very healthy, with cash flow numbers positive for four of the past 5 years (2008 saw negative cash flow for Ingredion, when there was a severe recession) even as capital expenditures rose over these years.
5. Valuation
Ingredion looks like an undervalued buy (which is rare in the market these days) according to its valuation. Trading at merely 12X trailing 12-month earnings and 10.7X forward 12-month earnings (far below market averages), it still makes sense to purchase shares in the company, especially with Ingredion's 5-year EPS growth rates at 16.16% and its estimated future 5-year growth rate at 10%. In addition, with its 10-year average P/E ratio at 15.7, Ingredion is truly a rare undervalued stock at the moment.
-Basic Calculations Using Historical P/E Ratio And EPS
Ingredion's management has estimated 2013 earnings between $5.60 and $6.00 per share in their previous earnings conference call. Therefore, taking a $5.80 2013 EPS for the company (averaged) and a more conservative 9% EPS growth rate (expected: 10%), the company would have an EPS number of $8.92 in 2018.
| | |
| --- | --- |
| Year | EPS ($) |
| 0 (2013) | 5.80 |
| 1 (2014) | 6.32 |
| 2 (2015) | 6.89 |
| 3 (2016) | 7.51 |
| 4 (2017) | 8.19 |
| 5 (2018) | 8.92 |
Assuming that the stock's price reverts to a more conservative P/E of 15 in 2018, the company's stock will be worth $133.80 per share, which equates to a 14.7% growth in capital per annum over the next five years (if one buys today), which is an impressive return. In addition, all the dividends shareholders will get over the next 5 years (which should be in excess of $9 per share) will only add more color to the capital gains shareholders will receive.
6. Key Risks And Flaws
But, however impressive a company's prospects may be, it is bound to have some key risks and flaws. Here, I list some caveats to potential investors of Ingredion.
6.1 More Health-Conscious New Generation
Due to an increased number of public health campaigns, concerns of obesity has resulted in a lower consumption of sweetener products. This includes many that were initiated by multinational companies themselves. In this article on Bloomberg News, companies like GlaxoSmithKline plc (NYSE:GSK), Coca-Cola, Nestle (OTCPK:NSRGY) and UK-based Tesco plc have signed up for a British government pledge to reduce calories in their products.
With numerous other campaigns being carried out by many American organizations and big political figures such as New York Mayor Michael Bloomberg, it is no wonder that people are now more health conscious and beginning to increasingly shun unhealthier sweetened products. If such a trend continues, it could bring the company's profits down, especially since its North America operations made up 57% of 2012 sales.
6.2 Competitive Industry
Ingredion also operates in a highly competitive industry where companies are all selling a commodity-like product without much differentiation - corn-based starches, syrups and sweeteners. Besides this, as compared to Ingredion, larger competitors such as Archer Daniel Midlands and Cargill own many more facilities combined.
Although this is the case, this webpage shows the tremendous number of international plants Ingredion possesses as compared to its competitors, signifying its strength in the overseas markets.
6.3 Moderately High Beta
Shifting our focus to the company's stock movements, another flaw is the volatility of the company's shares in the past. The company has a beta of 1.22, which theoretically means that the company's stock fluctuations will, on average, be 22% more volatile than the S&P 500.
This has been proven through the company's price movements through the 2008-2009 recession. As shown in the chart below, the company had dropped 62%, from a high of around $50 in mid-2008 to around $18-$19 in early-2009, when the S&P 500 index had dropped around 50%. During such periods, investors will have to possess the correct mentality to not give up their positions and believe in the company's long-term potential.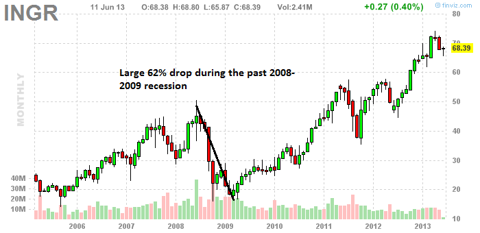 Courtesy Of Finviz.com
The Takeaway
In conclusion, Ingredion's performance, both in terms in sales and earnings, has been impressive over the past few years, with growth rates in excess of 15% for all the 10-year, 5-year and the 3-year periods. When this is coupled with many of the company's potential future growth drivers and its favorable prospects, it can be expected to continue performing strongly into the future.
Although this is the case, one must take note of Ingredion's key flaws, including a more health-conscious new generation, which poses a considerably great risk to its growth, especially in the North American region where most of its sales and profits are derived from (as stated above, the exact number is 57% in 2012). This leads me to believing that the company will be relying more on other sources of growth, such as growth from the Asia-Pacific and South American regions, and also growth from acquisitions and R&D operations.
But, with the company's attractively cheap valuations and its other favorable growth prospects at the moment, I rate Ingredion a buy with the potential for further capital appreciation going forward.
Disclosure: I have no positions in any stocks mentioned, but may initiate a long position in INGR over the next 72 hours. I wrote this article myself, and it expresses my own opinions. I am not receiving compensation for it (other than from Seeking Alpha). I have no business relationship with any company whose stock is mentioned in this article.