Do equity markets lead commodity markets? Or perhaps more precisely do commodity equities lead the underlying commodities themselves? Our experience suggests that commodity equities lead the behaviour of commodities. Towards the end of last year we noticed that oil and gas services stocks bottomed even in the face of a plummeting oil price. This suggested to us that the downside in crude was very limited and that one should be looking at buying into the falling crude price.
We now find a similar situation arising with natural gas and natural gas stocks. Oil and Gas pipeline stocks such as Enbridge (NYSE:EEP), Williams Co (NYSE:WMB), Spectra Energy (NYSE:SE), and Kinder Morgan (NYSE:KMP), now appear to have formed solid bases and more importantly they remain virtually unchanged this year even when natural gas itself has fallen by some 40%.
More compelling from a fundamental perspective their valuations do not appear to be demanding. So there are two ways of playing "natural gas". One can buy the underlying commodity itself (either via futures or the ETF UNG) or one can play the next best thing – natural gas stocks.
However, if one was somewhat bearish on natural gas itself why not consider pipeline stocks or other natural gas plays (like Chesapeake (NYSE:CHK), Nicor (NYSE:GAS), or Sempra (NYSE:SRE))?
Of course there is another option and that is oil and gas drillers/services themselves (NYSEARCA:OIH). Which option will prove to be the most profitable? Of course only time will tell!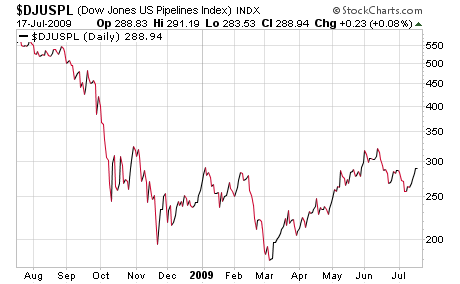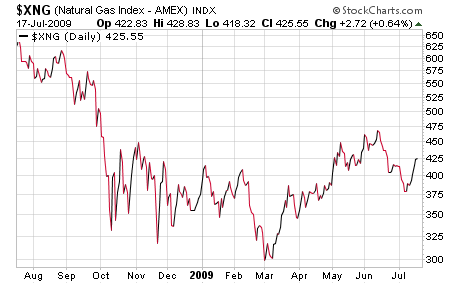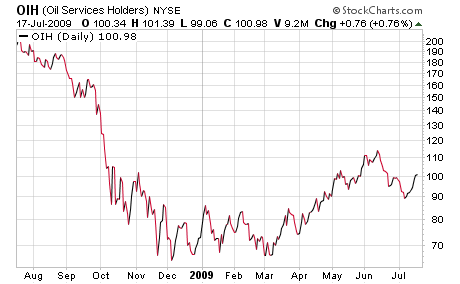 We have seen finer technical patterns before, however, from a long term perspective the three charts above appear bullish enough for us. They appear to have done enough work to establish a strong base from which we see material upside. This action should drag natural gas higher.
The foregoing "analysis" may seem rather simplistic but often that is all that you need especially when you have time on your side.