From my perspective, one of the best assets that an investor can hold in a Roth IRA is a high-quality dividend paying company where the starting yield is in that 4-6% sweet spot and is likely to grow. Considering that a dividend payout is a taxable event in a regular brokerage account, it can be part of an intelligent asset allocation strategy to put the assets where the dividend will constitute a large part of the total return into a tax-advantaged account so that the cash distributions can compound uninhibited for a long period of time.
There are a couple of sectors that provide fertile ground for finding these types of investments. Big telecom is one place to look. There, you can acquire a company like AT&T (NYSE:T), perhaps the most company with the greatest reputation for safety during the 20th century, which currently grants investors a 5.03% dividend yield. That ain't bad. With high-quality income somewhat hard to find, it can be a useful tool to own a company like AT&T in a tax shelter that sends 1.25% of initial investment to you every ninety days in the form of cash dividends.
If you bought $5,500 worth of AT&T stock in your Roth IRA this year at a price of $35 per share for a total of 157 shares, you would get $282 in tax-free dividends sent your way over the intervening twelve months (or perhaps even more if the company raises its dividend). When it comes time to invest $5,500 in your Roth IRA next year, you could actually make a $5,782 investment in your new company if you pool your new funds together with your AT&T income. That is what the birth of a virtuous cycle of wealth creation can look like.
Another area where you can historically combine a high current yield with a growing dividend is the tobacco industry. These have traditionally been good investments because the doom-and-gloom predictions for Altria (NYSE:MO), Reynolds American (NYSE:RAI), and Lorillard (NYSE:LO) have thus far been exaggerated. The problem with, say, buying Reynolds American today is that its current P/E ratio of 18 is well above its P/E ratio of 12 where it had been for much of the past decade. Altria is trading a bit above its historical valuation, although not nearly as much as Reynolds American. If you can handle investing in a declining industry and do not mind the lack of diversification inherent in a company that generates more than 80% of its profits from the Newport brand, then Lorillard could be an intriguing investment for the medium-term.
Personally, I think the current investing environment is ripe for buying a high-yielding oil company and tucking it away in a tax shelter like a Roth IRA. That means ConocoPhillips (NYSE:COP). That means Royal Dutch Shell (NYSE:RDS.B). That means BP (NYSE:BP). Because of the favorable tax treaty between the United States and Great Britain, you can receive BP dividends and Shell's Class B share dividends in a retirement account without having to pay a tax to the British government (the tax rules for the Royal Dutch Shell (NYSE:RDS.A) Class A shares are in a retirement account are weird, and if you gotta buy the A shares for some reason, I'd recommend talking to a tax advisor first).
Sometimes, it may take a long-term perspective to realize just how important dividends are to the long-term investment returns of an oil stock. Let's use Chuck Carnevale's excellent tool, F.A.S.T. Graphs, to take a look at how a $5,500 investment in BP would have fared since 1993. Roth IRAs did not exist back then, but they do now, and we can use historical data to get a glimpse of what a big dividend-paying oil stock can look like from an income perspective over time: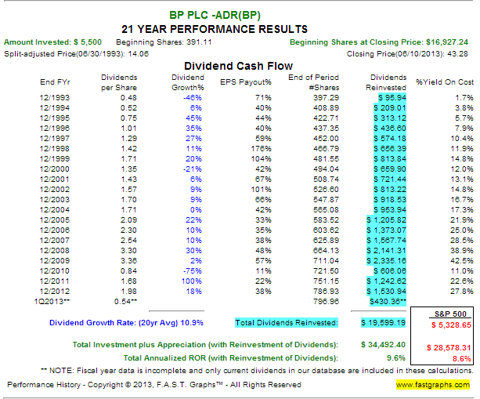 A couple "big picture" lessons are at work here. First of all, this snapshot of BP stock over a long period of time demonstrates the fact that a high-quality asset can withstand a lot of abuse and still do all right for long-term shareholders if you give it enough time. The 2010 spill was awful. It caused BP to shed over $38 billion in assets (with perhaps more to come), and caused the company to slash its dividend to free up capital to meet its litigation expenses and pay for the damages caused by the spill.
Yet look at what remains true for a long-term holder of BP that has held the stock from an income generation perspective over the long term: even when you adjust for the dividend cut after the oil spill, an investor that bought BP would still be receiving 27% of his initial investment back in the form of cash dividends each year. Every ninety days, he would be receiving 6.75% of his purchase price sent to him in cash for a wise decision he made two decades ago. I hope every income investor reading this will be generating 27% yields on cost twenty years from now.
The second lesson, at least for me, that I take away from a historical review of BP is that oil companies are great exceptions to the "sell on a dividend cut" rule. The rationale for this is the fact that commodities are susceptible to a boom and bust cycle, and when earnings fall to the point where a supermajor oil power has to cut its dividend, it is not due to permanent earnings impairment. Rather, it is a consequence of being at the bottom of a business cycle and the oil company should return more cash to shareholders when the price of the commodities rises higher again.
From 1993 to 2013, BP shareholders experienced a 46% dividend cut in 1993, a 21% cut in 2000, and a 75% cut in 2010 (in terms of total dividends paid out). Despite these events, BP has still managed to return $19,599 to shareholders in the form of dividends over the past twenty years, relative to a $5,500 investment. Despite these obnoxious income setbacks, you still got back 3.5x your initial investment in dividends. If you want an income stream that grows each year, then Exxon (NYSE:XOM) and maybe Chevron (NYSE:CVX) will meet your long-term needs better than the other four supermajors. With Shell, Conoco, and BP, my expectation is that I will get a big chunk of income sent my way over long periods of time, and the size of the income sent my way over time is enough to compensate for the lumpiness of the dividend payouts.
The reason why high-paying oil companies are great for Roth IRAs is because the dividend plays a large role in the total return equation, and the size of the income is large enough to benefit materially from tax shelter treatment. Strictly in terms of share price change, BP has only moved up from $14.06 to $43.28 over the past two decades. That is only a little over a three-fold increase. But the dividends accounted for over half of your total returns, giving you 3.5x your initial investment in the form of cash over the past twenty years.
It is wild to think that, despite the havoc caused by the oil spill, BP has still managed to outperform the S&P 500 by a percentage point annually over the past twenty years. That is what happens when you take a big dividend that generally grows in fits and bursts, and then reinvest back into the same company. Considering the rough few years BP has had, it is impressive to see how $5,500 managed to grow into over $34,000 over the past twenty years. But when the dividend accounts for such a large percentage of your total return, you can really do yourself a favor by putting these kinds of big oil assets in a tax-advantaged structure like a Roth IRA.
Disclosure: I am long BP, COP, XOM. I wrote this article myself, and it expresses my own opinions. I am not receiving compensation for it (other than from Seeking Alpha). I have no business relationship with any company whose stock is mentioned in this article.