As someone who covers a lot of short ideas on this site, one of the most important items I follow is short interest data. One must always be aware of the short interest in a stock. A large short base could spark a short squeeze on good news, while low short interest could spark a huge drop on bad news. Every couple of weeks, we get an update from Nasdaq on short interest data, and I report on what I am seeing. Today, I'm here to discuss the end of May numbers. I'll discuss five names that short sellers are going after, whether just recently or over the longer term.
BlackBerry (BBRY):
When it comes to short interest rises in the past year, BlackBerry must be among the leaders. Short interest in the phone and tablet maker hit another new high at the end of May, as you can see below. In just 13 months, short interest in this name has risen from 53.7 million to 171.3 million shares. At this point, roughly 32.7%, nearly one-third of the outstanding share count, is now short. That compares to just about 10% about a year ago.
While they have had their ups and downs, shares have been trading sideways mostly for the time being. Everyone is looking forward to the June 28th earnings report, which could determine the future of this company. With the BlackBerry 10 phones out, it is now time for this company's results to start improving. Sales are expected to be at their highest point in more than a year. If the new phones are selling well, we could see a large jump in this name thanks to a short squeeze. But if sales do not materialize as many might hope, short interest in this name could go even higher, something that seems almost improbable at this point.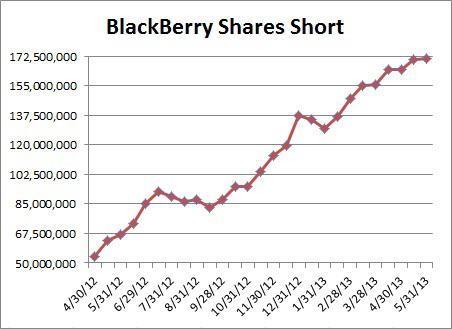 Facebook (NASDAQ:FB):
Facebook short interest jumped by roughly 6 million shares, or 21%, in the final few weeks of May. At the same time, shares have been trending lower, and last week hit a low point of $22.67. That level had not been seen since November 2012. All of those gains that Facebook had running up into the low $30s have basically been erased. A couple of analyst upgrades gave a positive start to the week, but shares have come down almost a dollar from Monday's high already.
The money making potential of Facebook is hurting shares currently in my opinion. Facebook's expenses are rising at a rate nearly twice that of revenues this year, and that is a concern. Despite revenues expected to rise by 32% this year, non-GAAP earnings per share are forecast to increase just four cents to $0.57. It's one thing to have strong revenue growth, which Facebook does, but it's another thing to have expenses rising more than 50% this year. Facebook needs to prove it can achieve some sort of margin growth at some point, and until then, shares may stagnate.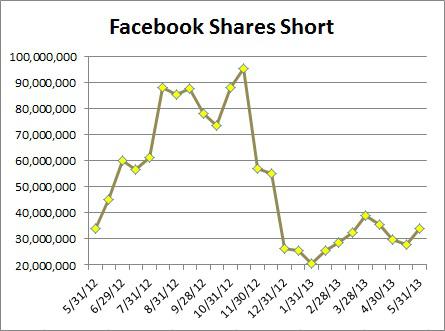 Dendreon (NASDAQ:DNDN):
Dendreon's short interest is on the rise again. The name that brings you the prostate cancer treatment Provenge has been one of the most discussed biotech names in recent years. Provenge sales have disappointed, which is why shares are at $4.23 after being in the mid $50s just a couple of years ago.
A rise of 3.24% in short interest doesn't seem like much, but when combined with further analyst estimate cuts, it's not good. Last month, I detailed how analysts were getting further skeptical. Dendreon needs a $100 million revenue quarter to be cash flow positive, and until then, the balance sheet continues to worsen. I've argued that Dendreon is getting closer to having to raise funds, which presumably will be through equity. Current estimates call for just $318.17 million in revenues this year, the lowest point I've seen so far, as analysts do not believe a $100 million quarter is coming. With a market cap of just $644 million, any funds raised through equity will carry a significant amount of dilution. Increased fears over the future of this company have led to further rises in short interest.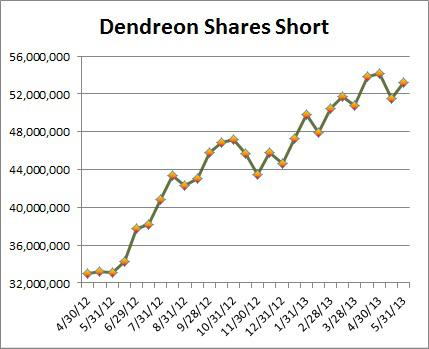 Microsoft (NASDAQ:MSFT):
Short interest in Microsoft jumped by more than 8.15% in the final few weeks of May, putting the short count back above the 100 million mark. This is at the upper end of the yearly range, as you can see in the chart below. Recently, short interest was at a multi-month low, but the latest update broke the recent downward trend.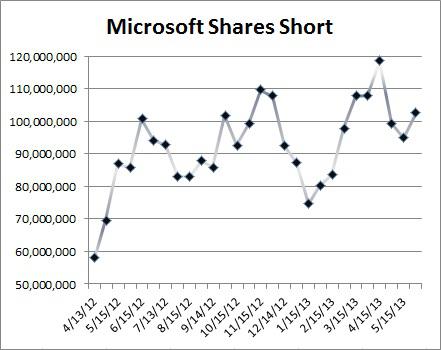 Recently, Microsoft launched its new Xbox One, and opinions have been mixed over what appears to be a hefty price tag. Sony's (NYSE:SNE) new PlayStation costs $100 less, so it remains to be seen how the next leg of the gaming wars will pan out. The Xbox provides some nice diversification to Microsoft's product line, but after the slow adoption of Windows 8, a failure of the Xbox would not be good for shareholders. Microsoft remains close to its 52-week high, which is probably part of the reason why short interest remains elevated.
Clearwire (CLWR):
The chart below shows that Clearwire's short interest has come down significantly since the second half of 2012. Last August, nearly 75 million shares were short in this name. By the end of March, that number was down about 90% to just 7.5 million. However, the last two months have seen a turn in short interest, a rise of 110%. More than 15.75 million shares are now short, the highest count since the middle of January.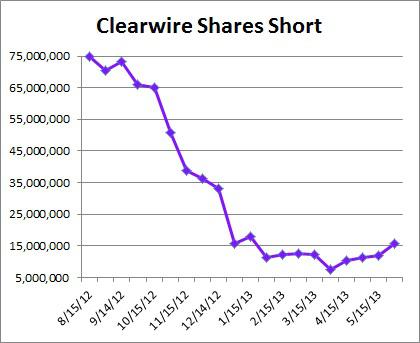 Clearwire shares had been left for dead last year, and some were wondering if bankruptcy was possible. Sprint (NYSE:S), which owned a large share of Clearwire, was pouring billions into Clearwire. Over the last few months, a bidding war has broken out between Sprint and Dish Network (NASDAQ:DISH), to gain access to Clearwire's valuable spectrum. Sprint is in the process of its own deal, a merger with Japan's Softbank, which has made the Clearwire situation very tricky. I assume that the short interest rise is due to some just worrying a deal would never get done. But on Wednesday afternoon, Clearwire's special committee endorsed the $4.40 Dish deal, as opposed to the $3.40 Sprint deal. This should ease some concerns, and I would expect short interest to come down at the next update.
Final Thoughts:
All five of these names have seen recent sharp rises in short interest. BlackBerry has seen its short interest continue to a new high, ahead of its earnings report at the end of the month. Facebook short interest popped in late May, with shares near their lowest point since November 2012. Dendreon short interest has started rising again and analysts have continued to cut their revenue estimates. Microsoft short interest popped, reversing a recent trend, and may continue higher due to questions over the new Xbox One. Clearwire short interest has risen recently during a battle between Sprint and Dish Network to acquire Clearwire, but Wednesday's potential resolution may chase the shorts away. Will any of these names make this list again next time around? You will just have to wait and see.
Disclosure: I have no positions in any stocks mentioned, and no plans to initiate any positions within the next 72 hours. I wrote this article myself, and it expresses my own opinions. I am not receiving compensation for it (other than from Seeking Alpha). I have no business relationship with any company whose stock is mentioned in this article.
Additional disclosure: Investors are always reminded that before making any investment, you should do your own proper due diligence on any name directly or indirectly mentioned in this article. Investors should also consider seeking advice from a broker or financial adviser before making any investment decisions. Any material in this article should be considered general information, and not relied on as a formal investment recommendation.