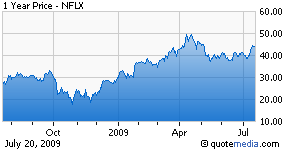 In advance of Netflix's (NASDAQ:NFLX) Q2 earnings report Thursday after the bell, Wedbush Morgan analyst Michael Pachter Monday morning writes that users of Microsoft's (NASDAQ:MSFT) Xbox gaming system have been signing up to Netflix's streaming video service at an increasing pace, with 500,000 new users joining the service last quarter. Microsoft said at the E3 video game expo in June that it will provide instant access to Netflix Live through its "dashboard" on the screen of the Xbox, which Pachter thinks will make it easier for users to sign up, thus accelerating the growth of subscribers.
Pachter expects Netflix to exceed his Street-high Q2 estimates of $413 million in sales and 53 cents per share in profit. He expects the company to announce 10.55 million subscribers.
Netflix shares Monday are up 55 cents, or 1.25%, at $44.69.