Novartis (NYSE:NVS) is a Swiss global pharmaceutical company with a $170 billion market cap and over $56 billion in combined sales in 2012. It has one of the most innovative drug pipelines among its pharmaceutical peers. However, Novartis has faced challenges since 2012 from declining sales of its best-seller, Diovan, due to patent expirations.
The questions on investors' mind are: how much will the declining drug sales impact Novartis' revenues and earnings going forward? Will the sales from newly approved drugs offset the lost revenues? Is the current stock price of $72-$73 fairly valued? To answer these questions, we deconstruct Novartis' revenues by analyzing its existing products, patent expirations, and drug pipeline. Our goal is to provide 5-year financial projections and derive an estimated intrinsic value for NVS.
Business overview
Novartis is a Swiss global pharmaceutical company with a $170 billion market cap and over $56 billion in combined sales in 2012. It has one of the most innovative drug pipelines among pharmaceutical companies with the highest productivity in new drug approvals based on research and development investment. As it stands, Novartis has a leading new product pipeline with more than 200 projects in clinical development, including 138 in the Pharmaceuticals Division.
Novartis has five divisions in its business operations. Pharmaceuticals is the largest division, generating $32B revenues (or 57% of total sales) in 2012, followed by the Alcon vision care division ($10B, 18%), Sandoz generic/biosimilar division ($8.7B, 15%), Consumer Health ($3.7B, 6.5%), and Vaccines ($2B, 3.5%).
The Pharmaceuticals division has launched nine blockbuster drugs with sales over $1B, including its flagship drugs Gleevec and Diovan. Pharmaceuticals' net sales ($32.2B, 57% of total revenues) were essentially flat in 2012 despite strong revenue growth from newly-approved drugs. This is primarily due to the 22% decline in sales from Diovan, which lost patent protections in 2011 (EU) and 2012 (U.S.). The declined sales from Diovan are offset by sales from new drugs approved since 2007, including Gilenya, Lucentis, Tasigna, and Afinitor. These products contributed 35% of division net sales, up from 28% in 2011.
Novartis has streams of new drugs in its pipeline. In 2013, Novartis plans to file several new drug applications (NDA) with the FDA and EMA. These include five new molecules and four new indications for existing drugs. While some of the drugs will receive regulatory approval in 2013 or 2014, their contribution to revenues growth in the next 5 years will have more impact after 2015. Nonetheless, they will be included in our revenue projection.
We first reviewed existing drugs which are expected to have sharply declining sales. We then discuss recently approved drugs that will contribute to revenue growth. Furthermore, Novartis plans to file several NDAs to the FDA and EMA in 2013. We will assess the probability of approval and estimate future revenue growth for these new drugs.
Our revenue projections suggest that the drugs approved since 2007 will be the key growth drivers for Novartis going forward and generate aggregate revenues of $8 billion in 2013 to $13.5B in 2017. The new molecular drugs awaiting approval this year are estimated to contribute $1.4B revenues in 2014 to $4.3B in 2017.
Drugs and products with declining sales
Diovan is Novartis' best-selling hypertension drug with over $5.6B revenues in 2011. Its patent expiration, however, caused a 22% decline in sales in 2012. We estimate that the sales will continue to decline at significant rate (e.g. 15%) in the following years. Exforge, which contains the same active ingredient as Diovan, is also likely to face generic competition. Therefore, even though its sales increased by 11.8% in 2012, we estimate that it will grow at a baseline rate (~3%).
Zometa, which is used in oncology to treat skeletal-related events in patients, had a 13% decline in sales in 2012 due to competition. We estimate a 15% decline going forward.
Gleevec is Novartis' flagship product with $4.7B sales and is used for treating chronic myeloid leukemia patients. It may experience slower growth in sales due to the launch of Novartis' new drug Tasigna that targets the same disease as Gleevec.
We estimate that Sandostatin (oncology, acromegaly), Exelon (Alzheimer's, Parkinson's disease), and Exjade (iron overload from blood transfusion) will have steady revenue growth over the next few years.
The combined sales of these pharmaceuticals with steady or declined growth are $25.8B in 2012. Our projection suggests that the revenues of these drugs will decline ~3.4% annually to $21.7B in 2017.
Alcon may maintain a steady growth due to demand in its eye care products. The Sandoz (generic, biosimilar), Vaccines, and Consumer health division sales have had significant setbacks last year. Although the company's sales are likely to restore to normal levels, we still assign it a 3% decline rate by factoring in competition and currency impact.
Drugs with increasing sales
Sales from Novartis' new drugs approved since 2007 are expected to offset lost revenues from its products with declining sales. These drugs, including Lucentis, Gilenya, Tasigna, Afinitor, and Galvus, are likely to generate high growth rates going forward.
Figure 1: Revenues from drugs approved since 2007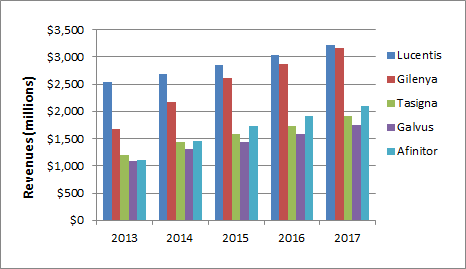 Lucentis (anti-VEGF) is used for the treatment of age-related macular degeneration and other indications. It generated $2.4B sales in 2012 alone, up 17% from 2011.
Gilenya is the first once-daily oral therapy drug approved for relapsing remitting forms of multiple sclerosis. In 2012, it achieved blockbuster status with $1.2B in annual sales, up from $450M a year before. We estimate that it will continue a high growth rate over the next 5 years, despite competition from Aubagio made by Sanofi (NYSE:SNY) and another recently approved oral drug, Tecfidera, developed by Biogen Idec (NASDAQ:BIIB).
Tasigna (Bcr-Abl inhibitor) is also used for the treatment of CML. Tasigna's market share continues to rise in both first-line and second-line settings. It generated $1B sales in 2012, up 39% from 2011.
Afinitor (mTOR inhibitor, everolimus) was approved for the treatment of advanced breast cancer and other abnormality (angiomyolipomas, subependymal giant cell astrocytomas). It generated $800M sales in 2012, an 80% from prior year.
Galvus (DPP4 inhibitor, an oral treatment for type 2 diabetes) sales increased 34% in 2012 compared to the prior year.
In 2012, the recently launched products, including Gilenya, Lucentis, Tasigna and Afinitor, generated $16.3 billion or 29% of total net sales. These products grew 13% over the previous year.
Jakavi was approved in the European Union for myelofibrosis, a life-threatening blood cancer. Seebri Breezhaler was approved in the European Union for patients with chronic obstructive pulmonary disease. These products will start generating revenues in 2013.
We estimate that the combined revenues of the drugs approved since 2007 are $7.6B in 2013 and will increase to $12B in 2017, which represents a 12% annual growth rate over the next 5 years.
Conclusion
Taken together, we estimate that NVS's revenues will decrease to $56.6B in 2013 from $57.6B in 2012, but could grow to $62B in 2017. Going forward, NVS may still maintain a gross profit margin of 67%, an operating margin of 20%, and a net profit margin of 16%. Our estimated adjusted earnings per share (EPS) for NVS are: $6.0 (2013), $6.5 (2014), $6.9 (2015), $7.3 (2016), and $7.8 (2017).
Using our projected free cash flow numbers, we derived an estimated fair value for NVS at $76. Thus, with the stock currently at $72, it is trading at 5% discount of its intrinsic value. The stock currently has a 3.5% dividend yield. Novartis has conventionally paid out 60% of its net income to shareholders as dividends, with an annual 2%-3% increase in dividends. Its share repurchase program, however, is highly variable. Thus, investors of NVS are counting on high dividend yield and the company's ability to grow revenues through its innovative drug pipeline.
References:
Disclosure: I am long NVS. I wrote this article myself, and it expresses my own opinions. I am not receiving compensation for it (other than from Seeking Alpha). I have no business relationship with any company whose stock is mentioned in this article.